The Mini PCs have been around for a while but most of the companies failed to bring such a device to the market. Another company is trying to enter the Windows hardware business with a pocketable Windows 10 device. The device called 'Mini PC' is as powerful as possible, and the company is offering it for a very compelling price.
The company says that the Mini PC is the world's most powerful pocket-sized PC and it runs the full version of Windows 10 operating system. It's a new cool device with a 5-inch display, that's the size of a smartphone but the device seems bulky. It has a regular touchscreen panel that lets you play music or browse photos.
The Mini PC dual boots Windows 10 and Android 5.1. It has 8GB of RAM and is powered by Intel Atom processor with a clock speed of 2.56GHz. The 5-inch device has a resolution of just 1280×720. The company claims that the device could offer up to 6 hours of battery life. As it's a Mini PC, it has all necessary connectivity options such as HDMI port, USB 2.0, USB 3.0, USB-C, headphone jack and Ethernet connectors.
The device uses a new technology to cool down, and the fan won't make any noise on your desk. The Mini PC looks bulky but it can easily fit into your pocket given that the product has a 5-inch smartphone display.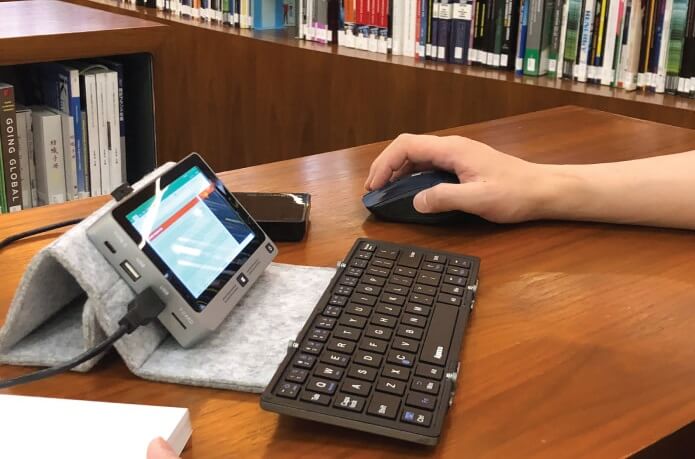 The device supports a variety of accessories, including a Bluetooth keyboard and the company is also selling a foldable carry case. You can get the device for just $139 if you order now, while the market price would be $299. It is also worth noting that device is targetted for September 2018 delivery, and over 4000 people have already booked the device.
While the project is currently in prototype type stage and the final product is not yet ready, it has already been fully-funded on IndieGogo, and the crowdfunding campaign would end in one month.
By the looks of things, the Mini PC is a successful project as it has generated more than $300,000 in one week. "We were able to hit our goal of $20,000 in only 18 minutes! Good news is… we still have 30 days left in our campaign," Leo Cheung said.
It shouldn't take too long before the company launches the Mini PC as the project has already received the funding. You can back it from Indiegogo for $139. What do you think about the Mini Windows 10 PCs? Let us your thoughts know in the comments below.