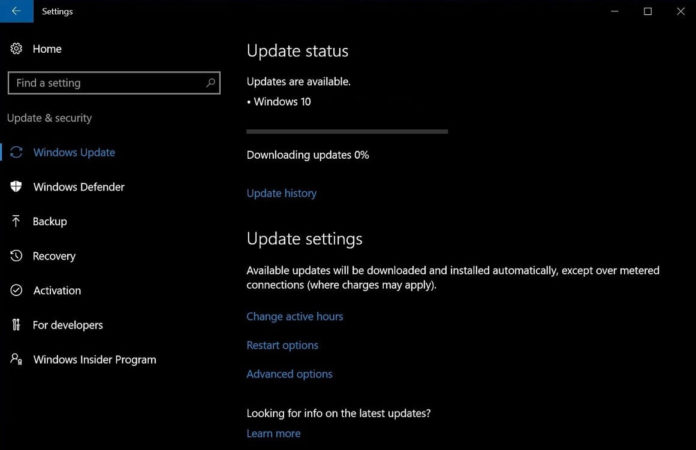 Microsoft is already allowing users who don't want to wait any longer to get the newest version of Windows 10, and while the normal upgrade experience is smooth, the clean install of Windows 10 is recommended for improved performance.
Microsoft has released the Windows 10 April 2018 Update as a manual download, and you can easily upgrade your device by checking for updates in the Settings app. On Tuesday, the newest version of the operating system will start showing up in the Windows Update for select users and it will be downloaded automatically to deliver a smooth upgrade experience.
The upgrade process always drags the old settings, unnecessary software and unwanted files from your previous installation of Windows. Basically, Microsoft allows you to start your Windows experience from scratch (without manufacturer bloatware and third-party applications) by performing a clean install and now things are much easier.
Without any further ado, here's how you can quickly backup your computer and clean install Windows 10 April 2018 Update.
Backup your PC
As noted above, the clean installation of Windows 10 will remove all the files, including the personal files, third-party apps, first-party apps data, and pictures stored in the system. The full backup is also recommended in case something goes wrong and you need to restore your previous installation. There are plenty of ways to backup Windows 10.
With the new backup tool
To backup your files, do the following:
Open Settings.
Navigate to Update & security  > Backup  > Add a drive, and then choose an external drive or network location.
The old ways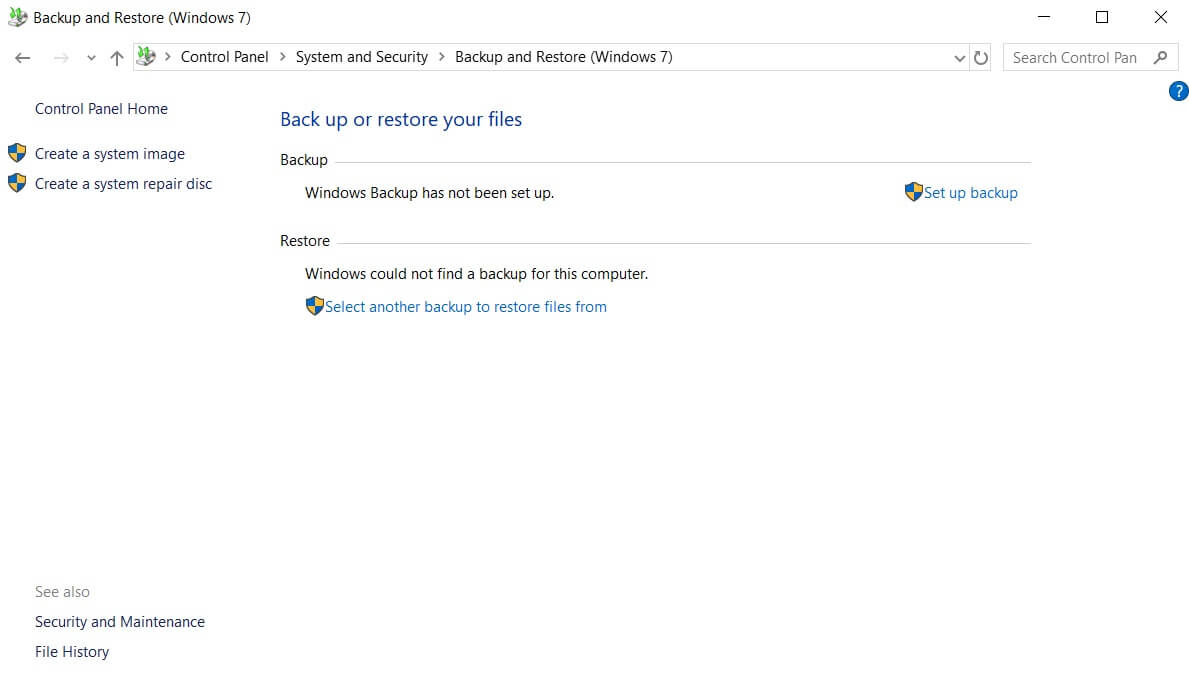 With Windows 10, Microsoft is also shipping the old Windows 7 backup tool which is quite easy to use. In this method, we're using a system image to backup everything stored on your computer, including the current installation of Windows 10, applications and files. Here's how you can backup your PC with the traditional tool:
Open Cortana/Search and look for Control Panel.
In Control Panel, navigate to System and Security > Backup and Restore (Windows 7).
Click Create a system image link.
In "Where do you want to save the backup? wizard, select a hard disk where Windows is not installed. You can also select an external hard disk.
Start the backup.
Needless to say, you can always move the files and folder from system storage to the external hard drive.
Preparing the PC for a clean installation
Windows Activation: It's always better to store the activation key of your PC in case something goes wrong. You're good to go if you bought the digital license or DVD from Microsoft. You can confirm the activation status from Settings > Security & Update > Windows Activation.
Driver: Download the important drivers such as Ethernet or Wi-Fi adapters from your manufacturer's site.
How to do a clean installation of Windows 10 April 2018 Update
Microsoft has released Windows Media Creation tool to help users perform a clean installation of the operating system. You can also create a bootable USB drive to clean install Windows. It's worth noting that Media Creation Tool is one of the easiest methods to reinstall the OS.
Windows Media Creation Tool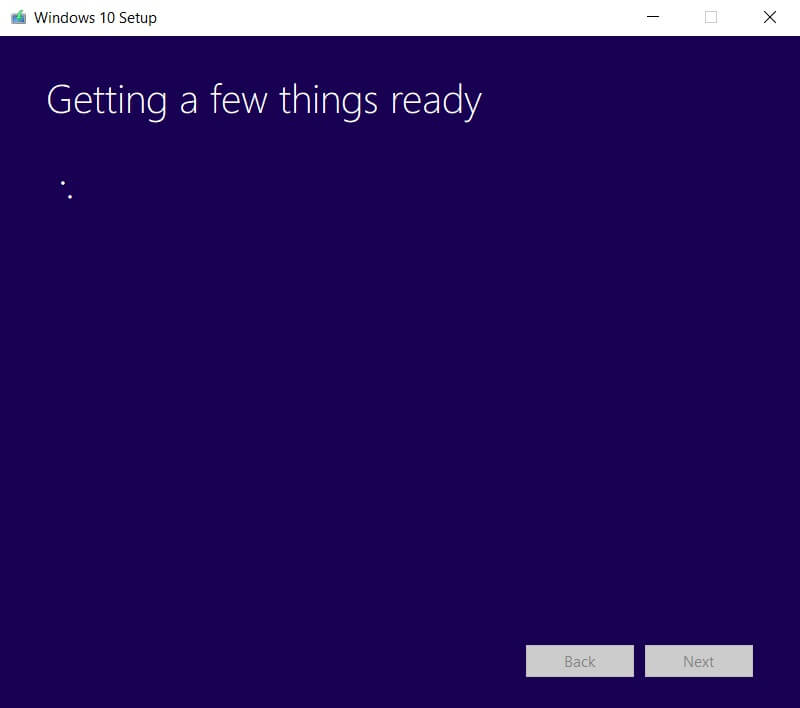 You can use the Media Creation Tool to install a clean copy of the latest version of Windows 10 operating system. The process removes the third-party apps.
Create a bootable drive with Media Creation Tool
Download the Media Creation Tool from here.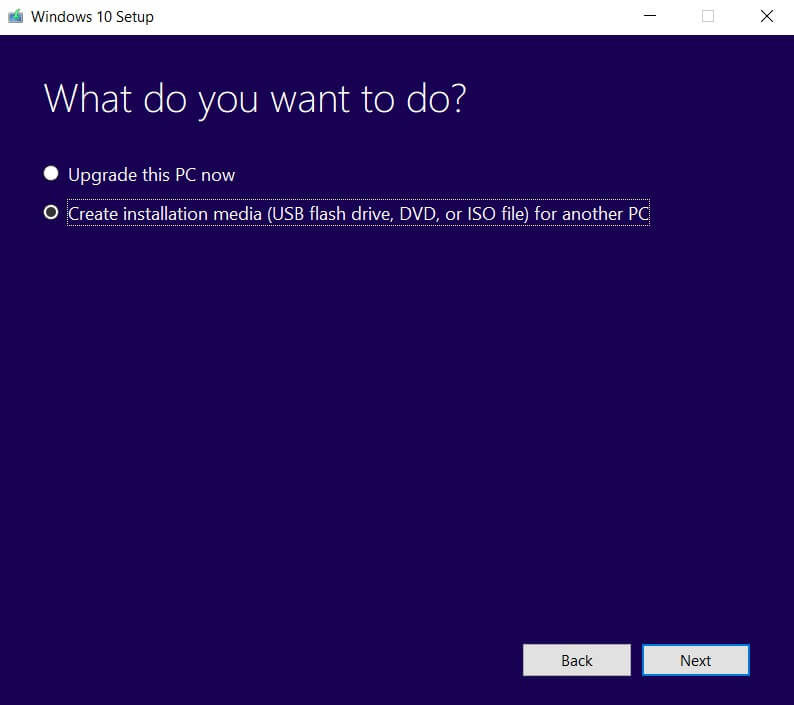 Select the "Create installation media (USB Flash Drive, DVD, or ISO file) for another PC" option.
Select the correct type of installation media for the copy of Windows 10, either Pro or Home edition.
Select the 64-bit or 32-bit depending on the current architecture of your hardware.
Select the installation type USB flash.
Attach a blank USB flash drive with at least 8GB of space, and Windows will create a bootable drive.
Installing Windows 10 with USB Drive
Open Settings, and navigate to Update & Security > Recovery > Advanced startup, and click 'Restart now'.
Make sure you've connected the USB bootable media to the device, and boot the OS with a USB drive.
Follow the on-screen instructions in Windows Setup wizard.
Click Next and hit the Install Now button.
Click "I don't have a product key link" to continue.
Follow the on-screen instructions, and click on the Custom: Install Windows only (Advanced).
Select and delete the disk (usually Drive 0 Partition 1) where the Windows is currently installed. All files will be deleted, please backup your system.
Select the empty drive (usually Drive 0 Unallocated Space), and follow the on-screen instructions.
Once Windows is installed. Activate it and finally check for updates on Settings > Update & Security > Windows Update.
Manually create the bootable USB drive
First and foremost, download and save the Windows 10 ISO files.
Download and install the third-party tool called Rufus from here. (It's a third-party tool, use it at your own risk).
Select the USB flash drive.
Under Partition scheme and target system type, select 'MBR Partition scheme for BIOS or UEFI'.
Under File System, select NTFS and 4096 bytes default under Cluster size option.
Check the Quick format option.
Check "Create a bootable disk using [ISO Images]", and select the ISO file by clicking on the disk image.
Also, check 'Create extended label and icon files'.
Click the Start button and click OK button to accept the USB data loss warning.
Open Settings > Update & Security > Recovery > Advanced startup, and boot with the USB.
Let us know if you've any questions about Windows 10 April 2018 Update in the comments below.