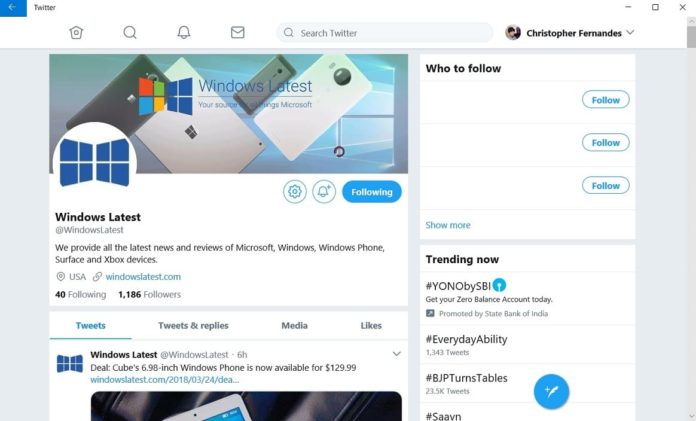 Microsoft is betting big on Progressive Web Apps for Windows 10, the upcoming Redstone 4 update will be the company's first operating system to support such apps. Twitter has recently launched its own PWA app for Windows 10 and today the app is receiving a big update with new features.
Twitter has had a UWP app for Windows 10 since a while, but the company never bothered to update the app due to some unknown reasons. Twitter's old UWP app for Windows 10 doesn't even support 240 characters and some other necessary features.
Twitter's PWA app is available for Windows 10 PCs and Tablets, the UI is identical to the company's mobile website which offers app-like experience on Android. Progressive Web Apps are web apps that are enhanced with modern features like Push Notification and improved touch input to deliver an app-like experience. In other words, whenever a new update will be pushed to Twitter's mobile website, the changes would be immediately reflected on the Windows 10 app as well.
The latest version of Twitter comes with support for Live Tiles. The company recently added support for jump lists on Windows 10, which allows users to access app commands by right-clicking on the Twitter tile in the Start menu. Interestingly, Twitter PWA for Windows 10 also supports the Share Dialog like a native UWP app. Needless to say, PWAs can be integrated into the Windows 10 via Service Workers and other APIs to deliver the app-like experience.
The latest version of Twitter is already available for download from the Microsoft Store, and you can grab it right away if you are on Windows 10 version 1803 (Redstone 4). The PWA apps would not work on any older versions of Windows 10.
"Given the overlap in terms of capabilities, we often get asked about the recommended approach: PWA or UWP. We see this as a false dichotomy! In fact, on Windows 10, the Universal Windows Platform fully embraces Progressive Web Apps, because EdgeHTML is a foundational component of UWP," Microsoft said in a blog post.
The Progressive Web Apps are an essential part of Microsoft's app gap strategy and is not supposed to replace the UWP apps. The PWAs also supports Service Worker, ability to load content without internet, push notifications and more.