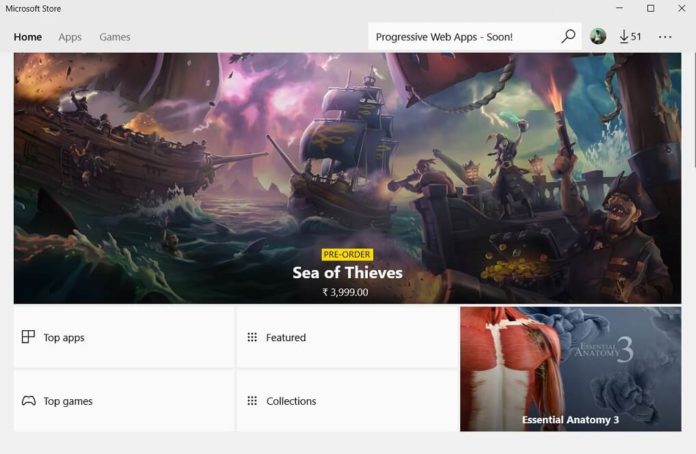 Progressive Web App is a simple web app and/or web service which uses various modern web capabilities and delivers an app-like experience across the device. The interesting thing about these web apps is it can work offline and in the background.
For instance, Instagram's website supports PWA. If you go to instagram.com on your mobile device, you'll get a notification asking you to pin this site on the home page and show push notifications natively, etc. Once you do that and open it later on, it looks just like the regular application. All functionality and features will be there.
Microsoft wants Progressive Web App
Quick answer: They have to fill the app gap. And this is the most efficient and instant way to resolve the problem. If you are thinking that Microsoft is going to call all major web app service providers and ask them to build their website which also supports PWA, then you are wrong, as what Microsoft is going to use Bing Crawler. Basically, Bing Crawler tool will check the various popular website or web services and check if they meet predefined standards. If it meets certain standards, Bing Crawler will automatically generate appx wrapper of it and put it into Microsoft Store.
What's more interesting about these PWA (which are generated by Bing Crawler) is developer can add various features to enhance the user experience such as live tiles, notifications in action center, Cortana integration, multiple instances, in-app-purchases and more.
Furthermore, Microsoft doesn't need to seek permission from the site owners to do this. So maybe in future, all of the sudden hundreds of them, maybe even thousands of PWAs show up in Microsoft Store.
And the best part? Company owner hates to pay developers. Why don't they just hire few web developer and make a Progressive Web App website and call it a day? And these PWAs never needs to be updated via Store, because it's getting data from the live website and the size of these apps will be small and can live in a cache offline.
As of now, Microsoft Edge does not support PWAs. But with Windows 10 Redstone 4 Microsoft Edge is getting support for PWAs. So maybe by end of 2018 or early 2019, we might see a lot of Progressive Web App in Microsoft Store.
PS: In case if you are wondering, Microsoft Edge on Windows 10 Mobile will not get support for PWAs.