The traditional PC market has managed to beat the analyst expectation. The sale of all traditional PCs such as desktops and notebooks reached 60.4 million units shipment mark. While on the other hand, Apple PC sales are collapsing.
The PC market has been struggling for the last few years as the sales decreased year-over-year. Things are however improving. IDC last year had predicted that the PC market share will continue to drop but the latest data is representing year-on-year growth.
In the past few years, Microsoft's Windows PC segment has been doing average in terms of unit sales. However, the premium notebook and Windows 10 2-in-1s are helping to keep PCs relevant. PC shipments were originally projected by IDC to decline 1.5% but the PC market has improved the sales. The rise in the PC business is due to some companies producing a new category of Windows devices, and it eventually helped the industry achieve better numbers.
"Business uptake of Windows 10 systems appear to be steadily ongoing, benefitting commercially-focused PC OEMs such as HP, Dell, and Lenovo. Demand for premium notebooks in both the consumer and commercial segments have also helped major vendors retain better margins and garner buyer interest," IDC said in its analysis for Q1, 2018.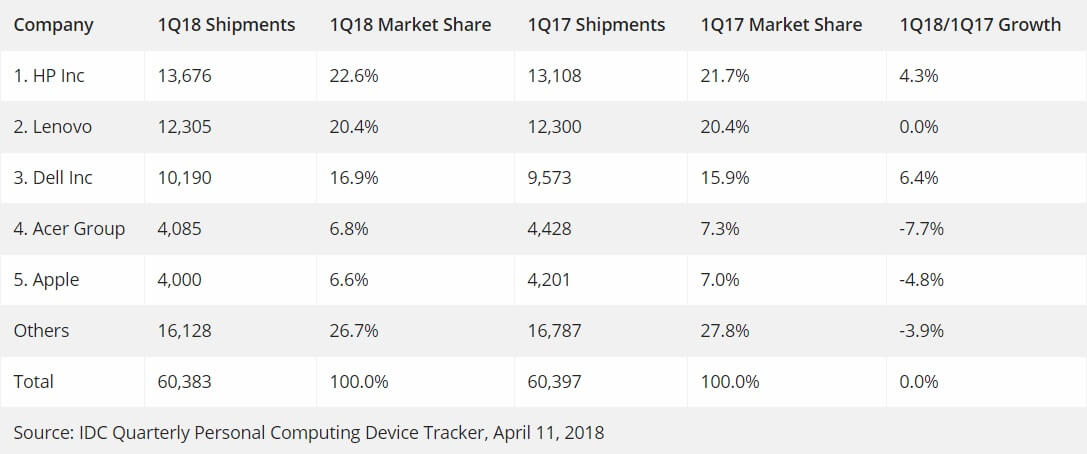 It goes without saying that this is a good news for PC manufacturers, although PCs sales may never increase by double-digit because of the mobile platform. Nonetheless, the PC market is doing good and it would remain profitable for manufacturers.
According to IDC, HP is still the leading OEM for PC market during the Q1 2018 as it shipped no less than 13.5 million PCs, up from 13.1 million same quarter last year. Lenovo is the runner-up with 12.3 million, while Dell is currently third with 10.1 million shipments. Out of all the major companies, Dell's performance is strong and growing 6.4%.
IDC in the analysis noted that the gaming industry is growing and the sales are on the rise, the trend is likely to continue as the crypto miners are fading. In the coming quarters, the PC sale will continue to grow and the adoption is most likely to increase after the launch of more Always Connected PCs powered by Windows 10 on ARM. The premium notebooks are also growing and IDC predicts that the trend is most likely to continue.