Earlier today, We had reported about the failure of Microsoft's effort to increase the market share of Windows 10's default 'Edge' browser even after various efforts by them. Previous months reports from StatCounter definitely gives Microsoft a lot to cheer about. The new report shows that the gap between the market share of Windows 10 and Windows 7 is increased.
According to this report, Windows 10 market share has increased from 42.78% to 43.53 %. The older operating systems from Microsoft have seen a drop in market share with Windows 7 dropping a little bit from 41.86% to 41.59%. Windows 8.1 also dropped from 8.72% to 8.51%.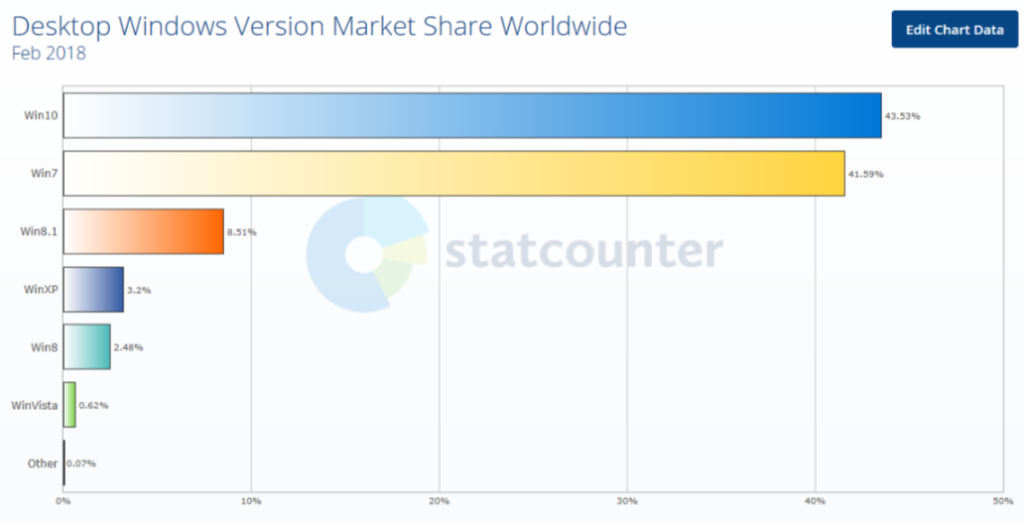 This means enterprises are now beginning to upgrade their older devices with older OSes. But what is quite interesting is that this report is contrastingly different from the earlier released netmarketshare report which suggested that Windows 8.1 market share increased while Windows 10 and Windows 7 market share decreased.
Differences like these generally happens because of the different methodology used by these companies to generate the monthly market share data. Nonetheless, we are seeing a increasing trend of market share for Windows 10 for last few months which is a good sign for the future of Windows 10.
More market share for Windows 10 will mean that developers will have an opportunity to develop there Universal Windows Platform (UWP) apps for wide audience. Microsoft has been trying very hard to bring developers on board to their vision of future of Windows OS with Universal apps.
During the launch of Windows 10, Microsoft had expected to reach 1 billion Windows 10 consumers by the end of 2018. In November 2017 Microsoft has revealed that Windows 10 was running on 600 million computers. Even though achieving this goal looks difficult from here but reaching as close to this goal would certainly make a big difference to how they approach the future of Windows Operating System.
One thing that stands out for Windows 10 from the earlier OS from Microsoft is that every new version of Windows 10 is adopted at very rapid pace because of Microsoft Vision of providing "Windows as a service". We hope Microsoft would reach their goal of 1 billion Windows 10 consumers.