The latest report from NetMarketShare shows that Windows 10 is growing worldwide, but when it comes to gaming, Windows 10 users might be going back to Windows 7, according to Steam.
The gaming network Steam has posted the monthly usage survey report, which shows that Windows 7 usage skyrocketed last month, while Windows 10 still lags behind the unsupported operating system when it comes to gaming.
Windows 10 gaming usage share dropped because of Chinese gamers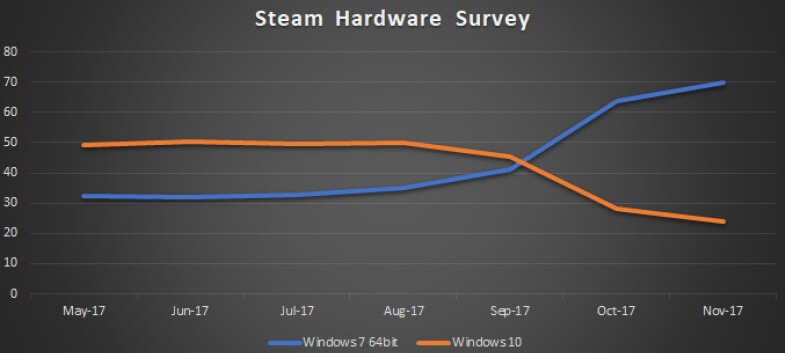 While it appears that more and more gamers are ditching Windows 10 for Windows 7, the dip in Windows 10 gaming share could be the result of Chinese gamers preferring Windows 7 over Microsoft's latest operating system.
On Steam, Windows 7 now holds 69.89 percent share, with the 32-bit version of Windows 7 increased by 1.41 percent. On the other hand, Windows 10 market share drop accounted for 4.97 percent, the operating system now holds a share of 23.65 percent. The 32-bit version of Windows 10 now holds a share of 0.29 percent, declined by 0.08 percent last month.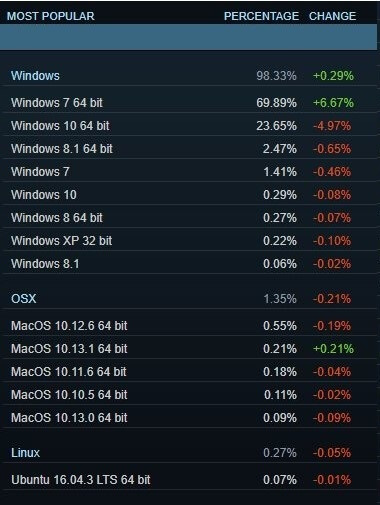 The current Steam trends are nothing surprising because more and more Chinese gamers prefer Windows 7 over Windows 10. It's worth noting that China's share on Steam increased 8.23 percent last month, now it holds 64.35 percent, while on the other hand, English language users share on Steam witnessed a drop of 4.25 percent, now accounts for 17.02 percent share.