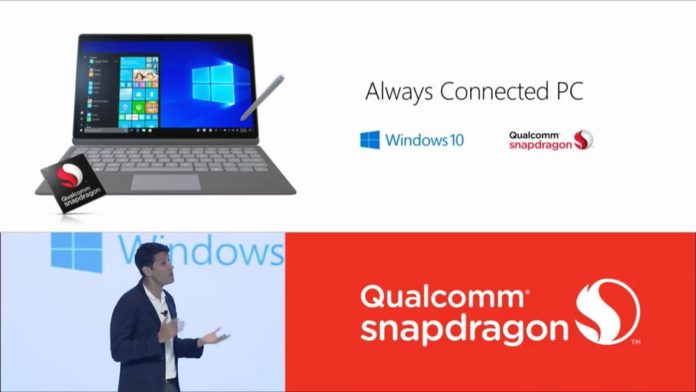 Now that PC market is shrinking, it seems important to sensitize consumers to the fact that Windows 10 laptops are more relevant than ever before. Mobile is the nucleus as far as the personal computing goes. People have more or less become independent of a need of a PC unless anyone create stuff or works at IT. Mainstream computing like Facebook, Twitter, Whatsapp or any media consuming platform, all are being accessed mostly by smartphones. Since Microsoft lacks phone it is in a mission to make your laptop an ultramobile, always connected PC.
Microsoft today announced the new Windows 10 ARM devices and the company also explained the advantages/benefits of the Always-Connected PCs for consumers and organizations.
"Always Connected PCs are modern Windows 10 devices with Windows Hello, touch, pen and ink, with thin, light, elegant designs that are more secure, instantly on, always connected with a week of battery life. When I think about organizations and whether they are going to leverage the massive networks of mobile operators and adopt these new PCs – the answer is simple: It is not a matter of if, it's a matter of when and how fast all mobile PCs become Always Connected PCs," the company explains.
Make no mistake – Windows 10 on the ARM is not only aimed at consumers but Microsoft also expects that it can transform how people work. This is a huge shift for the industry as a whole. It will run full Windows 10 S (free upgrade to Windows 10 Pro) with zero modification, optimized version of Office 365 will also be available.
Mobility and the power come in hand in hand, they complement each other. An always connected PC should be able to stay connected all the time. It will take you by surprise that ultramobile PCs are having a multi-day battery life. Microsoft explains that these devices are built to give consumers an excellent battery life.
Advantages of Always Connected PCs over other PCs for consumers
Microsoft's Executive Vice President of the Windows and Devices Group, Terry Myerson shared in a blog post explained that an ARM device has changed his workflow in a very positive way. The device will always be ready whenever it is intended to work. The user never have to wait for the device to wake up, it will always be there helping the user, he explains. He also claims that the battery life users get from this revolutionary device is beyond their imagination. The battery life will put today's smartphone and wearables into shame.
Once you charge your device you don't have to worry about a day or two or even three depending on your workflow but yes multi-day battery life will be achievable. "Being always connected wherever I am whether I am in the car, airport or coffee shop, always being connected just feels like the most natural, safe and secure way to work with teams and be creative", he explained.
Advantages of Always Connected PCs over other PCs for organizations
IT professionals are more concerned about productivity. The Always-Connected PC will be a major shift, enabling them to work efficiently, no matter where they are. No matter how capable or how much battery life it has security is something that IT always gives their first priority. Windows 10 is the most secure Windows ever, but there is public Wi-Fi hotspot which users connect to and put hackers in control of the data coming and going to their devices. The always PC will enable safe connectivity everywhere. Cost is also a huge deal for IT organizations. They spend a lot of dollars installing, updating and maintaining Wi-Fi antennas and repeaters throughout their buildings. "Always connected PCs are key IT leaders to unlock the benefits of this global network and provide employees with a modern workplace they want at a lower cost", Myerson explained.