Last month, Microsoft released the Fall Creators Update to improve the Windows 10 operating system. An analytics company recently revealed that Windows 10 Fall Creators Update is already on 5.3% of PCs, while on the other hand, the overall growth of Windows 10 has slowed down. Today, NetMarketShare has published October 2017 stats revealing the current market share of all active versions of Windows.
While everyone expected Windows 10 Fall Creators Update to do something good in Microsoft's favour, the new stats show that the operating system is still growing but slowly. However, as the Fall Creators Update is being rolled out in phases, not all users have upgraded their PCs yet.
The market share of Windows 10 has increased slightly in October 2017 and Windows 7 is still the most popular desktop operating system. Windows 10 market share increased to 29.26 from 29.09 percent.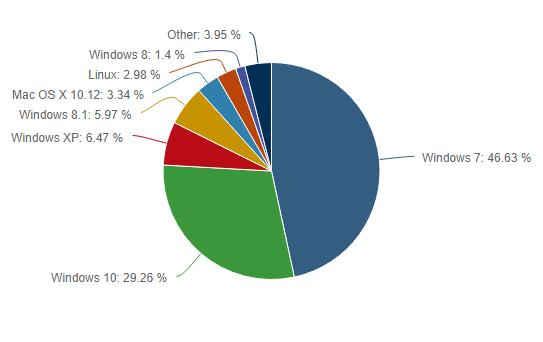 On the other hand, Windows 7 market share has dropped to 46.63 from 47.21 percent, apparently, Windows 7 is still declining but the users are actually switching to Windows XP or other platforms instead of Windows 10 operating system.
As you can see Windows 10 market share has increased by 0.17 percent, the slight increase is apparently not going to help Microsoft as the company will drop support for Windows 7 in around 2 years.