Last week, Microsoft released the Windows 10 Fall Creators Update for PCs and Tablets. Its been more than one week since the company started rolling out the feature-packed Windows 10 update and according to an analytics firm, the Fall Creators Update is already on 5.3% of PCs.
In just one week, Microsoft has managed to get over 5.3% users on the Windows 10 Fall Creators Update which is quite surprising considering that Microsoft is rolling out the update in phases. However, this number also includes the Windows Insiders on the Fast and Slow Rings with the Fall Creators Update build.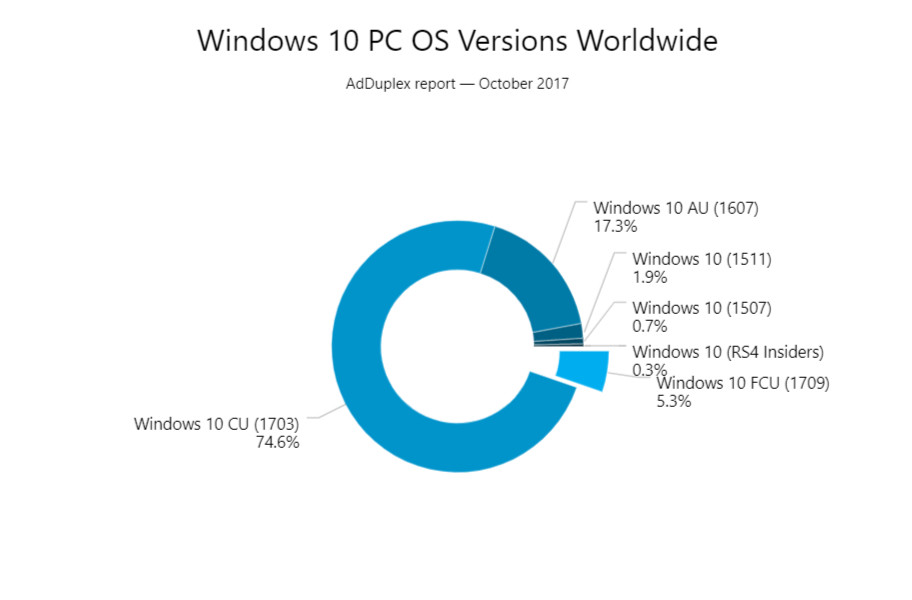 On the other hand, Windows 10 Creators Update which was released in April is running on over 74.6% of PCs while 17.3 of PCs are still powered by Windows 10 Anniversary Update.
The Fall Creators Update for Windows 10 brings a lot of new features and improvements, it is also the most secure version of Windows. One of the interesting features introduced with the new Windows 10 update is the anti-ransomware feature that lets you protect your folders and files against the ransomware attacks, the feature basically stops the malware from encrypting your data.
Windows 10 Fall Creators Update also introduces a new design language called 'Fluent'. With the new design language, Microsoft is taking the first step towards overhauling the overall interface of Windows 10, Fluent Design not only brings new animations but it also adds a subtle blur effect to user interface elements.