The 16 years old Windows XP operating system has managed to increase its market share, despite the fact Microsoft is no longer supporting it. It appears that more users ditched Windows 7 or 10 and downgraded to an unsupported operating system which is not even eligible for security updates and patches.
While we were expecting Windows XP to decline as Microsoft has recently released the Windows 10 Fall Creators Update with a lot of improvements and features. NetMarketShare has released new stats revealing that Windows XP is going up, instead of going down.
Last month, Windows XP market increased to 6.47 percent from 5.69 percent, as you can notice, the operating system has witnessed a sharp increase of 0.78 percent. On the other hand, Windows 10 market share increased by just 0.17 percent, it appears that Windows XP growth rate was actually better than Windows 10 in the month of October and it definitely sounds weird.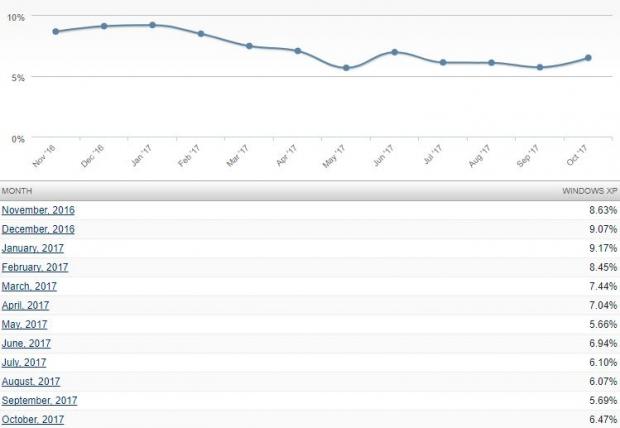 Microsoft ended support for Windows XP in April 2014 and since then, the operating system is getting no updates. The Windows XP operating system is no longer getting security updates, patches or even bug fixes. However, sooner or later, Windows XP will decline as Windows 10 is still growing.