Microsoft rolled out the Fall Creators Update to Windows 10 PCs and Tablets in April and it seems that a lot of users have still have not upgraded their machines. Largest cross-promotion network for Windows apps, AdDuplex has published a new report revealing the market share of Windows 10 versions.
The Creators Update which is out for a while now, powers over 72.5 percent of Windows 10 PCs. At the same period (in 2016), the Anniversary update was installed on 91.2 percent of Windows 10 devices. It appears that Microsoft is still not able to convince the existing users to upgrade to the Creators Update. On the other hand, the next major update for Windows 10 is coming to the general public on October 17.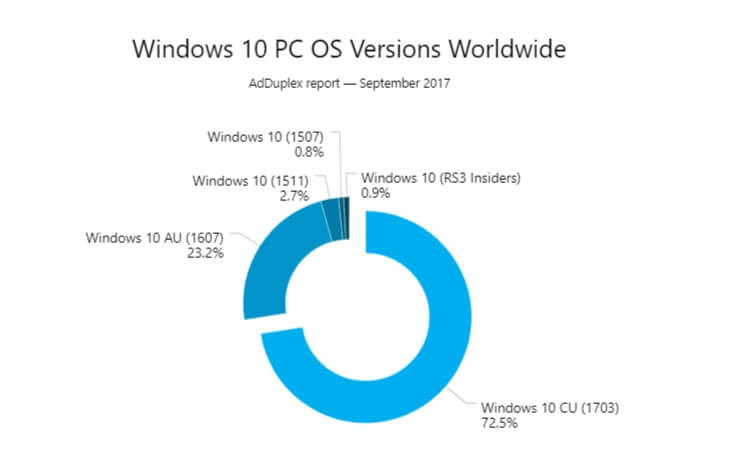 The Windows 10 Creators Update is however still gaining new users, as compared to last month (August), the Creators Update saw another gain of 7.5 percent. While on the other hand, the Creators Update falls short of Anniversary Update as back in 2016, the Anniversary Update was doing better than Creators Update by 23.2 percent.
In other news, HP is now the top Windows 10 PC maker with 25.2 percent usage share. Microsoft, on the other hand, is in 8th place with just 2.8 percent usage share. AdDuplex also revealed that Surface Pro is more popular than the Surface Laptop with 5.8 percent share whereas the Surface Laptop has just 1.7 percent share.