Earlier this week, we reported that Consumer Reports had withdrawn all Microsoft Surface devices from their 'recommended' status because of their new findings from their survey regarding the reliability issues of these devices. Since then Microsoft has come out in defense of their popular Surface devices lineup.
Microsoft corporate vice president Panos Panay has already reiterated that Surface has always improved with each generation. Microsoft does agree internally that there were "some quality issues" experienced by users of Surface Book and Surface Pro 4 that were launched a couple of years ago.
The reason for these issues for some is because of Intel's new Skylake generation chipsets and some believe that it was Surface-specific drivers and settings that lead to these faults in those devices.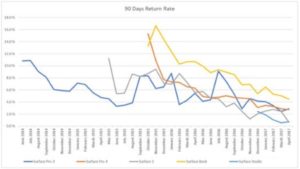 When we look at the return rates of the Surface devices they have consistently decreased over the past 12 months with only the Surface Pro 4 and Surface Book showing an unexpected behavior out of the whole Surface devices. You can see them from the image above from a Microsoft memo.
After knowing about these issues, Microsoft had worked on these issues and brought some good devices with more reliability with the likes of  Surface Laptop and Surface Pro (2017) and other upgrades to initial Surface Studio and Surface Hub with Performance Base. Panos Panay believes that all of the improvements are nowhere seen in the Consumer Reports survey.
Microsoft feels the Consumer Reports survey is a bit over exaggerated that considers little issues as also reliability issues. Panos Panoy has mentioned earlier that the incidents per unit of Surface devices are very low about less than 1 percent which does show the real picture of the situation from Microsft's point of view.