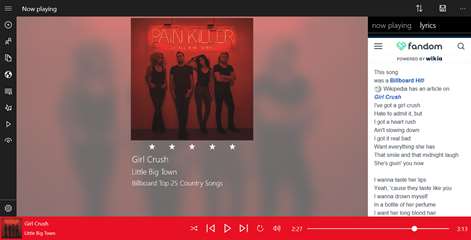 Microsoft's default Music Player Groove Music allows users to play music and videos stored in the Dropbox, OneDrive but is restricted to specific areas. But now Windows 10 users can play music and videos from Dropbox, OneDrive and pcloud without having to think about any restriction with a new Windows 10 Universal application Next Player.
Next Player has a comfortable, simple and easy to use design and which provides users the ability to listen to music from One-drive without any limitations.
Next Player already had a Windows Phone 8.1 application and now the developer has finally released its new designed Universal Windows Platform application. With Next Player users also have the ability to listen to Internet Radio.
Users will be happy with the Next Player as it provides lot of new features like Drag and Drop music into current play queue list, View Lyrics, Create and Edit Playlist, Quick Search option for any song, album, artist, genre or folder.
Availability of Auto Playlist which is based on rating, added date, play counter, availability of a Sleep timer and most importantly the Next Player has a Live Tile which can be pinned to the Start Screen.
The application is available for download in the Windows Store for Windows 10 PC and Mobile users and can be downloaded by clicking the below link.