The WhatsApp team has updated the Beta App for Windows Phone with new changes to be released shortly to the public app after successful testing.
New Features:
Appearance of the camera button is now at the bottom on the grey bar instead of the select button
Added the camera button (pictured left)
Added a toast (pictured right) that displays the date of the last message sent as soon as you open a chat.
The look of the dates appearing on the chat screen also changed!
Please find the screenshots below.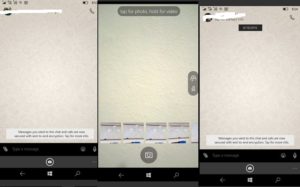 These features will be rolling out to the public version after successful testing on the private beta app.
So what do you think about the recent changes let us know in the comments below.
Note: WhatsApp  Beta is a private beta and is not available for download.