The redesigned UWP WhatsApp debuted in the Microsoft Store last year and is getting another big update soon. WhatsApp for Windows 11 and 10 has been evolving its features for years, with one of the latest updates adding support for a dedicated "Calls" tab for some users.
An update for WhatsApp Beta is now rolling out, enabling support for a new "Call links" feature. If you've ever made calls using WhatsApp for Android, you may have noticed this link feature, which lets you invite anyone to the call using the link. Anyone can open the link and join the video or voice call whenever they want.
To get started, you will need to open the Calls tab in WhatsApp and click on a new option called "Create a call link" You can choose between voice and video and send the link to whoever you want, and they can join the call. WhatsApp calls are already simple, but link support makes hosting conference calls with friends or communities easier.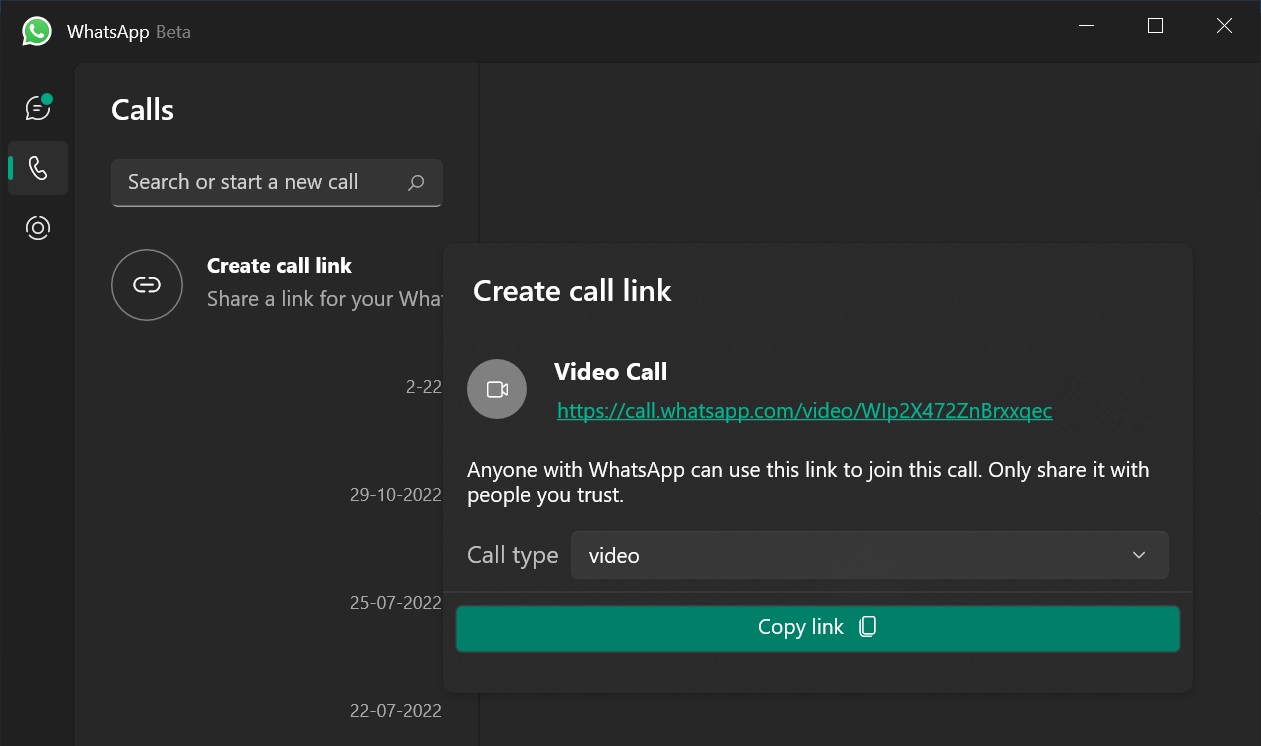 As you can see in the above screenshot, the shareable links open access to everyone, and people can join or leave the call using the link anytime.
So, this feature is useful for calling your friends to discuss a movie or football match as they can come as they please even when you (host) aren't there and leave anytime without interrupting the call itself.
WhatsApp says you can send the link using the contacts feature within the WhatsApp platform or copy the link (ideal for sending on other platforms like email or SMS).
Remember that you can create as many links as you like, but call links will expire automatically after 90 days, and you'll need to generate a new set of links every three months. Also, it supports up to 32 people at a time, which is on par with other messaging apps.
Better dark mode support
The new calls tab and call link support are limited to the WhatsApp beta app, but if you're on the stable version, another update enables better dark mode support, which fits well with Windows 11's design language.
In addition to calls and dark mode improvements, WhatsApp will soon let you edit your messages.
The app won't include an edit history button, so you can change your message and hide it from others in personal or group chats anytime. However, the feature is still in the works, so the plans can change, and Meta could add a history option in future.