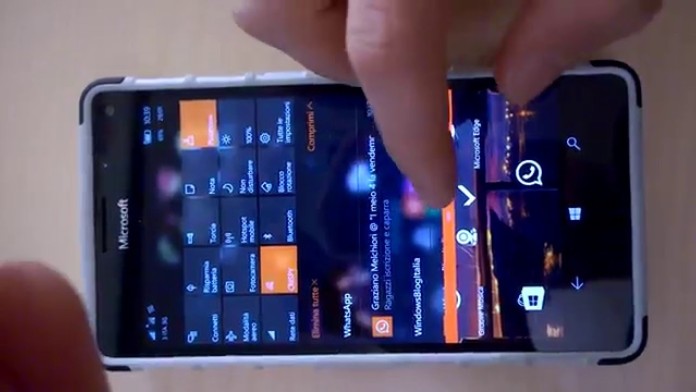 A new Windows 10 Mobile concept is making rounds on the internet, and unlike the other concepts, this fanart aims to fix notification center.  The concept from the unnamed designer seems to have really got Action Center in the right way and it is definitely worth checking it out, which is what we're doing in this article.
Windows 10 Mobile concept features Aero Glass. Basically, it adds transparency to the Action Center.
The designer has also made various other concepts for Windows 10 Mobile. In fact, one of the concepts also tried to fix the Start menu by introducing several small changes to the current user interface (UI) and user experience (UX).
It is worth noting that you won't find anything radical in this concept. Everything in the below concept consists of minor tweaks, though surprisingly thoughtful.
As a whole though, the concept makes Windows 10 Mobile experience somewhat more usable and better.
Windows 10 Mobile is slowly coming to old devices in all carriers and regions. Microsoft has also released the Update Advisor app that prepares older Windows Phone 8 and 8.1 devices for the new Windows 10 Mobile software update.
The app analyzes a device for its upgradability and recommends to free up space if the device is running out of storage. The app also optimizes the internal memory for the space needed to install Windows 10 Mobile.
You can also use the tool to reorganize content found on the device by learning alternative storage solutions.
For folks interested in Windows 10 Mobile official upgrade, head over to the Windows Store and search for the app.
Let us know in the comments below if the app works for you as intended and your experience with Windows 10 Mobile if you have a Lumia 950/950 XL/550.