KEY POINTS
Microsoft will end support for Windows 10 on October 14, 2025. After this date, the company will no longer release security updates for this version.
Current data indicates that Windows 10 dominates the global PC market share, with approximately 70.88% of users, while Windows 11 is about 24.89%. Even older versions like Windows 7 and XP still maintain small market shares.
Post 2025, users can still use Windows 10 (similar to how many still use Windows 7, 8, and XP), but they won't receive official updates from Microsoft. Some third-party companies might offer support for Windows 10 beyond this date.
Windows 10 support ends on October 14, 2025, giving users precisely two years to upgrade their hardware and install Windows 11.
In exactly two years (730 days from today), Microsoft will release the final security update for Home and Pro editions of Windows 10. This means Windows 10 will join Windows 7 in the graveyard of Microsoft's desktop platform, but as mentioned above, you still have two years.
Microsoft has about two years to move its billion users to Windows 11 or 12. According to Statcounter, Windows 11 is installed on about 23 per cent of global PCs, while Windows 10 is on 71 per cent of PCs. This is a huge difference, especially when you realize Microsoft plans to end support for the operating system in about two years.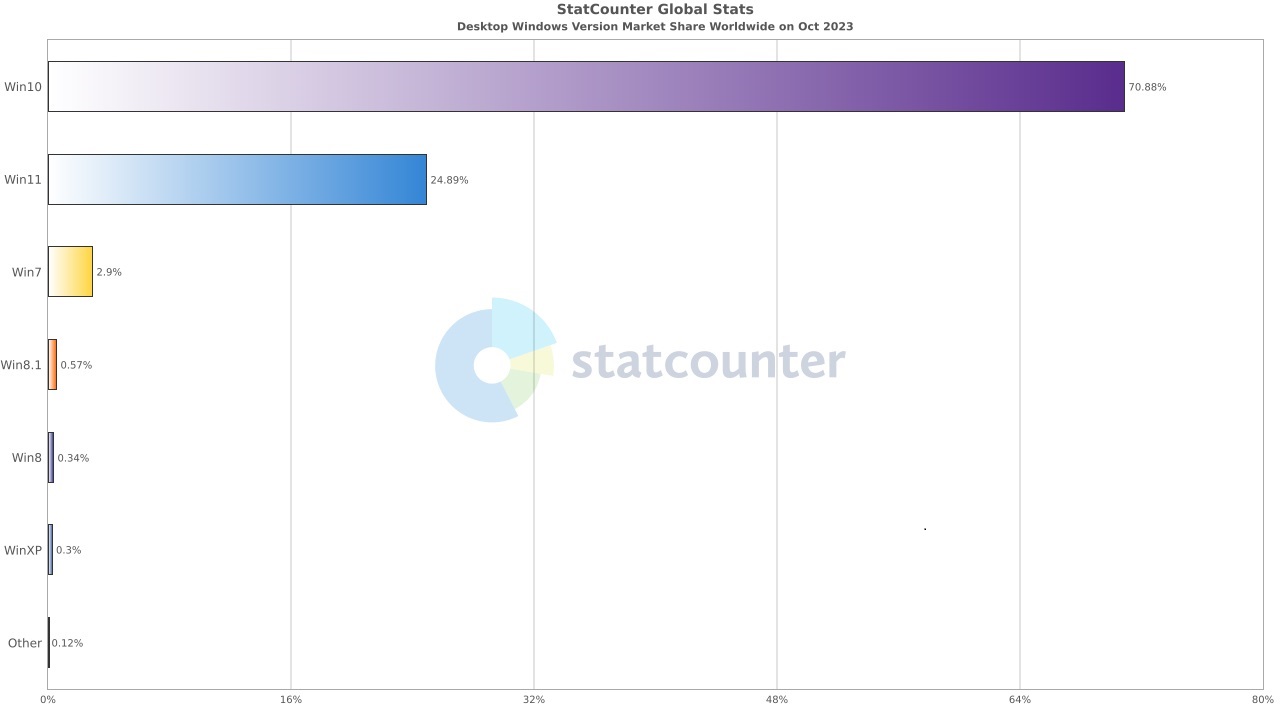 The above StatCounter data for October 2023 shows Windows 10 has the largest market share, accounting for approximately 70.88% of the desktop. On the other hand, Windows 11 is the second most popular version, with a market share of 24.89%. Windows 7, despite being an older version, still holds a market share of about 2.9%.
Windows 8.1: This version accounts for about 0.57% of the market share.
Windows 8: Slightly less popular than 8.1, this version has a market share of around 0.34%.
Windows XP: An even older version than Windows 7, its market share is around 0.3%.
Other: This category, with a market share of 0.12%, likely includes different, less common versions or variations of Windows not specified in the main types.
Steam hardware survey also confirms Windows 10 is more popular than Windows 11, but users are slowly migrating:
Windows 10: This is the most popular version among Windows users on Steam, accounting for 57.97%.
Windows 11: The next most popular version, with a usage of 37.43%.
Windows 7 (64-bit): Older, but still present, accounting for 1.23%.
Windows 8.1: Has a share of 0.18%.
Windows 7: This non-64-bit version has a share of 0.06%.
What happens to Windows 10 in 2025?
So, what happens to PCs that continue to run on Windows 10 in 2025 and beyond? The good news is you can continue to use the operating system, as you can still use Windows 7.
Windows isn't a subscription-based OS, and it will always continue to work. Of course, as with Windows 7, some third-party companies will pledge support to Windows 10.
You will not be forced to switch to Windows 11 or Windows 11. As shown in the above chart, many people still run Windows 7, 8 and even XP on their computers and never upgraded to Windows 10.
Will Windows 11 remain a free upgrade?
We pressed Microsoft again, and the company confirmed Windows 11 be completely free to upgrade to eligible Windows 10 PCs. The free upgrades will continue into 2025.