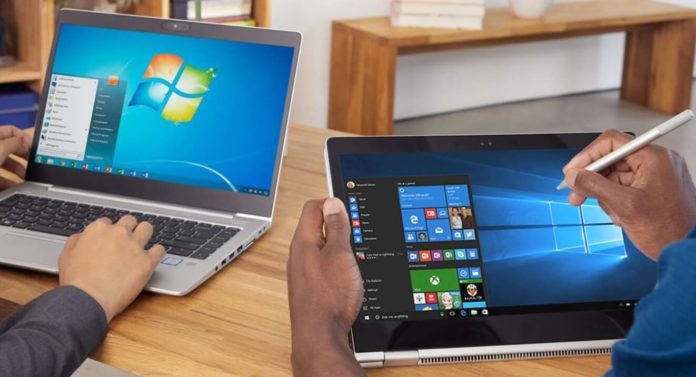 On January 14, Windows 7 reached the end of life and the operating system will no longer receive any other security patches. Windows 7 KB4534310 is apparently the final update for the OS and KB4534314 is the last security-only update.
Windows 7 EOL (End of Life) means the OS would no longer receive security updates and patches from Microsoft and KB4534310 is the final or last update. Windows 7 Home and Pro users shouldn't expect any updates or critical patched from Microsoft after January 14.
To download the last update on Windows 7, just open Control Panel and then choose Windows Update. Select 'Check for updates' to check for new updates if you don't see this particular patch listed on the screen.
You might need to install the patch via the Install updates button, depending on the configuration of Windows Update you're using. As always, you can download Windows 7 KB4534310 offline installers and manually update the PCs.
KB4534310 Download Links for Windows 7
Windows 7 KB4534310 Direct Download Links: 32-bit (x86) and 64-bit.
KB4534310 for Windows 7 Changelog
As you'd probably guess, the monthly rollup for Windows 7 comes with security fixes only. According to the changelog, Microsoft has resolved issues with various core components of the OS including Windows Storage and Filesystems, Windows Input and Composition, Microsoft Scripting Engine, and Windows Server.
Microsoft has also released security-only update KB4534314 for Windows 7 and it comes with all the aforementioned improvements. Windows 7's Servicing Stack Update KB4536952 is also available for download.
What's next for Windows 7 users
British intelligence agency recommends users to stop using Windows 7 and migrate to a supported operating system. If you don't want to install Windows 10, you should not use Windows 7 machine to connect to the internet and browse the web or address sensitive data such as payment gateway or emails.
Since the support for Windows 7 has reached EOL and the last quality update has been released, Microsoft really wants consumers to know that it's time for an upgrade.
Microsoft has been pushing out a user-friendly reminder to Windows 7 PCs about the product's EOL. Starting January 15, Microsoft will be a bit more aggressive and full-screen warning messages will pop up on your Windows 7 device.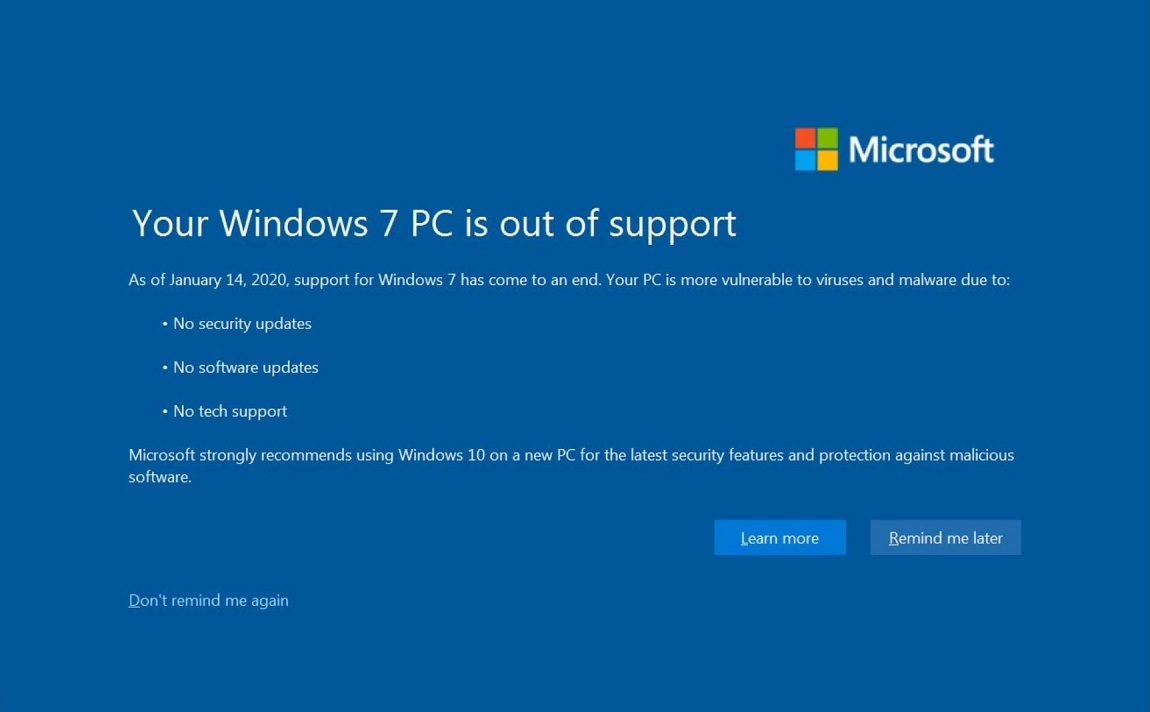 As you can see in the above screenshot, the full-screen notification describes the risk of using Windows 7 after January 14. Unlike the aggressive marketing push in 2015, the latest notification will be temporary and users can easily dismiss it.
According to Microsoft, Windows 7's upgrade notification will show up on in most editions of Windows 7 including Home and Ultimate.
As we pointed out last year, customers can still upgrade to Windows 10 for free. Or you can also purchase a new desktop, laptop or 2-in-1 device from Microsoft and its partners.