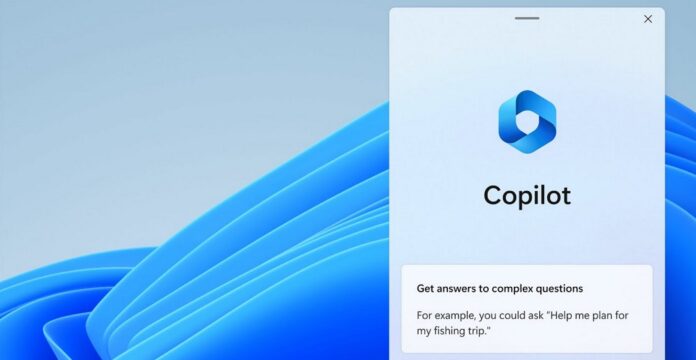 Windows 11 KB5030310 is rolling out with all the key features from version 23H2. Microsoft has published direct download links for Windows 11 KB5030310, and anyone can install it to try Windows Copilot, new File Explorer and other features.
KB5030310 is an optional update for version 22H2, and it ships with the highly anticipated Windows 11 23H2 features. Since this is an optional update, it won't download or install automatically unless you manually select the "Download and Install" button in Windows Update. Additionally, enabling the Windows 11 23H2 feature requires an extra step.
If you want to try Windows 11 23H2 features like Windows Copilot and new File Explorer, you must enable the "Get the latest updates as soon as they're available" toggle, which will download a Windows Configuration Update that turns on the new features.
That's because Microsoft has turned off Windows 11 23H2 features by default in a bid to minimize issues in the operating system. Windows Configuration Update is an enablement package, a switch that would enable features of the Windows 11 2023 Update in version 22H2 itself.
If you want to try Windows Windows Copilot and other shiny features which are turned off, simply turn on the new toggle.
This patch is titled "2023-09 Cumulative Update Preview for Windows 11 Version 22H2 for x64-based Systems (KB5030310)".
Here is a step-by-step guide to install KB5030310 update with Windows 11 23H2 features:
Open Start  > Settings  > Windows Update.
Check for updates.

Select 'Download and install' in the box.

Select 'Turn on' if you see a pop-up "Get the latest updates as soon as they're available".
Reboot the system.
If you do not see new features after reboot, go to update settings.
Look for "Get the latest updates as soon as they're available" and set the toggle to On.

Download and install Windows Configuration Update and reboot again.
Once done, you can use Windows Copilot and other features.
Download Links for Windows 11 KB5030310
Windows 11 KB5030310 Direct Download Links: 64-bit.
To get the update from the Microsoft Update Catalog, click the above link and select the "Download" button within the catalogue.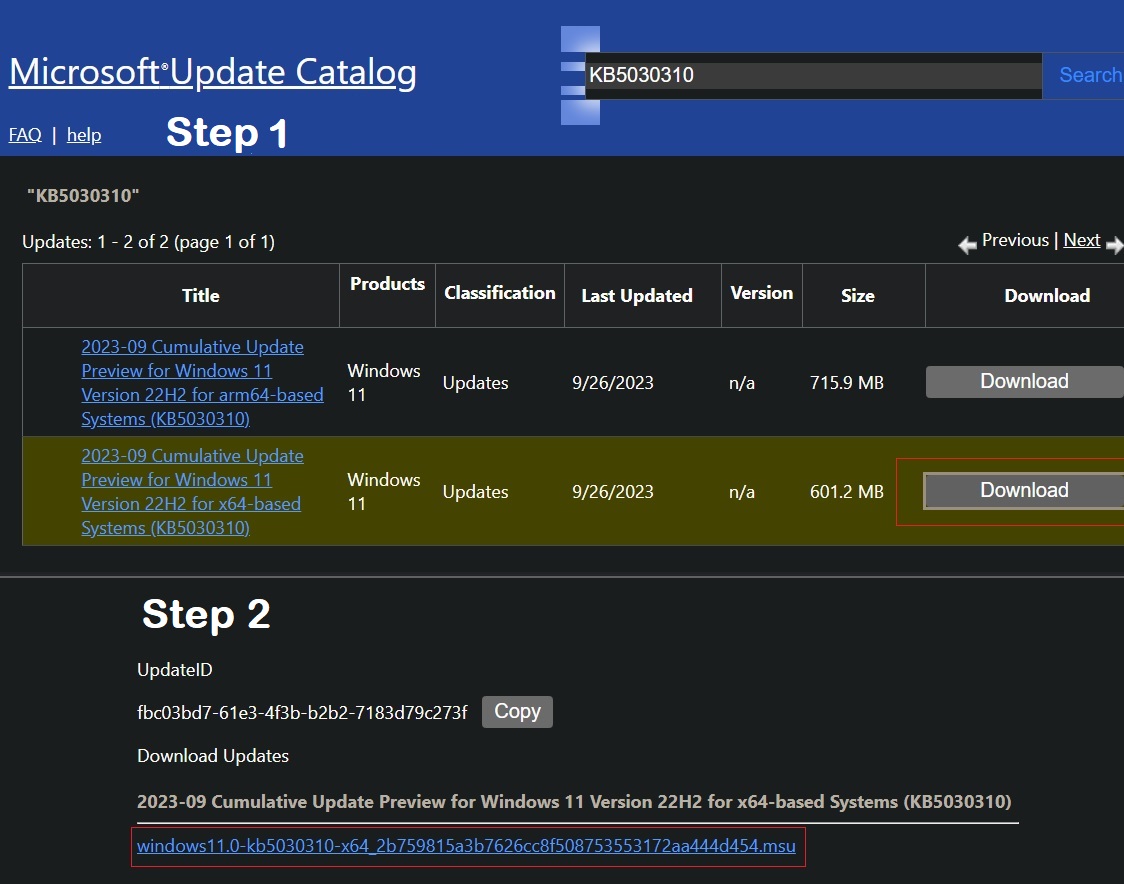 As mentioned above, you can grab today's feature update directly through Settings, but if the traditional method fails, you can use the .msu package.
Why do I not see the Windows 11 23H2 version number?
Windows 11 23H2 features and the new version 23H2 are arriving separately.
After installing today's optional update and Windows Configuration Update (enablement package), your OS version number will remain 22H2. According to sources familiar with the development, the Windows 11 version number won't advance to 23H2 until October.
In other words, new features and version numbers roll out independently instead of being grouped. A version number is still important for various reasons, including new ISOs, installation media, security updates and Microsoft support. Windows 11 22H2 support ends in a year, but 23H2 will be supported for 24 months after its release.
Windows 11 KB5030310 changelog
Microsoft is introducing Windows Copilot, AI-powered Bing and Copilot for your desktop, new File Explorer and more.
Windows Copilot
The flagship feature of the big update is Windows Copilot.
As we all know, Microsoft is betting big on Copilot, powered by ChatGPT's GPT-4 and Bing Chat. With Copilot, you can walk around the operating system by typing your commands in the text field.

Copilot works with any app or window, and initiating the AI feature is straightforward. You can click the new colourful Copilot button on the taskbar or use the 'WIN + C' shortcut, which was previously used for discontinued Cortana.
Copilot appears as a sidebar or side panel on the right side of the screen. While moving or adjusting the AI sidebar is impossible, Microsoft told us the company has made several UI optimizations to ensure it doesn't obscure any desktop content.
As mentioned, Copilot works alongside other active app windows, and it can be used to interact with the app's content. Copilot is 'app-aware', but it may not work with most third-party apps since the feature is in the early stage of development.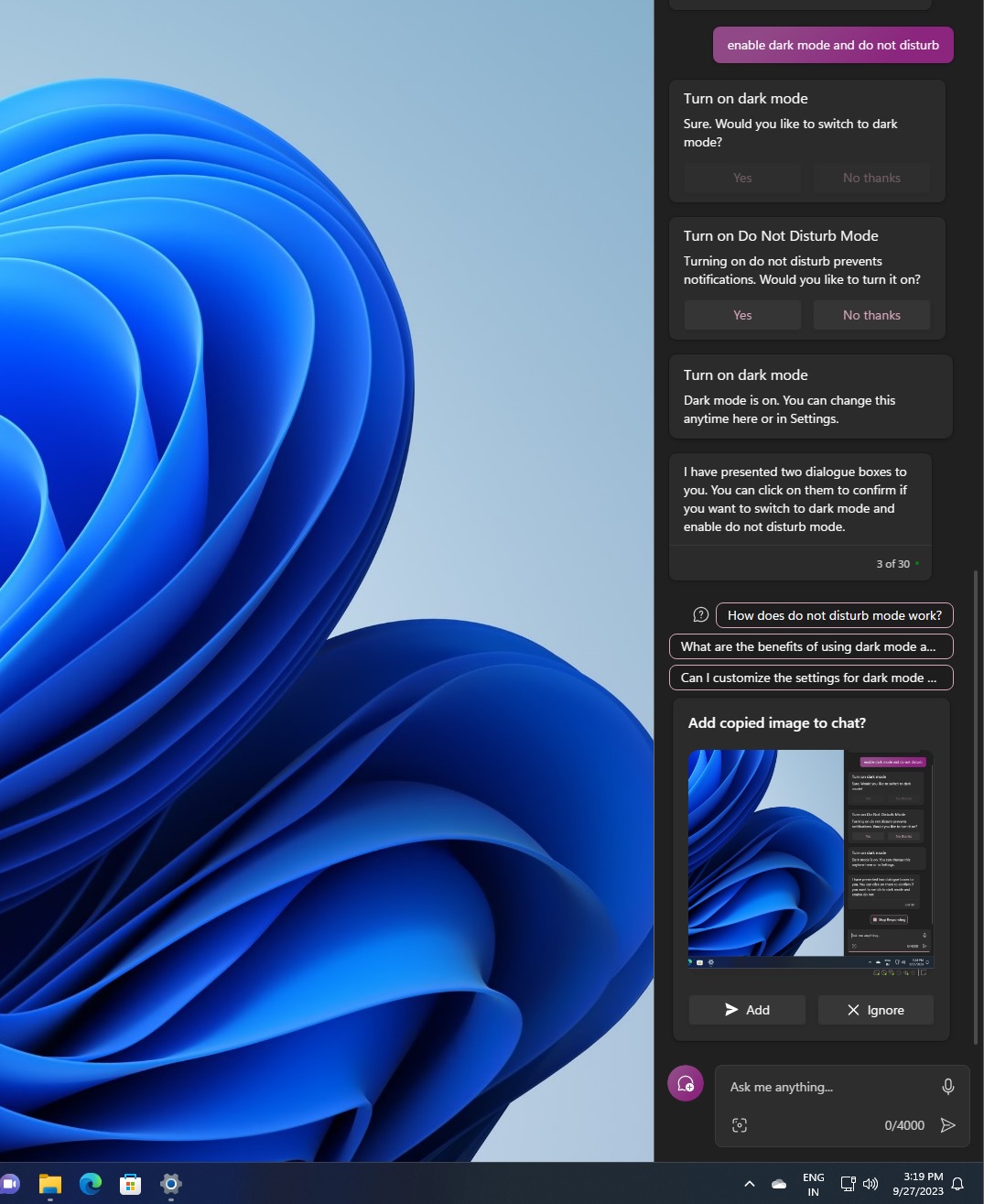 At the moment, you can use Windows 11's AI to enable or disable features like dark mode, Do Not Disturb, capture screenshots, change basic settings, and summarise content on the left side of the screen, but it works only when you open the content or web page in Microsoft Edge.
New File Explorer
If you do not like Copilot or AI features, you can look forward to the new File Explorer shipping today.
In KB5030310, one of our favourite upgrades is the redesigned File Explorer. It comes with a modern File Explorer Home, designed with Windows 11, Microsoft Fluent Design and WinUI principles.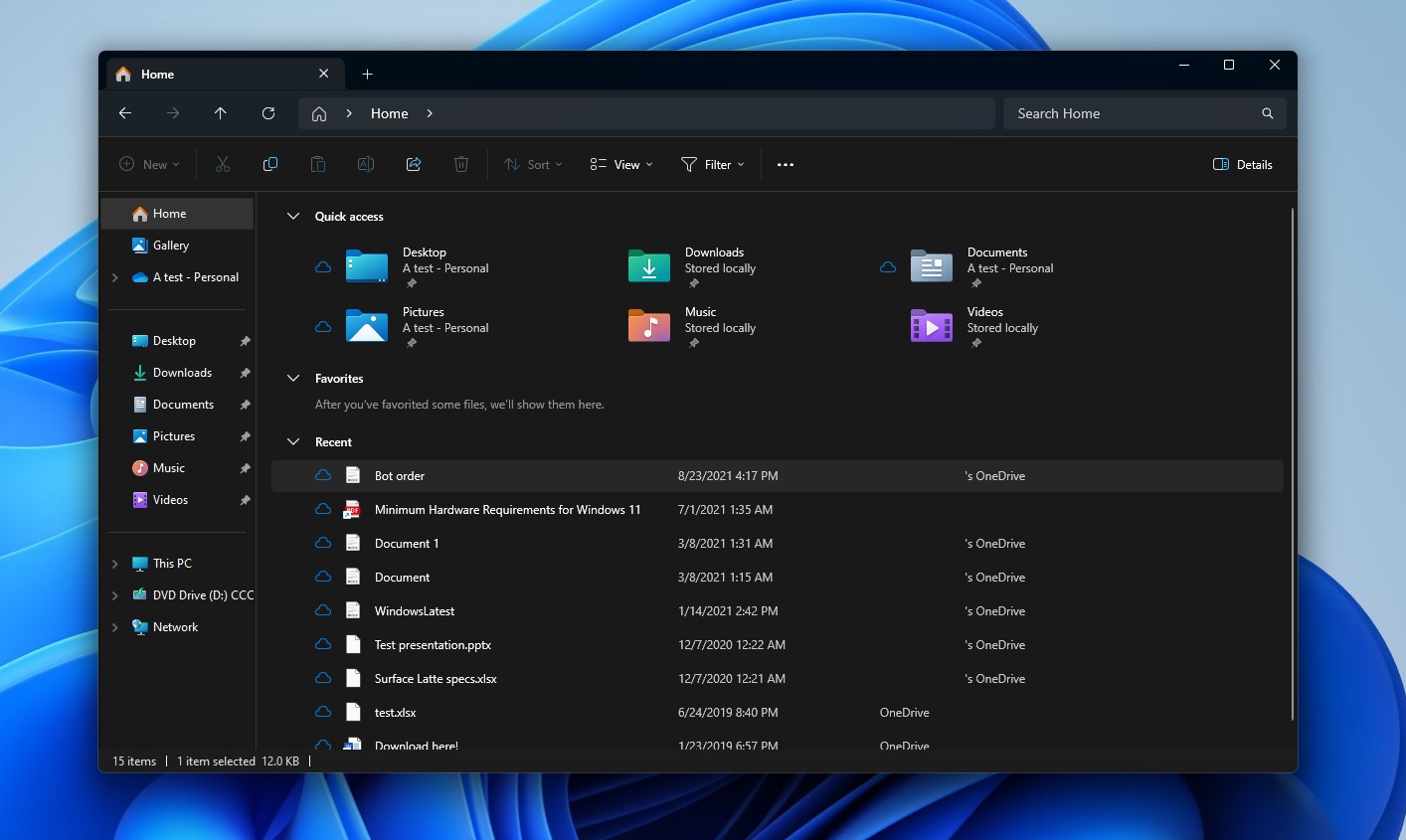 A new recommended files carousel works only with a Microsoft Azure AD account, so most of you won't be able to use the feature.
Another notable change is the new address bar that supports your local and cloud folders, so you can now monitor OneDrive status, including the file's sync process. A quota flyout box has been added to view the remaining and used storage in OneDrive. You won't see the flyout if you have a third-party storage service.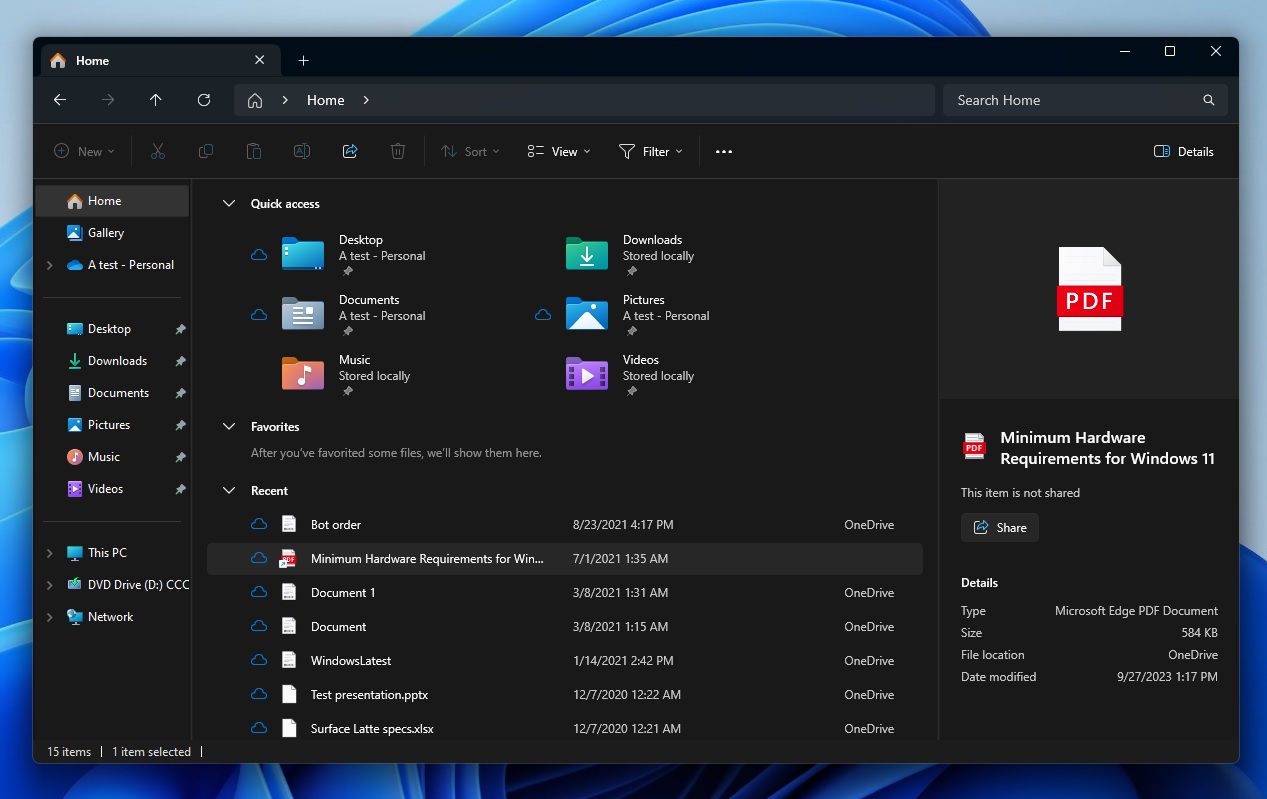 Windows 11 KB5030310 also adds a new details pane to the File Explorer.
You can open the details pane by clicking the icon or using the keyboard shortcut (ALT + Shift + P). With the details pane, particularly helpful for cloud files, you can learn more about the content or related content.
Selected file's contextual information like who created the file, if it was shared outside the computer, date modified, location, size and more show up in the details pane. File Explorer also displays the file's thumbnail.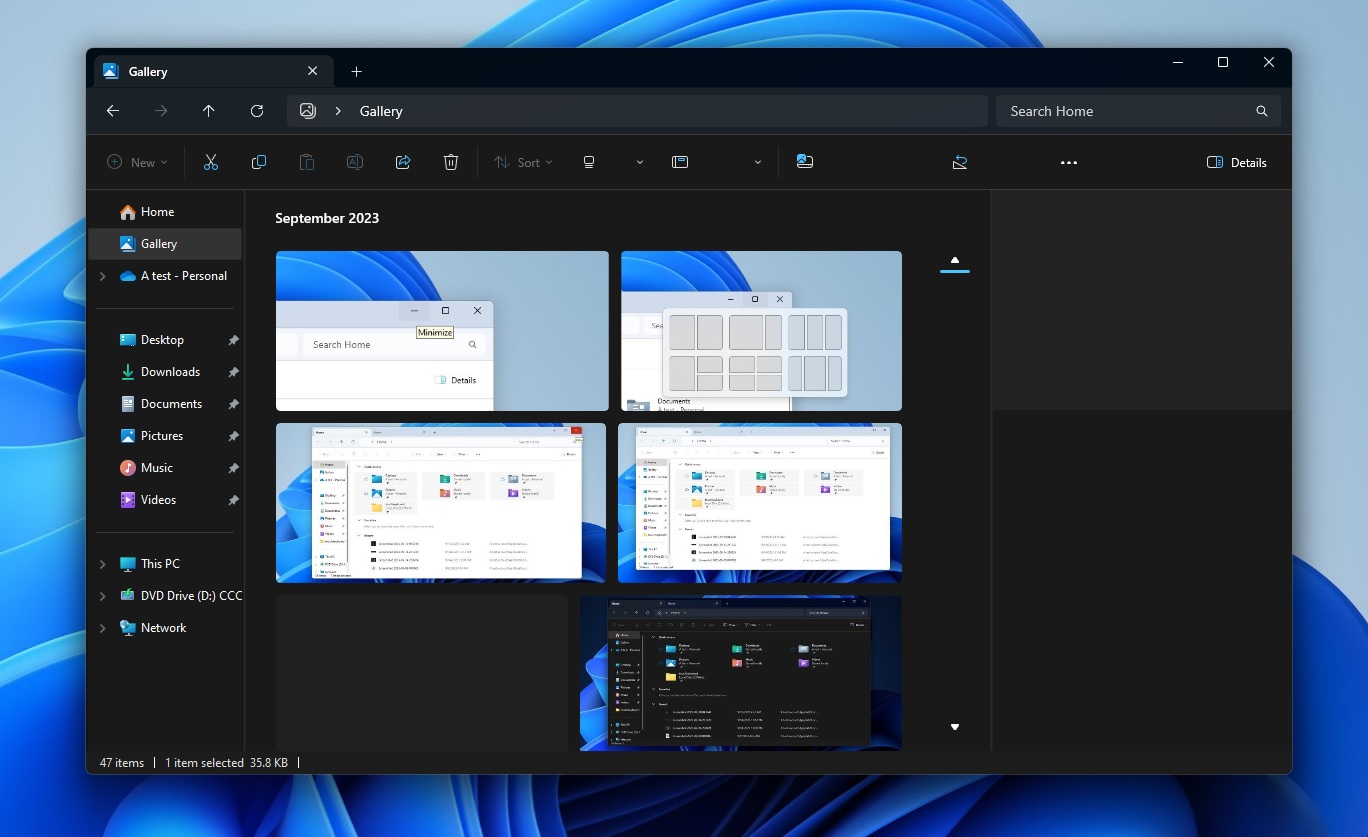 File Explorer is getting a new Gallery feature, similar to Microsoft Photos, but it's built for Windows 11's file manager. Remember the 'All Photos' view in the Photos? It's the same thing, but it's now built into the File Explorer. This allows you to easily manage and access your photo collection.
The Gallery is organized by month, and the latest photos appear at the top of the Gallery.
Dev Drive
The "Dev Drive" is another significant feature introduced in the new Windows update. Designed exclusively for developers, this storage volume promises improved performance for their critical tasks.
Built using the Resilient File System (ReFS) technology, it offers an optimised file system to manage both performance and security.
The primary purpose of Dev Drive is to house project source codes, working folders, and package caches. It's not intended for general use like document libraries or application installations.
Setting up a Dev Drive is straightforward. Users can allocate free space from an existing drive or use a VHD/VHDX. This can be accessed through Settings > System > For developers or using command-line instructions. It's imperative to have a minimum of 50GB for the Dev Drive and, for optimal performance, a device equipped with 8GB or more RAM.
Notably, the 'Performance mode' feature of Microsoft Defender Antivirus has been calibrated to work harmoniously with Dev Drive, ensuring minimal disruptions.
Voice Access
KB5030310 in Windows 11 has amplified its voice access capabilities, especially concerning text authoring. Now, users can effortlessly correct misrecognised words through voice commands.
By merely saying "correct [text]" or "correct that", a correction window pops up with numbered alternatives. Users can then verbally select their preferred option.
Here's a list of all important features in KB5030310 when you turn on Windows 11 23H2 features:
Revamping the Passkey Experience: Windows is refining the passkey experience. Users can now set up a passkey on any supporting app or website. Post setup, users can effortlessly sign in using the Windows Hello native experience, which includes options like facial recognition, fingerprint scanning, or PIN.
Paint Cocreator: Bringing Art to Life The preview of 'Cocreator' in Paint offers an innovative text-to-image function. Users can describe their envisioned art piece in plain text. Leveraging AI, Paint then translates that description into a visual artwork.
Gallery in File Explorer: Accessing Memories with Ease 'Gallery', a new addition to File Explorer, aims to simplify photo access. It's been tailored to showcase the most recent snapshots across all user feeds, offering a seamless photo viewing experience.
Automated Video Creation with Clipchamp Clipchamp users can now utilise the auto compose feature, where they can include personal content. The system then identifies the most impactful segments and assembles them into a professionally crafted video.
Seamless Transitions with Windows Backup: The new Windows Backup functionality ensures that users can transition between PCs effortlessly. It facilitates the transfer of apps and personalised settings using existing credentials. Thus, when users log into a new device, their preferred settings are instantly available.
Enhancements in Presence Sensing Windows is refining its presence sensing features. Notable improvements include 'Adaptive Dimming', setting up presence preferences during the initial PC setup, and enabling PC manufacturers to devise solutions based on presence sensing.
The Photos app now boasts advanced editing capabilities. Users can seamlessly introduce stylish background blur effects. Additionally, locating specific images stored in OneDrive within the Photos app has been made more intuitive.
Narrator and Voice Access: The Narrator now employs natural, human-like voices and supports new languages. Voice access has been extended to facilitate PC logins and offer functionalities on the lock screen.
The Snipping Tool is now more versatile. Its screen recorder feature includes support for audio and mic. Furthermore, the new "text actions" mode allows users to copy and modify text directly from screenshots.