KEY POINTS
Windows Terminal, a modern terminal environment that offers advanced features, won't replace the legacy of Command Prompt on Windows.
Terminal offers tabs support, split panes, GPU-accelerated rendering, customisation options, and the ability to set GIF backgrounds. It can host Command Prompt, PowerShell, and Linux shells in one integrated environment.
Despite the advancements in Windows Terminal, Microsoft remains committed to preserving the legacy of Command Prompt.
Microsoft is not planning to replace Command Prompt branding with Windows Terminal on Windows 11 or the next generations of the operating system.
Spotted by Windows Latest, this was clarified in a podcast published on Microsoft's YouTube channel in January, where the tech giant discussed how Windows innovations won't change cmd.exe or its branding, i.e., the 'Command Prompt' name will continue to live.
Windows Terminal offers many user-friendly features that do not exist in a simple Command Prompt window. This includes tabs support, split panes, customization with wallpapers, and tons of settings to customize Terminal's behaviour, including setting GIF backgrounds.
Microsoft originally announced Terminal at the Build 2020 developer conference. It has evolved into a full-fledged built-in terminal environment with backward compatibility, improved rendering with GPU acceleration, modern text rendering, and more. With the Terminal app, you can access Linux, Command Prompt and PowerShell in one place.
One of the recent Windows 10 updates also added a toggle that lets you make the Terminal the default. Terminal environment in the operating system
Some users fear the rise of the Terminal app and AI could result in the removal of Command Prompt (cmd.exe) or its branding, but that's not the case, as the tech giant is fully committed to the legacy of Command Prompt.
According to Christopher Nguyen, a Program Manager at Microsoft, Windows Terminal is not a replacement for Command Prompt or PowerShell.
"That's a very common question. Command prompt and the Windows Terminal work hand-in-hand together," Microsoft noted.
The Microsoft Program Manager clarified that the Command Prompt is seamlessly integrated within the Windows Terminal.
He further explained, "Windows Terminal serves as a host for command-line shells, like Command Prompt. When you type commands in the Terminal, it communicates them to the Command Prompt for execution and then showcases the results."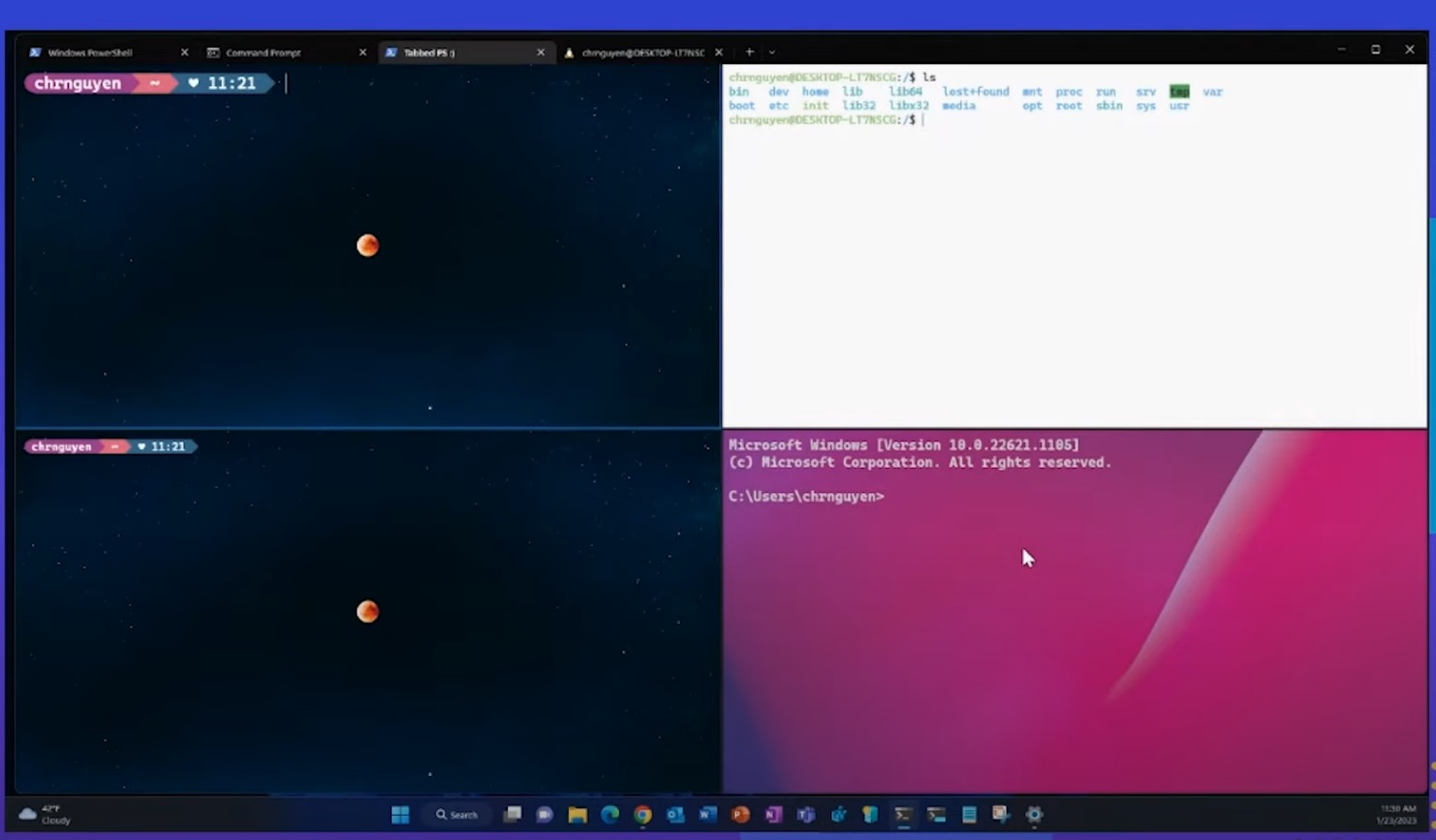 Microsoft showed off a visually captivating split-screen setup on Terminal with PowerShell, Linux via WSL, and Command Prompt, each with distinct backgrounds.
"Customizing backgrounds not only adds a personal touch but also assists in distinguishing between the various shells," the program manager added.
Of course, Terminal was never supposed to replace Command Prompt, but some users feared that Microsoft might stop using the Command Prompt or PowerShell branding and call everything a Terminal window.
That's not the case or plan, as clarified by Microsoft. The tech giant is not only committed to preserving the legacy of the Command Prompt but is also enthusiastically upgrading the terminal environment on Windows.