Microsoft has reportedly stopped offering some devices the Windows 11 optional update after the patch broke MSI PCs with a Blue Screen of Death error. This optional update, released alongside the MSI BIOS update, has reportedly been causing issues on Intel and AMD hardware with MSI's motherboard.
As you probably know, Microsoft publishes at least two updates for Windows 11 every month. The first update is Patch Tuesday with security fixes, and the second release is an optional update with quality features. Unfortunately, Windows 11 KB5029351 caused Blue Screen of Death (BSoD) errors for some devices.
It's unclear if these issues are linked to the update released by Microsoft or MSI, but Microsoft has pulled the update following several complaints from angry users. In Feedback Hub posts, many highlighted how their devices failed to boot with an "Unsupported Processor" when they restarted their PC to install KB5029351.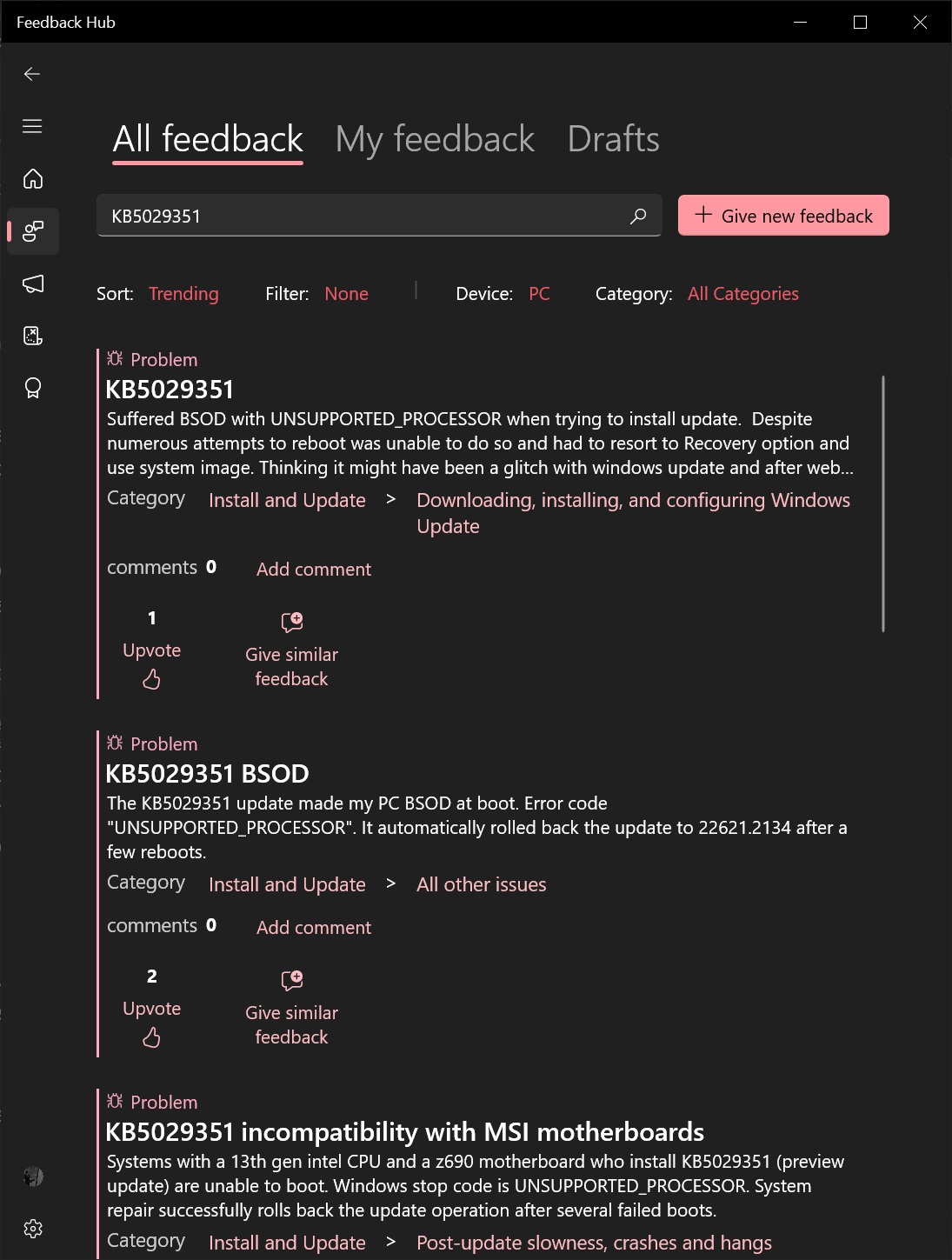 While Microsoft told us it has nothing to share beyond what's been already documented in a support document, users informed us the update has now stopped appearing on their devices.
This means when users with affected machines check for updates, they do not see it.
In our tests, we also observed that Microsoft pulled the optional cumulative update for some devices. It's unclear if the tech giant is working to release an alternative update, but you can still grab the Patch on unaffected devices.
It's also important to understand that the Blue Screen of Death errors may have something to do with a BIOS update released to enable support for Intel's 14th-generation processors. However, this remains a speculation as Microsoft confirmed the company is still investigating reports.
Botched Windows 11 update offers several benefits
The optional update promised to bring several improvements, including a new hover behaviour for the search box. According to the original support document, Microsoft has added a new feature to the taskbar's search that lets you access the search flyout by hovering over the search box.
The update also fixed issues with the search icon, search app, and a bug that affects the TAB key. Microsoft patched other problems, too. For example, the company addressed an issue that broke Narrator, preventing it from identifying the search box on the taskbar.
While these improvements may convince some people to install the update, it is essential to understand optional update changes are bundled with the Patch Tuesday update. In other words, you'll get these improvements in September 2023's Windows 11 Patch Tuesday update.
However, we can't blame the owners of Windows 11 for rushing out and installing the update, as these updates provide quality improvements.