Over the years, Microsoft-backed OpenAI has developed its fair share of language model systems, including GPT-4, which is a large multimodal model with text and image inputs support, DALL·E (AI to generate and edit images), Whisper (audio-to-text), Embeddings, Moderation, and more.
According to a new US trademark application submitted on July 18, Microsoft-backed OpenAI may be planning to launch another large language model, 'GPT-5'. Spotted by us over the weekend, OpenAI has filed a new trademark application with USPTO for "GPT-5", a "downloadable computer software for using language model".
OpenAI has previously used the same "downloadable computer software for using language model" description in the trademark filing of previous generation models, such as GPT-4 and GPT-3.5. Unfortunately, the "GPT-5" name is the only interesting detail the listing reveals, and it doesn't mean OpenAI plans to launch the new version this year.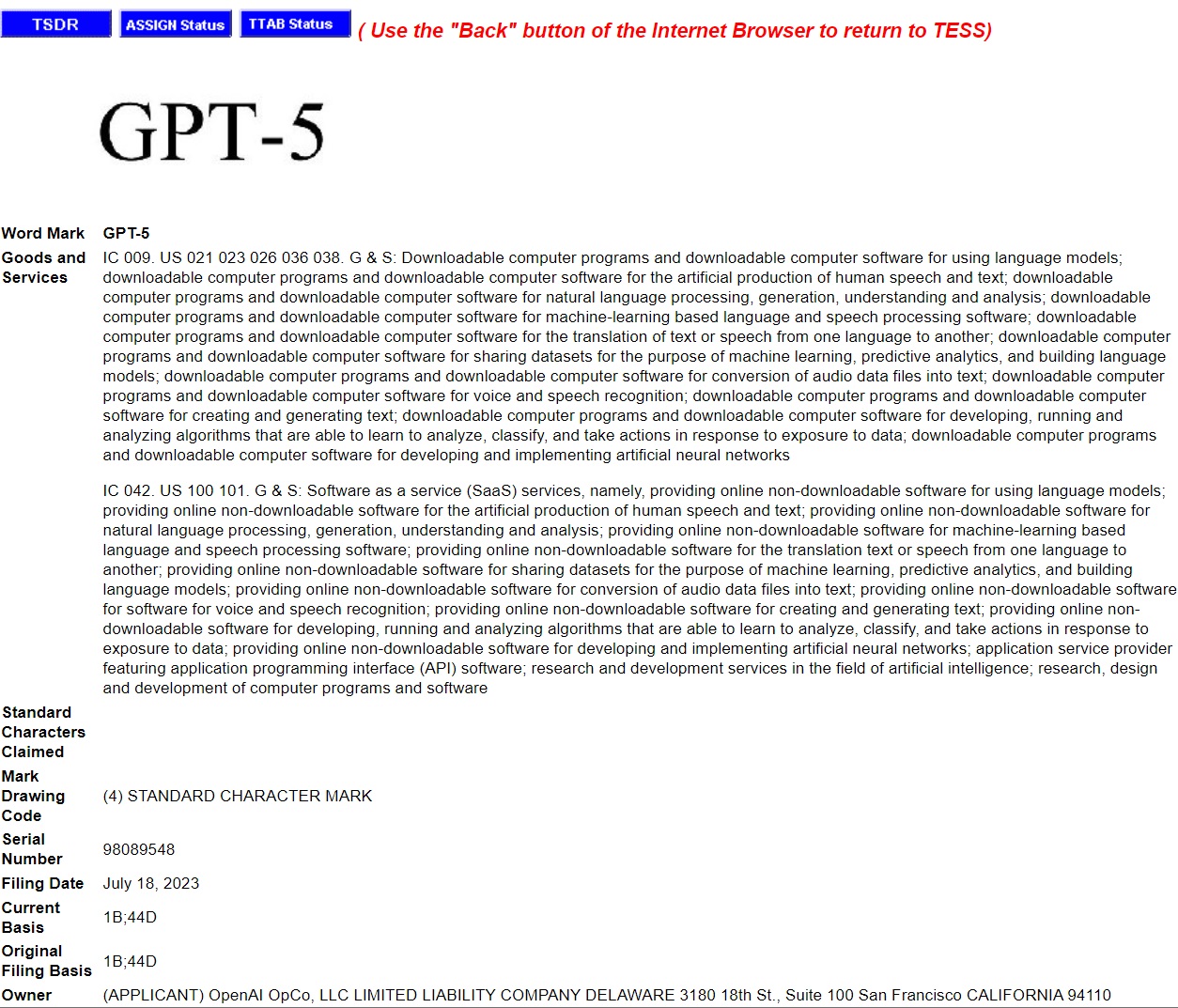 We've done some digging into what OpenAI's GPT-5 could be. In the filing, OpenAI mentions everything from "downloadable computer programs and software for using language models" to software for "the artificial production of human speech and text."
It highlights possible features like "natural language processing, generation, understanding, and analysis."
Additional functions include machine-learning-based language and speech processing, text and speech translation from one language to another, and software for machine learning and predictive analytics sharing datasets.
Moreover, it includes voice and speech recognition software, generating text, and developing and implementing artificial neural networks. The software also seems to focus on algorithms capable of learning, analyzing, classifying, and responding to data.
ChatGPT-5 isn't happening anytime soon
Before jumping to a conclusion, remember that OpenAI has used the same description for its previous models, and all these features are already available in GPT-4.
OpenAI's ChatGPT, which powers Microsoft's Bing Chat and other language model-based chatbots, won't get a GPT-5 model in the near future. Windows Latest understands that OpenAI plans to focus more on the GPT-4 model and improve its features through tools like plugins, custom instructions, functions, and more.
Speaking of trademark application, it does not confirm the existence of a working product. Often, companies file trademarks or parents for concepts that have yet to be developed to stay ahead of competitors or safeguard their intellectual property. As such, GPT-5 could merely represent a refined or enhanced version of GPT-4.
Until OpenAI provides official information regarding the model's capabilities and technical details, it is unclear what to expect from GPT-5. There is a chance Open AI and Microsoft may shift away from raw power, like developing GPT-5 or 6, and focus more on refinement and plugins to extend the capabilities of the existing models.