Instagram is working on a full-fledged web app for Threads, which will soon land in the Microsoft Store for Windows 11 and Windows 10. A source close to Meta confirmed the company plans to bring its hyped Threads app to the Windows 11's Microsoft Store soon, but there's a catch – the web app is not ready yet.
Instagram's Threads app has been in the news for the past few months, and it's the most user-friendly alternative available to Twitter. In terms of downloads and hype, Threads has proved successful so far, but it's lagging behind Twitter and any other text-based social media app when it comes to features.
Threads app doesn't have hashtags, full-fledged search or web support, but this could change soon, according to Instagram Head Adam Mosseri. In a series of posts on Threads, Instagram head confirmed the company is working on hashtag support, and they also plan to upgrade the existing Threads.net with all the features you'd expect from a web app.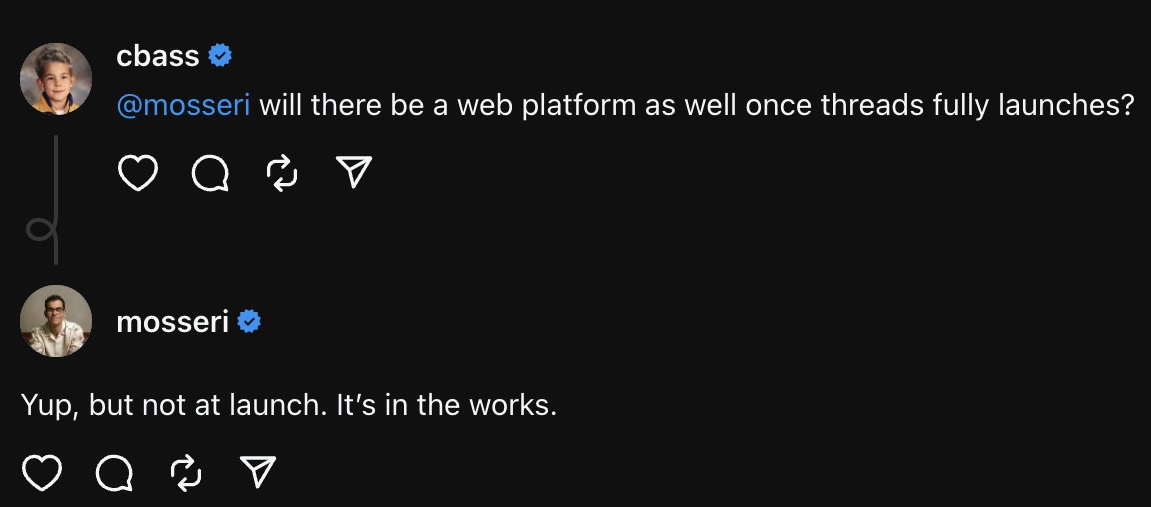 In a post on Threads, the Instagram head confirmed a web version of the Twitter rival is in the works.
Speaking anonymously, a Meta employee also confirmed that Instagram plans to bring Threads to Windows 11's Microsoft Store soon. The work is already in progress, but before Threads arrives in the Store, the company plans to wrap up the development of the web app/website.
It is important to understand that the Threads app for Windows 11 would be a web app, i.e. threads.net running via Microsoft Edge's WebView with deeper OS integration, such as taskbar support, notification center, and more. This explains why the company wants to develop the web app before bringing it to the Microsoft Store.
Threads web app for Windows 11 should feel very much like using the website, but it will give a native app-like feel. We've seen this in action with the Instagram app for Windows, which is a web wrapper or PWA of Instagram.com.
Lastly, the arrival of Threads in the Microsoft Store means you'll no longer have to open your phone to post or interact with threads.
A lot of exciting features are coming to Threads
Instagram is working on many features for Threads, some of which could bring more users to the platform.
For example, Threads could soon allow you to edit your posts, switch between multiple accounts (like Instagram), access a trending section, upload GIFs in seconds via a new GIF picker, tag people in photos and videos like Instagram, and pin threads to the profile.
We don't know when these features will arrive, but Meta is working on several improvements for Threads, and the big update should introduce hashtag support.