A bug in Windows 11 KB5007651, which is the Windows Defender Security update, broke the 'Windows Security' interface. Subsequently, another update to the exact Windows Defender release disabled a 'Local Security Authority Protection' feature, causing users to receive false "Local Security protection is off. Your device may be vulnerable" alerts.
Windows 11 users noticed the bug after the March 2023 Patch Tuesday (cumulative update was released. Our tests showed that the Windows Security app's Local Security Authority (LSA) protection warned users that it was turned off. It was enabled and working.
The alert made users believe their devices were at risk and caused panic in the tech community, thanks to frequent alerts with a big yellow warning triangle icon. Microsoft acknowledged the reports and told users to ignore or dismiss the error and restart their devices to fix Windows Security app bug.
Microsoft assured the community everything would work when users dismissed the error and rebooted the device, but the error persisted. Later, Microsoft released another Windows Defender update to remove the toggle to handle "Local Security Protection", but the update caused new problems, including driver and gaming issues.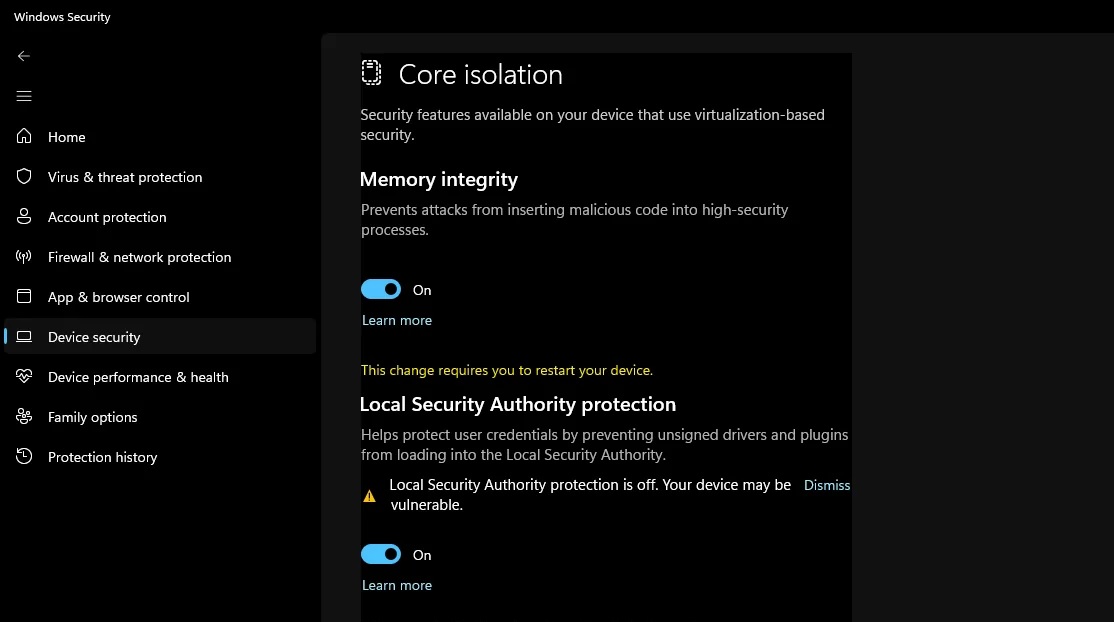 Finally, Microsoft released an update to remove the toggle, but the move backfired, and Windows Security started showing a different error message. The tech giant rolled out another to fix the second warning and confirmed Microsoft Defender fix causes unwanted side effects.
This has been a very messy situation for Windows 11, but it's finally resolved in Microsoft Defender's July 2023 update. A new version of KB5007651 (version 1.0.2306.10002) brings back Local Security Authority (LSA) protection toggle to Windows Security and fixes the false positive bugs.
"This issue was resolved in an update for Windows Security antimalware platform KB5007651 (Version 1.0.2306.10002). If you want to install the update before it is installed automatically, you will need to check for updates," Microsoft noted in an update to the support document.
The bug affected all versions of Windows 11, including versions 22H2 and 21H2. However, Windows Insider program testers haven't encountered any of these problems.
In related news, Microsoft warned users that it plans to end support for all Windows 11 version 21H2 editions on October 10, 2023. This means users with Windows 11 21H2 Pro, Home, Education, and Pro for Workstations must upgrade to version 22H2 to continue receiving security updates.
It is also essential to understand that Windows 11 23H2 is set to begin rolling out later in the fall, and Microsoft wants everyone to upgrade to the most recent version of the OS, i.e. version 22H2. If they do not, Windows Update may force users to download and install the supported version of the OS.