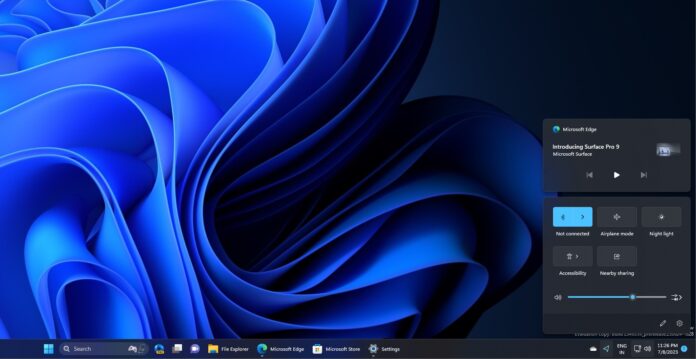 On Windows 10 and older, the quickest and easier way to change the volume of select apps is to right-click the volume icon in the taskbar and open the volume mixer. With Windows 11, Microsoft modernized the system tray experience and moved the classic volume mixer into Windows Settings.
While the legacy option has been removed in Windows 11, Microsoft plans to bring a modern version to the taskbar with the next feature update. Windows 11 23H2 is set to add a new modern volume mixer to the taskbar, allowing anyone to change the volume of any open browsers or apps and making selecting apps such as YouTube louder.
The screenshot below shows that Windows 11 23H2's experience resembles Windows 10's legacy volume mixer. It's an easy-to-use and fastest way to turn up or down the volume of apps. It is important to understand that the volume mixer has been available in Settings for a while, but Microsoft is now making it easily accessible via the taskbar.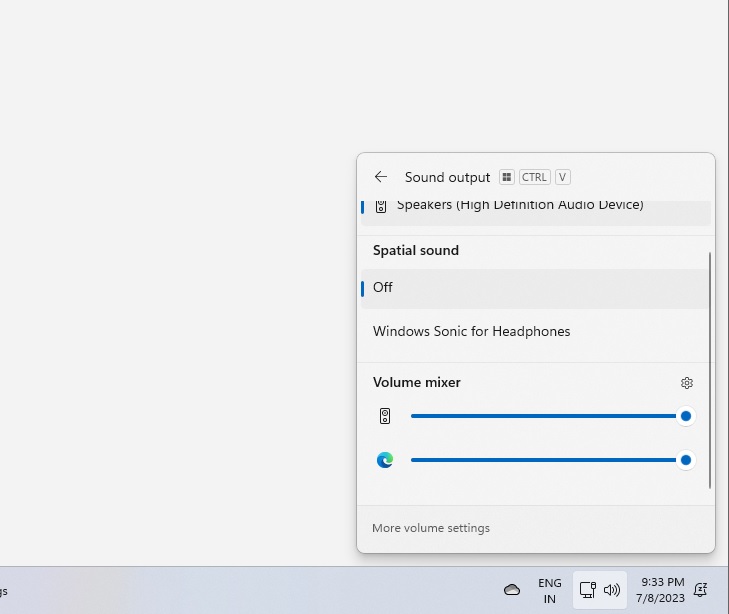 The volume mixer is baked into Quick Settings in Windows 11 23H2, and you can also access it via a new keyboard shortcut WIN + CTRL + V.
Microsoft officials promised the new experience requires "fewer clicks to better manage your favourite apps".
Like Windows Settings, you can manually set the spatial sound technology for inputs and outputs for individual applications. You can use Dolby and Windows Sonic experience by selecting it in Quick Settings.
A new Settings experience in Windows 11 23H2
Another notable Windows Settings-related upgrade in Windows 11 23H2 is a new homepage that uses cards to recommend changes. For example, the "recommended settings" card can understand the usage patterns and let you access relevant settings options, such as night mode if you use the PC late at night.
A "Cloud storage" card lets you track cloud usage, and an "Account Recovery" card keeps you in check on Microsoft account security. Likewise, Windows Settings now have a "Personalization" card to change accent colour or desktop background.
Microsoft is rolling out the new settings experience to Windows 11 Home and Pro editions users only, and it will ship by default in version 23H2. However, it will be backported to the previous versions via monthly cumulative updates.
While the tech giant has yet to announce the next feature update, a recent preview update featured references to 'Windows 11 23H2', confirming the presence of the OS' second biggest release. One of the flagship features in the update is Windows Copilot, which aims to help automate everything in the OS.