Windows 10's May 2023 cumulative update, which fixed many issues in the operating system, has added a new banner promoting Microsoft Edge via Windows Search. The ad appears within the Windows Search panel and attempts to persuade people to use Edge as the default browser.
This is the tech giant's yet another attempt to push revamped Edge to more people. We have seen similar ads on Windows 11, and Microsoft is again pushing Edge on the older operating system.
If you've installed Windows 10 update, you'll see an advert when you open Windows Search. The ad says the browser was "built with your productivity in mind". Additionally, there's an option presented in the form of a button labelled "Apply", which, when clicked, restores Microsoft's recommended settings and sets Edge as the default browser.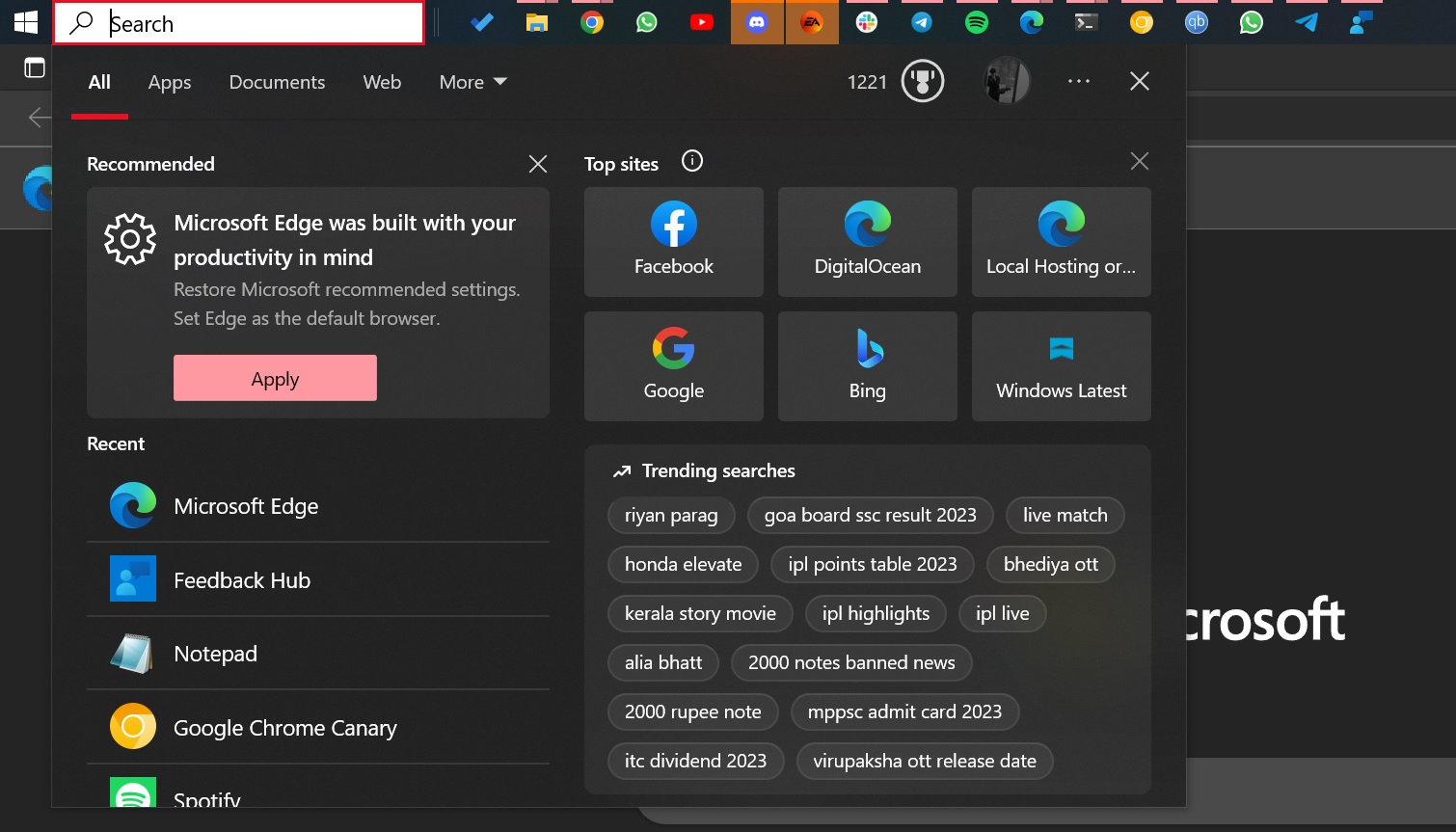 The ad could again irritate people, but it appears to be another A/B test, and Microsoft has already rolled it back.
That's because Windows Search is a frequently used feature, and such ads could potentially expose many users to the Microsoft Edge promotion. However, it's also worth noting that this advert could come off as intrusive to some, particularly given its placement in a feature like Windows Search.
Fortunately, it is possible to dismiss ads in Windows Search. To ignore the ad, click the 'X' option in the corner to close it.
As mentioned above, Edge ads have already been turned off in Windows 10 via another server-side update, suggesting this was an A/B test in the operating system. While ads have been disabled, it does raise questions about the increasing presence of advertising in a paid operating system.
It looks like ads or 'recommendations' (as Microsoft says) have become a regular part of the Windows 10 experience.
Similar Edge ads have been spotted in Windows 11
These ads have also been spotted in Windows 11, and all promotions contain the same texts advertising Microsoft services. For example, one of the ads in Windows 11 pushed Outlook and Microsoft Edge. Another ad in Outlook app for iOS and Android recommended Edge as the safest solution for browsing email links on mobile platforms.
Likewise, Microsoft confirmed a new update would automatically open Outlook desktop links in Edge unless you choose to keep your third-party browser as default.
We'll likely see more ads for Edge popping up in Windows 11 and 10, especially after the browser's market share tanked and Safari jumped to the second spot.