Windows 10 is inching closer to the end of support, and Microsoft wants everyone to start using Windows 11 as soon as possible. Following the Windows 10 May 2023 cumulative update, more and more users told us they see a full-screen pop-up ad offering to upgrade to the latest operating system.
Microsoft is getting more aggressive with its Windows 11 push, which may have something to do with Windows 10 21H2 end-of-life. For those unaware, Windows 10 21H2 support is ending on June 12, and the tech giant has reminded users to upgrade to a supported version of Windows.
As part of the campaign, Microsoft has again started showing ads for Windows 11 on Windows 10. The advert that covers the full-screen and appears when you turn on your computer claims Windows 11 free upgrade offer is now unlocked for the device, and you can get it right now.
As you can see in the screenshots captured by Windows Latest, an intrusive advertisement appears when users turn on their devices. Upon rejecting or attempting to escape the Windows 11 upgrade offer, you'll be presented with pages outlining the benefits of upgrading to Windows 11.
These include a more user-friendly interface, enhanced security features, improved performance, and increased productivity. Microsoft also highlights the gaming experience on Windows 11, claiming it offers the broadest range of titles and realistic graphics capabilities.
The ad emphasizes that Windows 11 brings a new look and feel, with more efficient navigation and the ability to get more done quickly. Users who choose to remain on Windows 10 are reassured that they can still upgrade to Windows 11 for free at any time via the Windows Update page in Settings.
The full-screen advertisement appears as part of Microsoft's strategy to promote Windows 11 by presenting it as a seamless and easily accessible upgrade option for existing Windows 10 users.
If you want to reject this aggressive ad, you must find and click the "Keep Windows 10" link at the bottom of the screen.
Windows 11 advertisements cannot be blocked, and there are more
Windows Latest understands that these ads will continue appearing after some cumulative updates, and it is impossible to "turn off" the banners permanently.
In addition to Windows 11 upgrade ads, Microsoft is still showing ads promoting Microsoft 365 services on Windows 10 devices. The ad, "Let's finish setting up your device," suggests that users must connect to additional Microsoft services to enhance their productivity and security across all devices.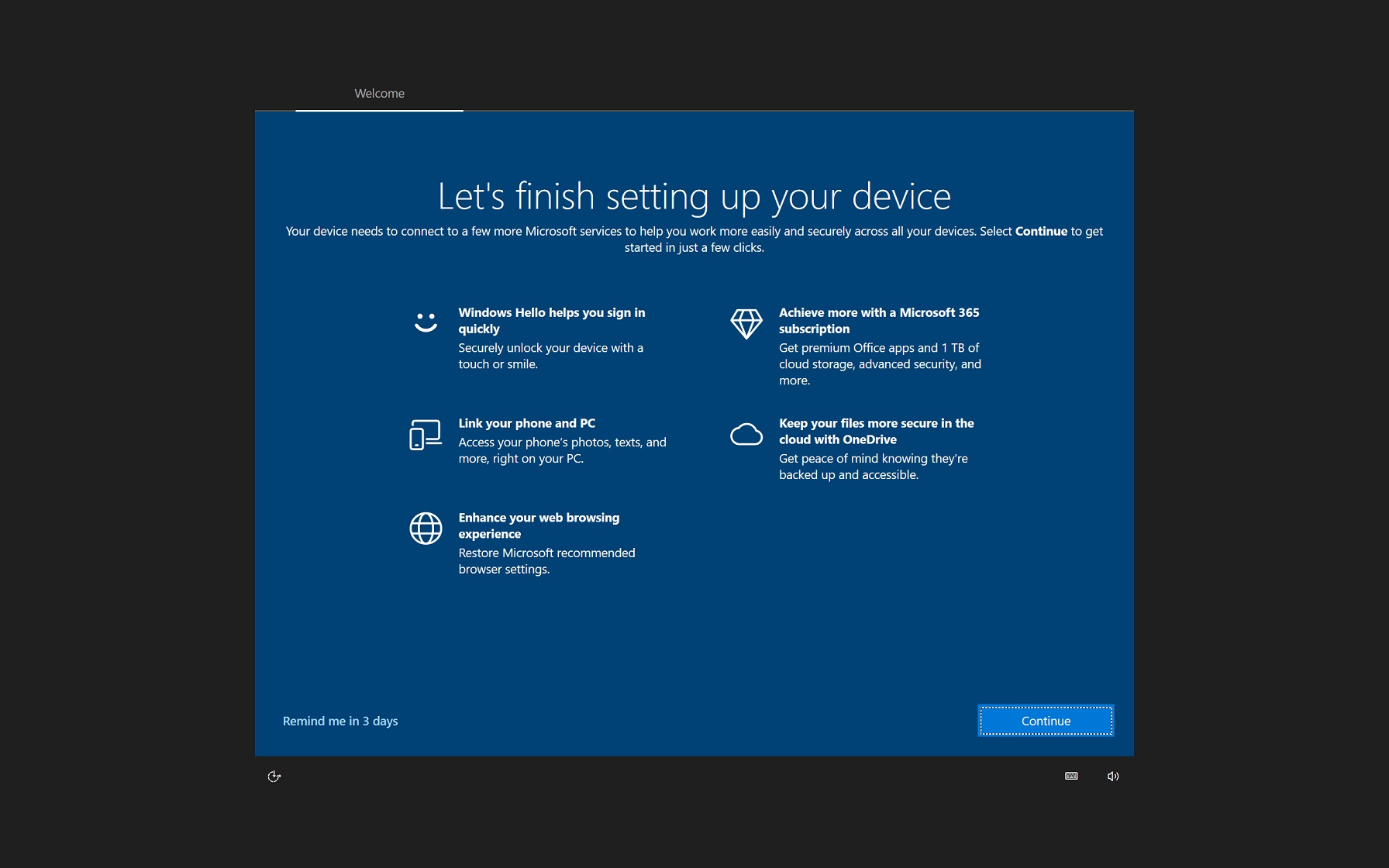 The advertisement highlights various features, including Windows Hello, linking users' phones and PCs, restoring Microsoft recommended browser settings, i.e. Edge, Microsoft 365 subscription, 1 TB of cloud storage, advanced security features, and more.
Microsoft appears to be leveraging these advertisements to encourage Windows 10 users to take advantage of the company's wide range of services, promising increased productivity and security.