Microsoft has released Windows 11 Build 25346 for testers in the Windows Insider Program Canary Channel. This preview update includes a few noteworthy improvements and fixes, including support for Content Adaptive Brightness Control (CABC) on laptops and 2-in-1 devices.
Build 25346 brings a power-saving feature to laptops and 2-in-1 devices, allowing for Content Adaptive Brightness Control (CABC) while plugged in. Previously, this feature was only available for desktop PCs.
For those unaware, CABC is a new feature first introduced in 2021 with Windows 11. As noted by Microsoft, this feature optimizes screen brightness and contrast levels based on the content displayed on the built-in screen. For instance, the brightness and contrast may adjust when transitioning between a dark scene and a bright, sunny one in a video.
Build 25346 has finally enabled the feature for plugged-in laptops and 2-in-1 devices. This move could result in longer battery life, reduce energy consumption, and improve the overall experience. However, users will likely not notice any dramatic difference in before and after comparisons.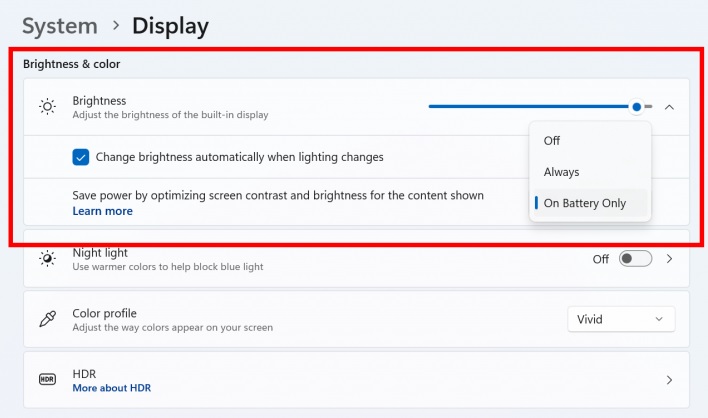 Microsoft officials confirmed the feature can be managed by going to Windows Settings > System > Display under "Brightness & colour." On this page, a new drop-down menu offers three options: Off, Always, and "On Battery Only." These options represent Windows 11's CABC feature.
"On Battery only" would be the default setting for battery-powered devices, such as laptops and 2-in-1s. The tech giant is still working on the feature, so it wants testers to use the "Always" option instead and provide feedback on CABC's visual quality to ensure proper tuning.
It is worth noting that the feature aims to provide an ideal viewing experience in most cases while conserving power and extending battery life. However, some may not like how Content Adaptive Brightness Control (CABC) works.
Those colour accuracy for tasks like photo or video editing, it is best to turn off CABC, although this might reduce battery life.
Legacy designs getting a makeover in Windows 11 Build 25346
Windows 11 Build 25346 also comes with several design improvements. As we reported earlier this year, Microsoft has been trying to improve the design of legacy popups, such as the popup for incompatible apps/drivers or Windows Security alerts. Or the popups for apps requiring administrator privileges.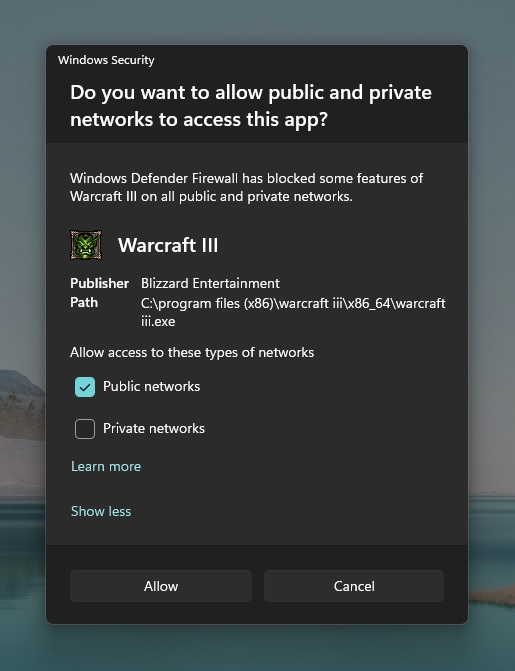 In this update, Microsoft has introduced an updated look for Windows Security (firewall) notification dialogs. The dialog appears when apps like OneNote, Word, PowerShell and others try to access the network to execute specific tasks. This new look matches the Windows 11 visuals.
Alongside the CABC and design updates for dialogs, Microsoft also introduced several new features and enhancements to improve the user experience:
The connection bar for remote desktop sessions has been redesigned with a refreshed light/dark mode design.
Microsoft says users can now enjoy a more streamlined and visually appealing connection bar during remote desktop sessions.
Microsoft is improving the file-sharing experience in File Explorer. When sharing a local file with Outlook contacts, users will see a convenient option to email the file to themselves quickly. Furthermore, loading contacts from Outlook has also been enhanced for a smoother experience.
A new option to hide the date and time on the taskbar, which makes the taskbar less cluttered.
To try these features, join the Windows Insider Program's Canary Channel on a secondary device or virtual machine (recommended).