Windows Subsystem for Android is the technology behind native Android app support on Windows 11. The WSA debuted with Windows 11 in 2021, and there have been several improvements to the underlying technology. The most recent one focused on quality fixes like improving zooming out in apps using a touchpad or mouse.
Earlier this week, Microsoft quality announced a new update for Windows Subsystem for Android in the Windows Insider Program channels. The update has no major changes or new features, but Microsoft has fixed several bugs, including an issue affecting audio performance and other features.
As published by Microsoft on Github and spotted by us today, the official release notes confirmed this new update brings WSA to version 2302.4000 in Dev and Beta channels and comes with stability improvements for graphics card selection.
It's unclear how the graphic card selection has been improved, but the WSA settings container no longer lags when you try to select the card. This fix applies to the WSA Settings, and Microsoft is also introducing additional performance options for graphics cards. However, options depend on the device's configuration.
Another change fixes docking and undocking with external monitors. This resulted in performance issues for some users. Other bug fixes include improvements to reduce the audio buffer and Android 13 security updates.
As you can see, there are no massive feature updates, and only small aspects are getting tweaks. These changes ensure Android apps perform better on Windows 11 machines.
To install March 2023 update, head to the Microsoft Store after joining the Beta or Dev channel, and check for updates.
Windows Subsystem for Android is getting better. Slowly.
Running Android apps on Windows smoothly has never been easy, and it has been a long-standing challenge for users.
One of the most popular and easy solutions is BlueStacks, which launches Android in an emulator container on Windows. However, BlueStacks is mainly designed for gaming and does not provide a seamless experience.
Microsoft aims to change that with its Windows Subsystem for Android (WSA), which allows users to download and install apps and games directly from the Amazon App store. This includes streaming services such as Netflix and Amazon Prime, which can run on Windows 11 as native apps.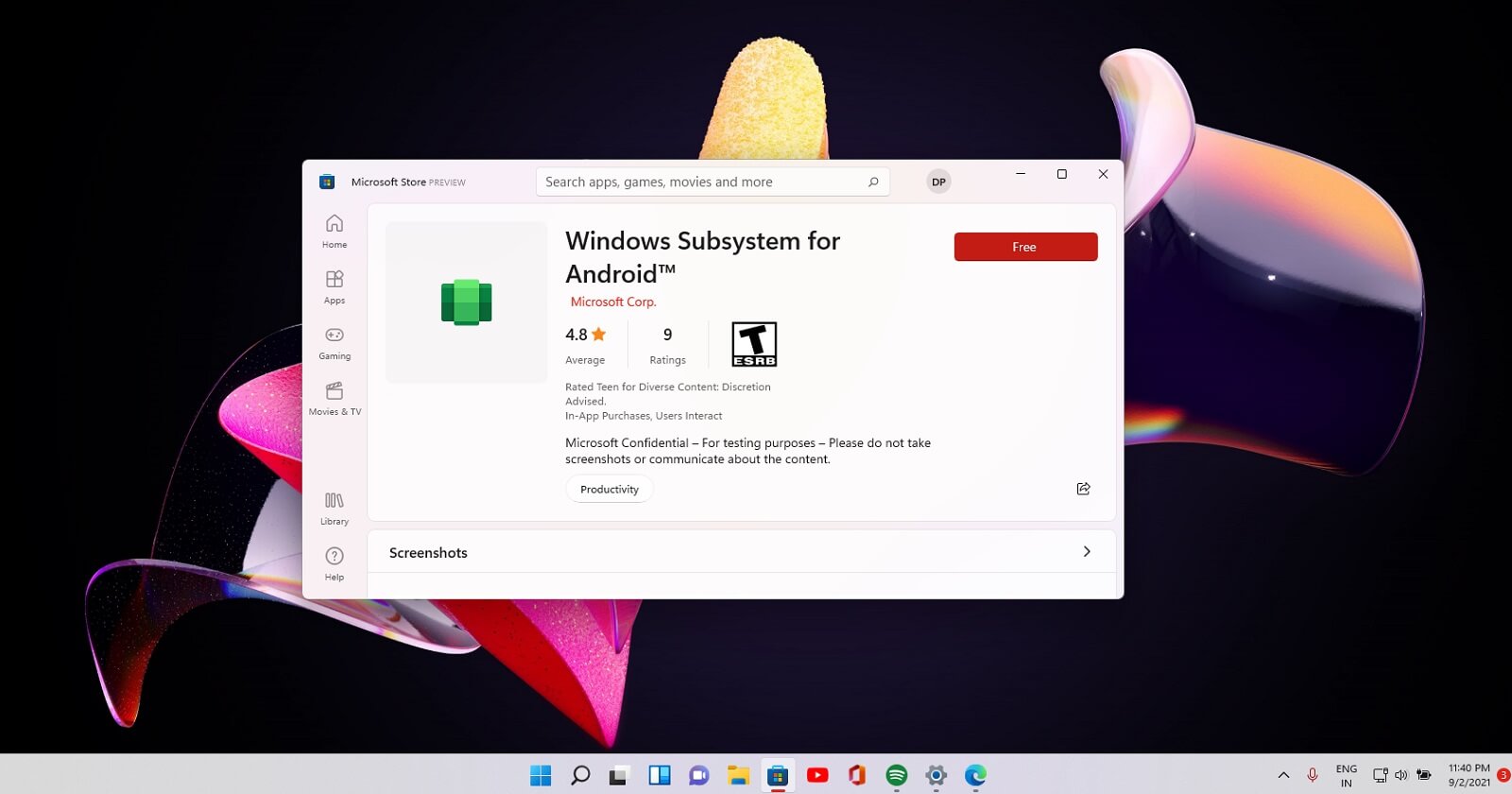 One of the major recent improvements to WSA was the addition of Android 13 support, which added a new command line option that allows users to schedule when to shut down WSA, and the boot performance has been improved by up to 50% in some cases.
Other benefits of Android 13 include better mouse input, clipboard stability, app resizing, improved Intel bridge technology, faster media file opening and much more.
To run Android apps on Windows 11, computers need at least 8GB of RAM (16GB is recommended), Intel Core i3 8th Generation, Ryzen 3000, Snapdragon 8c or higher.