Microsoft recently announced big changes to the Windows Insider Program. The tech giant said it would begin testing builds of the next version of Windows via a new channel called "Canary". Windows Latest understands that this would lay the groundwork for the next-gen, likely Windows 12.
In an email sent to select testers, Microsoft said those on Build 25000 or higher would be automatically moved to the new Canary channel. This ensures users continue to receive major changes they expect from the Dev channel in the future.
Microsoft says Canary is a channel for highly technical users, and only those willing to preview "platform changes" in the early development cycle should sign up for this particular channel. "The Canary can be unstable and are released with limited to no documentation," Microsoft noted in an email received by us.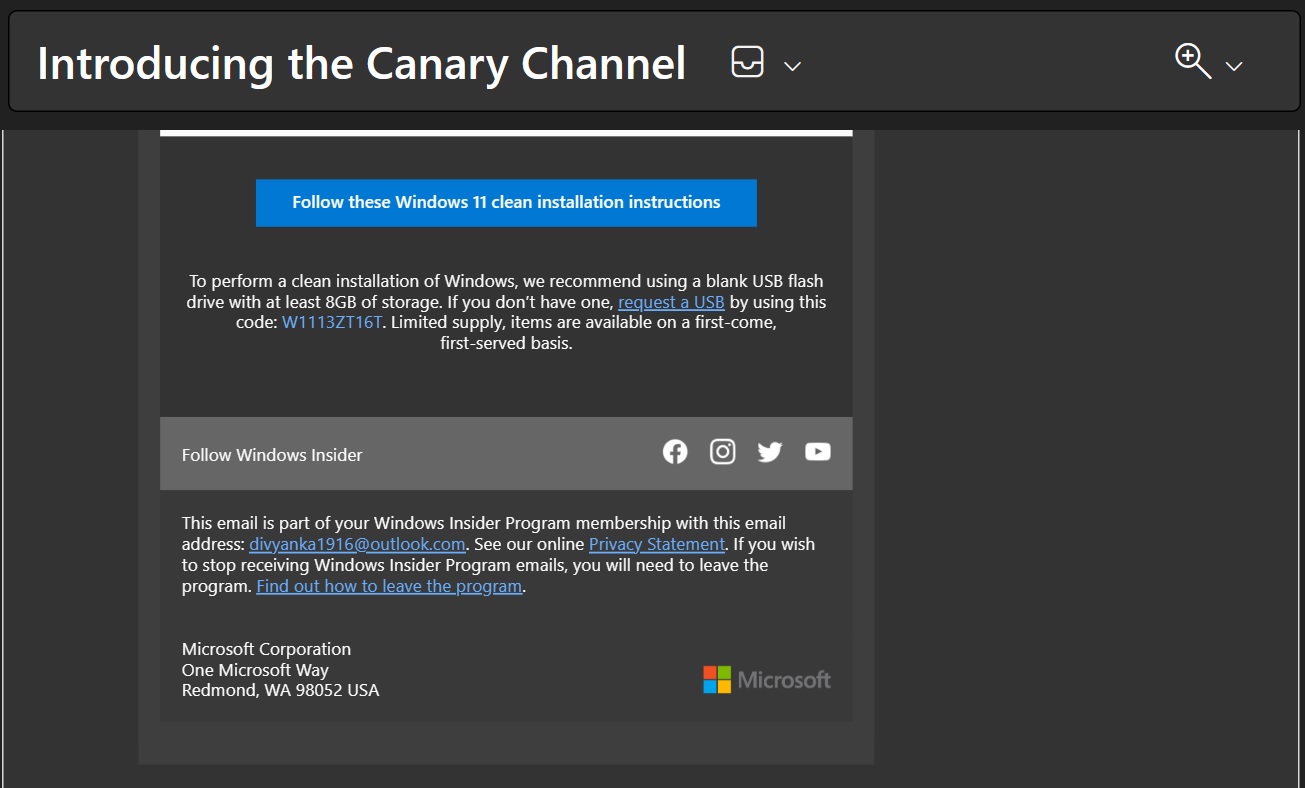 In the same email, Microsoft told me that it's offering a free USB flash drive with at least 8GB of storage to those testers who want to support the road to the platform changes.
Only some testers are getting the invitation to receive the free USB drive, although exactly which USB drive is being given is slightly confusing. Windows Latest understands that it won't be Microsoft-branded USB. Instead, Microsoft may give away third-party USB drives from companies like Kingston.
"To perform a clean installation of Windows, we recommend using a blank USB flash drive with at least 8GB of storage. If you don't have one, request a USB by using this code: W111xxxxxx​ Limited supply. Items are available on a first-come, first-served basis," the email reads.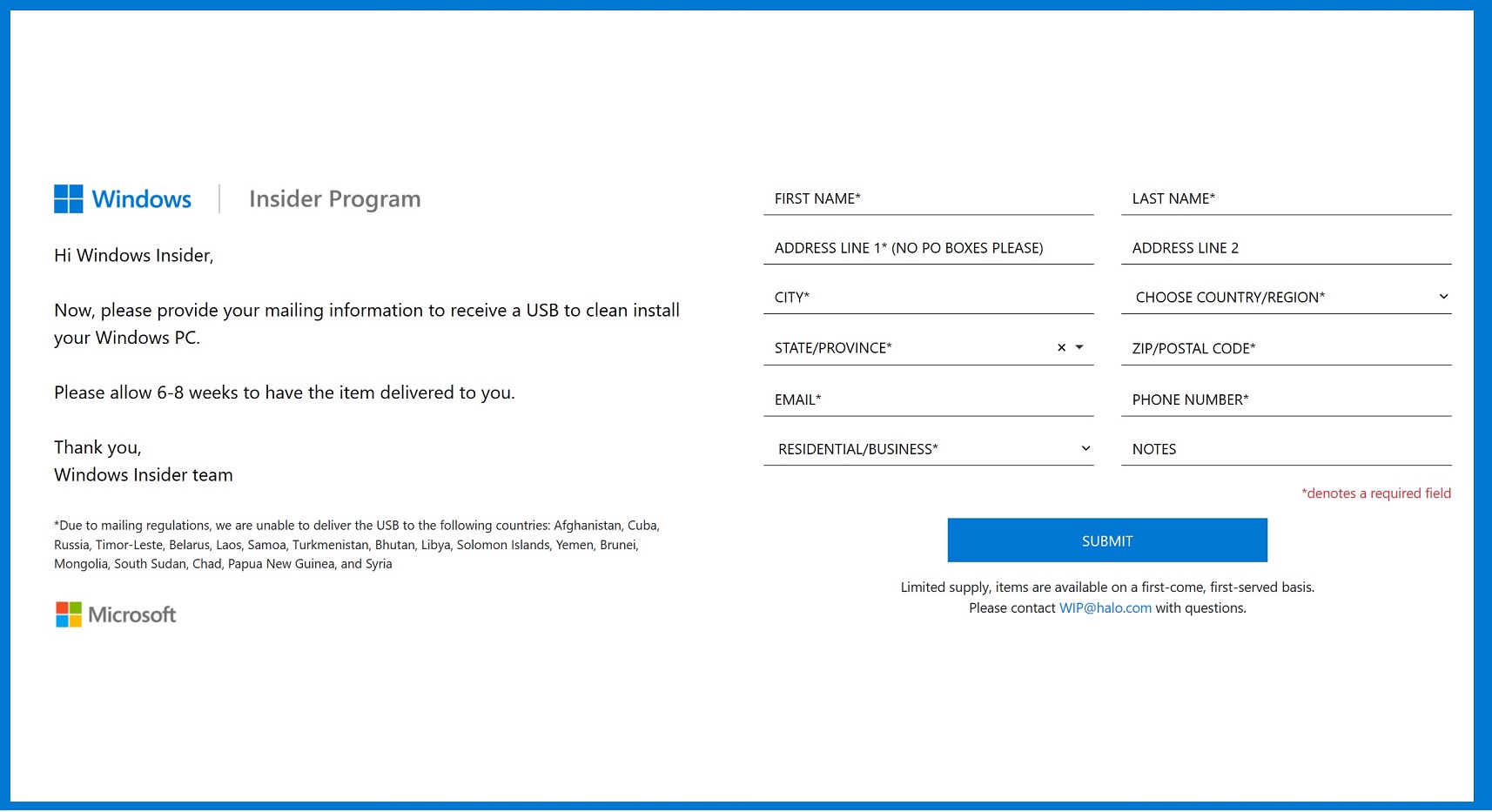 As you can see in the above form, testers must fill out a Microsoft Insider Program form with their local address to receive the USB drive. Microsoft says it will deliver the device within six to eight weeks.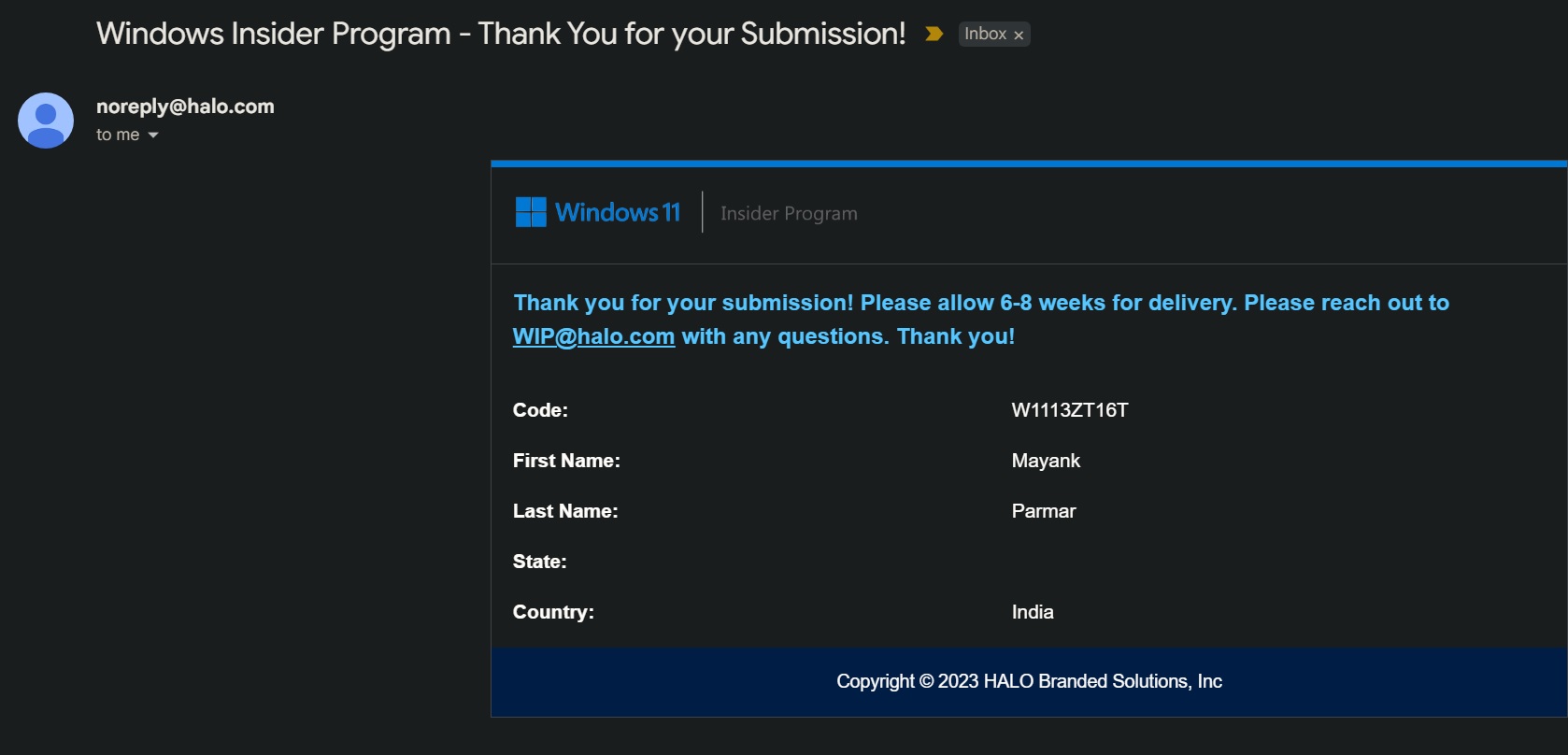 Once done, you'll receive a confirmation mail from Microsoft, as shown in the above screenshot.
Previously, Microsoft has stated that Canary Channel builds will deliver "major changes to the Windows kernel, new APIs, etc." As a result, it is widely believed Microsoft is using this new channel to test future generations of Windows, such as Windows 12.
As part of the transition, Dev Channel has been downgraded to a 23000 range of builds, and the Canary Channel will continue to get builds from the 25000.
Windows 12 rumours, arriving in 2024
There have been quite a few rumours about a possible Windows 12 release in 2024 fall.
Intel is reportedly working on next-gen CPUs with Windows 12 support. This was hinted at by a Japanese user in a tweet which has been deleted, and both Microsoft and Intel have declined to comment on the reports.
Windows Latest understands that Windows 12 could drop in the fall of 2024 and begin rolling out widely in 2025. We have also spotted references that seem to indicate Windows 12 might be the first AI-based OS, which doesn't sound particularly surprising given the company's investment in ChatGPT creator OpenAI.