Don't get surprised if you see a new "Microsoft Defender" app in the Start menu. This is a new app that is automatically getting installed on Windows 11 and 10 machines. After testing it for over a year, Microsoft has finally jumped the gun and started installing the brand-new Defender app, whether you like it or not.
Over the weekend, Microsoft quietly installed the "Microsoft Defender" app on our devices running both Windows 10 and Windows 11. This force installation is linked to the Microsoft 365 app. Per a new support document, the Microsoft Defender app will automatically be installed if you use 365.
"If you have an active Microsoft 365 subscription and have already installed the Microsoft 365 apps, then the Microsoft Defender app will be automatically installed for you with the next update," Microsoft noted. According to the tech giant, this change will begin rolling out to more users later this month.
The new Microsoft Defender can also be downloaded from the Microsoft Store and used free of charge, but it works best when you have Microsoft 365 subscription. This new Microsoft Defender is like a security dashboard that gives details of security alerts and threats across all connected devices.
Defender is a lightweight app, but it's very simple and doesn't have much to offer. In some cases, users complained that it replaced their original Windows Security app and would not allow them to run a security scan.
"I uninstalled it, and my Windows Defender function still does not work. This is a major problem for me," one of the users noted in the reviews section of the Microsoft Store listing. I can't access Windows Security at all. It says I need to install the app, but I already have it installed; I can't even access it through the app," another user added.
Some users are scared and under the impression that the web-based Defender app is malware, thanks to how Microsoft installed it.
Hands-on with the new Microsoft Defender app
With the new Defender app, you can check the security of Windows, Android, iOS and Mac devices without physical access to any devices. It is not a full-fledged security app, and it's more like a security dashboard, so the app relies on existing features of the OS for security checks.
On Windows, it uses Windows Security to check your PC for malware and other known security problems. On Android, Microsoft Defender relies on Android accessibility features to protect you from phishing attacks.
This makes sense as Microsoft promotes its latest tool as a new way to "easily manage your online security in one centralized view".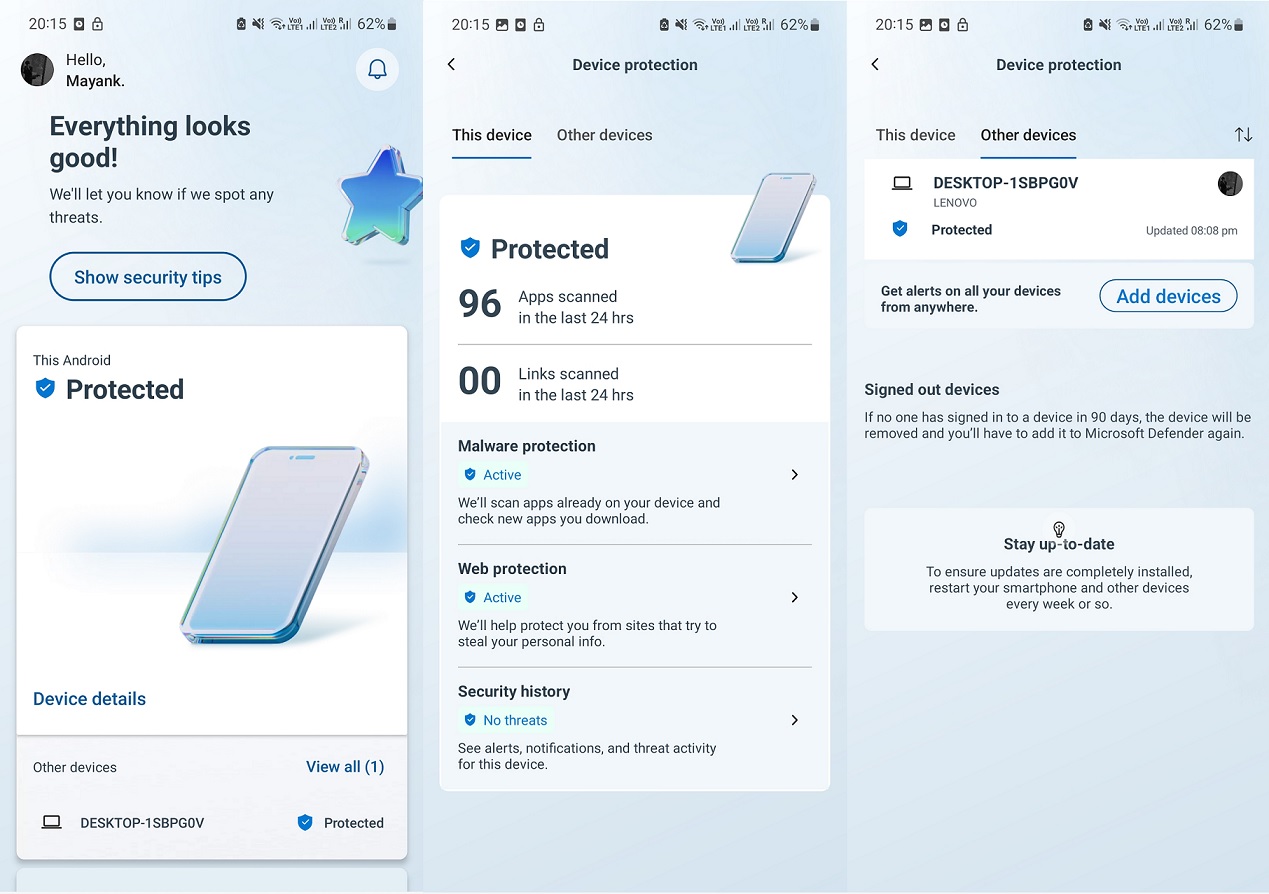 As you can see in the above screenshots, Microsoft Defender makes it easier and simpler to view all connected hardware's security status. Depending on the subscription, you can also manage devices owned by family members.
To use the app, you must sign in with your personal Microsoft account (such as @outlook.com, @hotmail.com, or @live.com). It won't work with work or business accounts for now, but support for more Microsoft accounts will be added in future.