According to several reports across the Microsoft forum and Feedback Hub, a new Windows 11 update mess is causing drivers to fail with 0x80070103. Microsoft has confirmed it's aware of reports, but there's nothing to worry about as the 0x80070103 error is, in fact, harmless, and you can safely ignore it.
Windows 11 drivers are essential as they're software necessary for some apps or hardware, and some people rush to install them as it is widely believed driver updates can make your device run smoothly. However, at the same time, a driver failure could also render a device useless or break connected hardware, such as a mouse, keyboard or GPU.
According to dozens of posts on Feedback Hub, Windows 11 driver update is failing with an error code "0x80070103". This is happening with production builds of Windows 11, and other error codes have also been witnessed, according to reports, but the error 0x80070103 has been widely reported.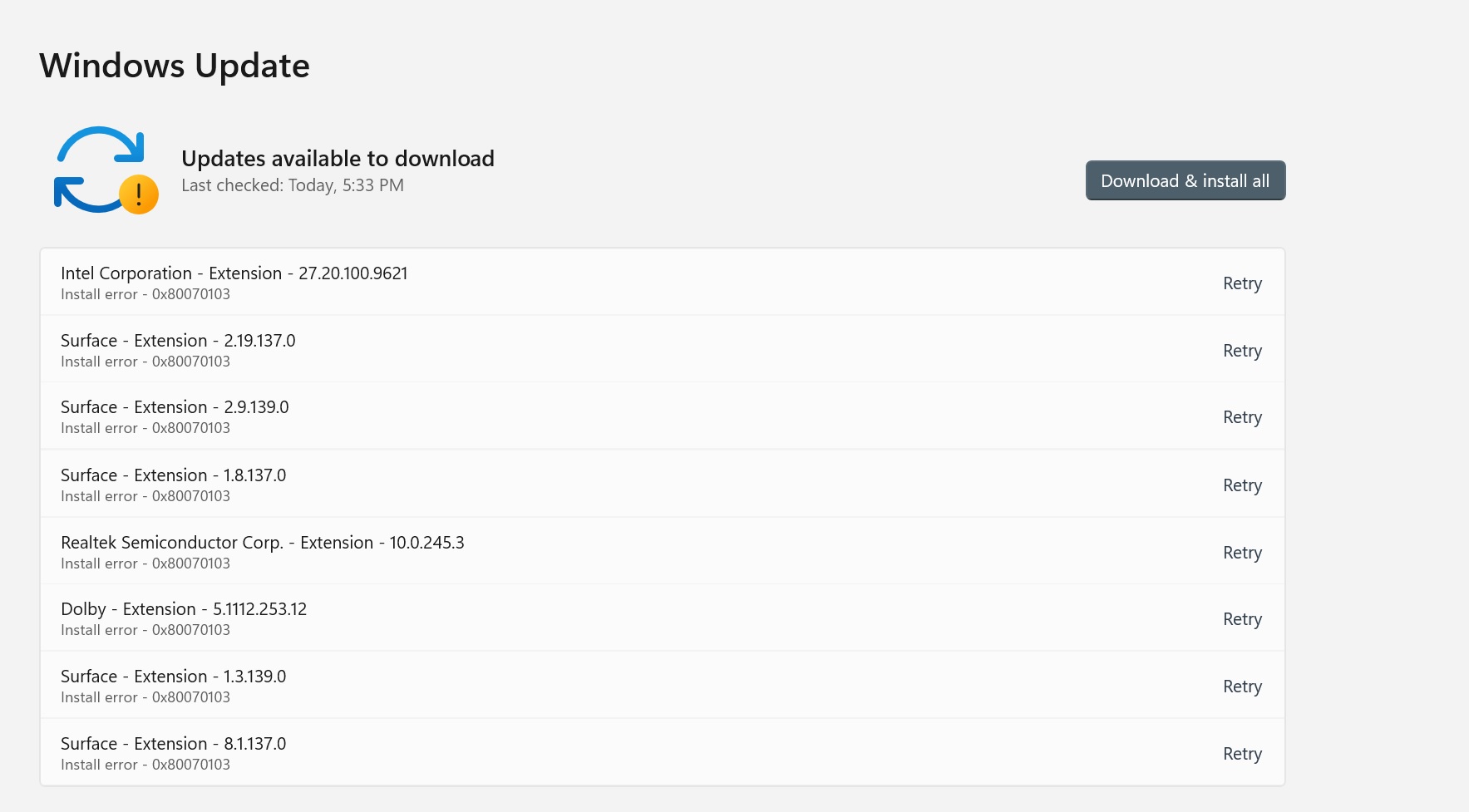 One frustrated user posted to the Feedback Hub:  "All channels…Dev…Beta…Release Preview is throwing this error at me. Come on, Microsoft don't you have quality control checks before you release stuff? Looks like you've messed up quite a few systems with this error!."
Another observed: "22621.1265 on a Dell Precision Tower 3630. Bombarded this month by 9 "extensions" (mostly Intel, a Realtek, and a Dell item) that fail with this HRESULT."
And another user reported the same issue with their HP hardware: "The original HP driver (not sure what driver is needed: mouse pad, touch, pen?)) is not supporting Windows 11 and refuses to install. The problem remains unresolved after updating to version 22H2 (OS build 22623.1095). This is an HP Laptop running Windows 11 Pro."
The good news is Microsoft has confirmed that it knows about the Windows Update failure, which it describes as a problem that "shouldn't impact your general usage".
"It's showing this error because it's attempting to install something that's already installed. Beyond showing the error message, this shouldn't impact your general usage," a Microsoft official noted in a post spotted by Windows Latest.
This is a generic failure and an issue that the company is watching closely, but there's no official workaround available now.
If you can't install the latest drivers, your devices and your PC will continue to work smoothly, which is why Microsoft officials said users could safely ignore the error.
You can pause the updates or use the Windows Update Troubleshooter to help resolve the problem. Or you can choose to ignore the errors. They should disappear on their own,