Windows 10 has again started displaying a full-screen pop-up that takes up the whole screen (similar to the first boot experience) and attempts to sell Microsoft 365. The pop-up itself isn't new, but there's a catch – a bug in Windows 11 22H2 prevents users from skipping the Microsoft 365 offer, which means they're asked to enter credit card details.
The full-screen nag, which is occasionally pushed by the company once in a while, attempts to promote Microsoft services, such as OneDrive and Microsoft 365. This is part of the company's efforts to make "Windows even better" by helping customers discover the abovementioned services.
It also attempts to link your Android phone to Windows 10 and pushes users to sign in to their Microsoft account. As mentioned at the outset, Windows 10's full-screen pop-ups have been around for years and were first spotted in 2018 when the company enthusiastically hoped to hook up your PC and account with other Microsoft services.
Microsoft has shipped Windows 10 22H2 with an undocumented bug where users could be forced to enter their credit card details for Microsoft 365 trial.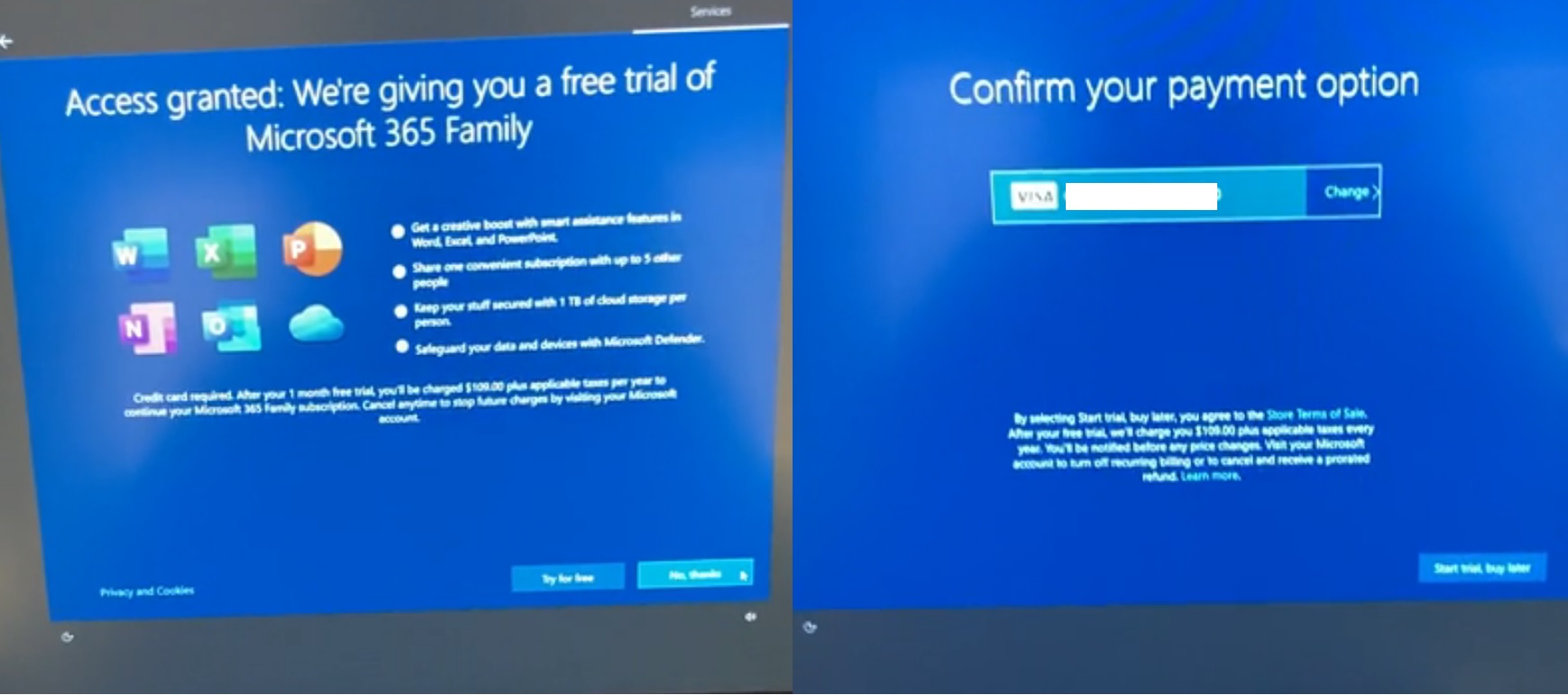 When you're on the setup screen or "first boot experience" screen, you'll have two options for Microsoft 365 offer – "Try for free" and "No, thanks". The "No, thanks" button should ideally skip the Microsoft 365 registration and proceed to the next screen, but there's a bug where the "No, thanks" button opens the registration window.
A Microsoft source, who wished to remain anonymous, confirmed that this move isn't intentional and is a bug. The company accidentally switched over the strings for "No, thanks" with "Try for free". In other words, the try it button is actually "No, thanks", and "No, thanks" is a sign-up button.
"The buttons are simply flipped due to a bug," a source confirmed. You can go back to the previous screen and skip the offer by selecting the other button. Or you can always disconnect from the internet when setting up Windows 10.
Microsoft has yet to acknowledge the problem, but we expect it to be fixed in a future cumulative update.
For those unaware, Windows 10 is supported until at least October 2025, and it will continue to receive features and improvements, including a fix for this particular issue highlighted above.
In related news, Microsoft is experimenting with a full-screen popup to convince users to try Windows 11 for free. The full-screen popup has four slides attempting to promote Windows 11's new flagship features, such as the Start menu and redesigned notification center.