Windows 10 KB5022282 is now available for PCs with versions 22H2 and 21H2, and it comes with tons of bug fixes. However, there are no new features in this release. Microsoft is pushing the update via Windows Update, but you can also find direct download links for Windows 10 KB5022282 offline installers on Microsoft Update Catalog.
KB5022282 is part of the company's Patch Tuesday and primarily focuses on security improvements. Of course, it also includes fixes from previous months' cumulative and cumulative preview updates. However, Microsoft officials were on a break in December due to Christmas, so there were no optional updates last month.
It is worth noting that the update would still include bug fixes from November, October and September optional updates. As per the official release notes, Microsoft has patched an issue where devices crash with Blue Screen of Death 0xc000021a. This bug affects the startup on some PCs.
You can install the update on any supported operating system version, but the build number would carry from OS version to version. For those on version 22H2, they will get Build 19045.2486. If you're on 21H2, you'll be getting Build 19044.2486. Likewise, version 20H2 is getting Build 19042.1645.
(There's a further update for Windows 11 with identical bug fixes. If you're on Windows 11 22H2, you'll get KB5022303. Windows 11 21H2 (original release) is getting KB5022287).
On Windows 10, if you check for updates, you'll see either of the update alerts:
2023-01 Cumulative Update for Windows 10 Version 22H2 for x64-based Systems (KB5022282)
Or
2023-01 Cumulative Update for Windows 10 Version 21H2 for x64-based Systems (KB5022282)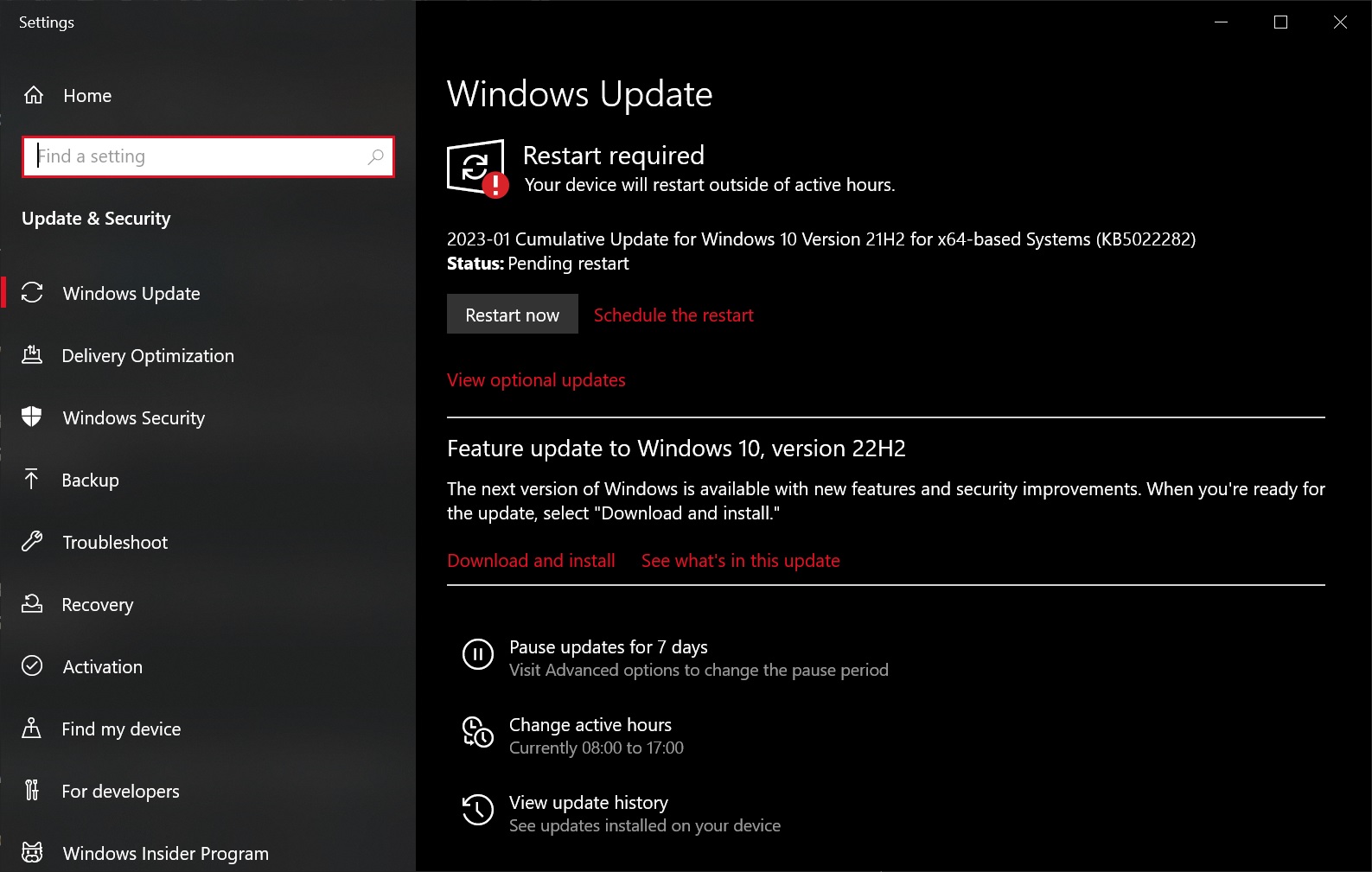 Download Links for Windows 10 KB5022282
Windows 10 KB5022282 Direct Download Links: 64-bit and 32-bit (x86).
You can download the update in .msu format from the above link, which opens Microsoft Update Catalog.
For those unaware, the Microsoft Update Catalog (library of Windows patches) was recently updated with support for downloads via a secure connection (HTTPs). As a result, Chrome no longer blocks the download, and users can on the .msu link after hitting the 'Download' button to get the package.
Windows 10 KB5022282 (Build 19045.2486) Full Changelog
Windows 10 Build 19045.2486 addresses a critical bug that prevents computers from booting up. This bug also affects the system restore feature, which lets you recover the system in case of Windows failure.
For those unaware, Windows 10's latest BSOD error is a show-stopper and can brick PCs in the worst cases.
It affects specific Windows 10 computers using additional drivers. In this case, when you install Windows 10 update and the PC reboots and has finished installing the updates, you will run into the boot screen error with code -0xc000021a.
So how do you address the blue screen error? You have two options – install the January 2023 Patch Tuesday update or use Windows Recovery Environment to fix the problem and install today's update. After failing to boot, you'll be on a blue screen, "Windows Recovery Environment".
On the Recovery Environment screen, try these steps:
Select Troubleshoot > Advanced options > More recovery options > Startup.
Select Restart now.
Select Disable driver signature enforcement.
The system restore process should resume and revert the changes.
Microsoft confirmed that the BSOD issue was addressed in this cumulative update for Windows 10. It is worth noting that we witnessed the same glitch on Windows 11 very recently in the form of a December 2022 security update that also caused AMD  performance issues.
Microsoft retires 21H1; no further updates.
Microsoft ended support for Windows 10 version 21H1 in December. December 13 Patch Tuesday was the final patch for this particular release. Version 21H1 is no longer supported with security updates and improvements, so you'll need to upgrade the device to a newer version of Windows.
Remember that Microsoft will force upgrade devices still on version 21H1, according to a statement from the company.
Those unsupported PCs will be automatically updated to version 22H2. You can also upgrade to Windows 11 22H2 directly if you want.
However, Windows 11 isn't always an option, as you'll still need to meet the system requirements, including TPM 2.0 and 8th gen processors.