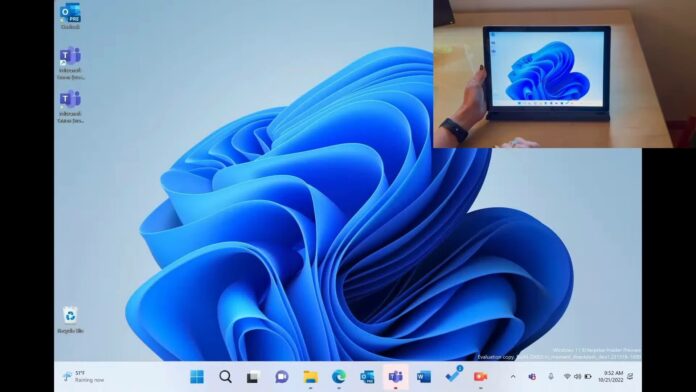 As we reported recently, Microsoft has been working on smaller feature updates for Windows 11 version 22H2 which itself is a big feature update. These smaller feature updates are internally called "Moment" and Microsoft has already published the first "Moment" update with features like tabs in File Explorer.
Microsoft is preparing another 'Moment' update called 'Moment 2' which will add new features to Windows 11 version 22H2 as early as 2023. The features have been in testing for most of 2022 and they will begin shipping to Windows 11 version 22H2 in January 2023, according to sources familiar with the company's plan.
Now, in a video posted on YouTube, the Windows Insider team accidentally showed off a Windows 11 preview build "23003.ni_moment_directdash_dev1.221018-160", which is likely to be an internal build of Windows 11 version 22H2 "Moment 2".

It is worth noting that the consumers won't be getting Build 23003. Instead, the company will ship a cumulative update that will bump the build number to 22623 from 22622 or 22621. That's because Windows 11 Moment 2 is not a new version of the OS, but rather an update to the existing version 22H2.
You can already try some of the upcoming features out on your PC if you're a Windows Insider member, which is the company's public testing platform that allows you to try out features Microsoft is working on.
While we don't have the release notes of Windows 11's Moment 2 update, one of the new features could be the highly-anticipated "Tablet-Optimized taskbar" where the expanded taskbar is chunky. This was apparently demoed in the video posted by the Windows Insider channel.
Of course, it may appear strange that all features announced by Microsoft won't be shipping with Windows 11 22H2 and users would remain in the dark as to when these features will arrive. However, Microsoft's "Moment" approach is still better than delaying features until the next major update.
Microsoft is aware of the confusion and the company will be sharing details of new features or upcoming features via updated documentation in the near future.