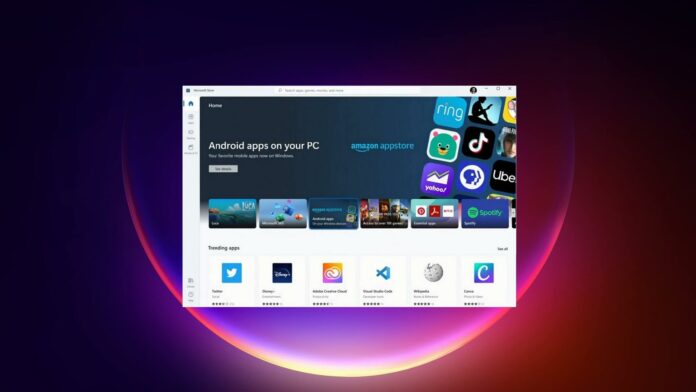 Microsoft has now started rolling out Android apps to mainstream users in 31 additional countries. Android app support was first added to the operating system in February, but it was previously limited to the United States and Japan.
On September 27, Microsoft started pushing Android apps to users in the UK and Europe, and users can now install the updated WSA via Windows Update. Up until today, WSA worked only when users switched their region to either the United States or Japan, and Amazon App Store was also available in these regions only.
It is worth noting that Windows Subsystem for Android (WSA) is no longer in preview/beta and it works on all eligible devices. Users will find a limited selection of Android apps in the Microsoft Store and those apps should work and feel like ordinary Windows apps, thanks to the deeper integration.
Microsoft sent us an email confirming that the support for Android apps is now rolling out in the following regions:
Andorra
Austria
Belgium
France
Germany
Gibraltar
Guernsey
Ireland
Isle of Man
Italy
Japan
Jersey
Liechtenstein
Luxembourg
Monaco
San Marino
Spain
Switzerland
United Kingdom
United States
Vatican City/Holy See
In the email, the company confirmed that devices must the minimum system requirements to run Android apps on Windows 11. Microsoft says you must have at least 8GB of RAM for these mobile apps, but the recommended memory requirement is 16GB.
A StorageSolid State Drive (SSD), Intel Core i3 8th Gen (minimum) and above, AMD Ryzen 3000 (minimum) or above are recommended too. You'll also need to enable the Virtual Machine Platform setting.
These requirements should not be a surprise to anyone as WSA uses virtualization and is built around Windows Subsystem for Linux. It shouldn't be a problem for anyone who has bought a mid-range or high-end device in a few years. Of course, if you've more RAM and a better CPU, Android apps or gaming experience will be significantly better.
If your device is in the supported region and it meets the requirements, you can begin testing the Android apps today.
To get started, make sure the latest version of Windows 11 is installed on your PC. You'll also need to update Microsoft Store to the latest version. Once done, follow these steps:
Head to the Microsoft Store.
Click the search bar.
Type Amazon Appstore.
Download and install 'Windows Subsystem for Android' when you see a popup.
Click Yes whenever asked.
Once done, open Amazon Appstore and sign in with your Amazon account to browse the apps.
You can download any Android app from the Amazon Appstore on Windows 11 and find them in the All apps section of the Start menu.