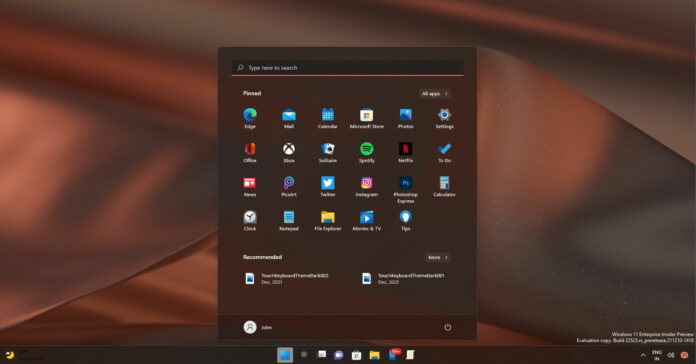 The last two cumulative updates for Windows 11 – KB5015882 and KB5015814 – are causing major issues for some users, according to several reports and Microsoft's own documentation. The latest round of updates could make the Start menu disappear as soon as you try to open it, thanks to a bug in the operating system.
The most recent optional update (KB5015882) brought a new feature for notifications on Windows 11. The update added an option that lets you get urgent alerts even when the focus assist feature is on. For those unaware, Focus assist is similar to "Do not disturb" and it's also available on Windows 10.
Another new addition is the ability to update to a newer Windows 11 version during the OOBE itself. This means you can install feature updates at the very startup of the operating system, but it will only work when the device is eligible for the update. While it sounds like a really nice update on paper, users have reported that KB5015882 breaks the Start menu.
There's a growing number of reports suggesting that there are some critical issues with the Start menu. In our tests, we observed that the Start menu won't launch when we press the Start button. In other words, the update is making the Start menu disappear for some users.
Windows 11 KB5015882, KB5015814 issues
The bug also affects the 'Windows' key on your keyboard. Thankfully, Microsoft is aware of the reports and the company has quietly acknowledged that a bug in KB5015814 or KB5015882 affected a "small number of devices" where users cannot open the Start.
On affected PCs, clicking or selecting the Start button or using the Windows key on your keyboard might have no effect.
Microsoft has already issued an emergency server-side update to address the broken Start menu, but it can take up to 24 hours to propagate automatically to all devices. If the Start button is still not working on your device, make sure you reboot the Windows device as it can apply the update to your device faster.
Enterprise customers can find the special group policy in Computer Configuration > Administrative Templates > KB5014668 220721_04201 Known Issue Rollback > Windows 11.
To fix the broken Start menu in Windows 11, you can also download the emergency patch offline installer from here.