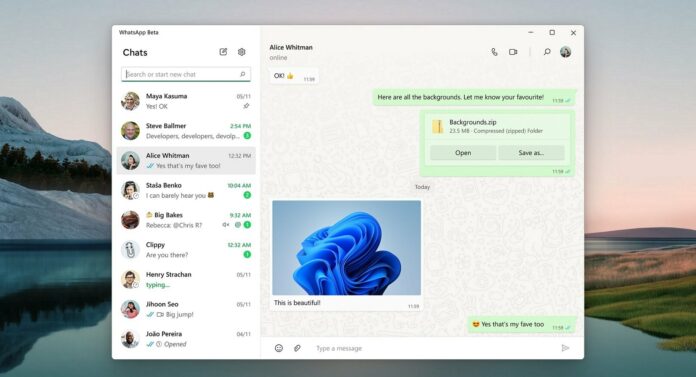 Last year, Facebook brought the WhatsApp Desktop (UWP) app to Windows 11 and Windows 10. Alongside a new look, WhatsApp UWP comes with a range of new exciting features. A new update for the beta version is now out in the Microsoft Store and it comes with a couple of new additions.
The latest update showcases the ability to record voice notes and more. While it has always been possible to record voice notes in the iOS and Android versions, this feature was yet to arrive for Windows 11, until recently.
Today's update introduces lets you send voice notes to all your WhatsApp contacts. As you can see in the below screenshot, it is now possible to tap on the voice recorder icon on the right side of the app's message compose box. Once you click on the icon, WhatsApp will start recording the audio.

You can send the audio or delete your voice note if you're unable to record what you're saying. When you finish recording the audio, you can upload it in the chat.
WhatsApp UWP brings the 'View Once' feature to Windows 11
WhatsApp UWP is finally getting a new feature called 'View Once' on Windows 11.
This feature is available for both Android and iOS, and it's now rolling out to Windows 11 as Facebook continues to bet big on its desktop app. With 'View once', which is a privacy-friendly feature, you can send photos and videos that will stay on the recipient's phone for a single view only. That's why it is called "View Once".
WhatsApp UWP View Once is one of the new features that the company copied from Telegram and it works very well even on desktops. You can easily share content which you don't want to remain in the chat forever. At the moment, View Once only works for photos and videos, and anything shared using View Once won't be saved locally.
Here's how to use the feature on Windows 11:
In WhatsApp, upload your photo or video.

Click on the timer-like icon while sending the message.
Click on the send button.
Remember that once you send a photo or video using View Once, you won't find it in the chat again.
In addition to these two nifty features, WhatsApp UWP is also gaining support for a new feature that lets you edit previously sent messages. Additionally, you will be able to add a cover photo to the account, but this new functionality is apparently aimed at business customers only.