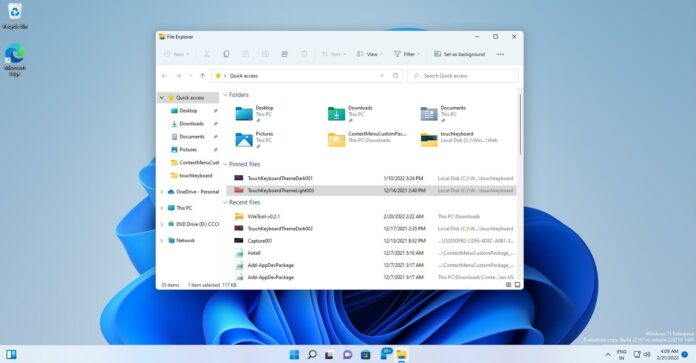 Windows 11's File Explorer and Microsoft's OneDrive are the two most popular tools out there today, and the tech giant believes these two features can come in handy if used together.
Microsoft has slowly been taking steps to improve the integration of OneDrive into its various apps and Windows 11 itself, and now an update to File Explorer in Build 22593 reveals that the company has further plans for bringing OneDrive into the fold.
In the preview builds, it is quickly discovered from settings that the OneDrive integration has arrived, and it's now available for some users. Unlike the OneDrive shortcut or adverts, this new integration is pretty deep and it could be a good addition for some users. As you can see in the below screenshot, OneDrive now has its own 'Home' in File Explorer.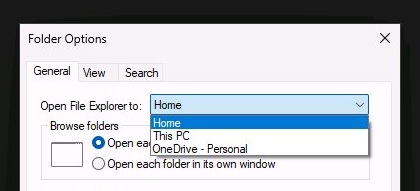 Windows 11 22H2 basically lets you configure OneDrive as the default folder in File Explorer. The default folder means File Explorer will launch with a focus on 'OneDrive' instead of items from 'Quick Acess/Home' or 'This PC'. If you want to try out the new feature, use these steps:
Update to preview builds on a test machine.
Open File Explorer > Folder options.
Under "Open File Explorer.." select 'OneDrive'.
Click OK to apply changes.
Once done, you can launch Explorer and get to the OneDrive folder quickly.
Another OneDrive feature coming to Windows 11 is a new OneDrive button which appears in the top right corner of File Explorer.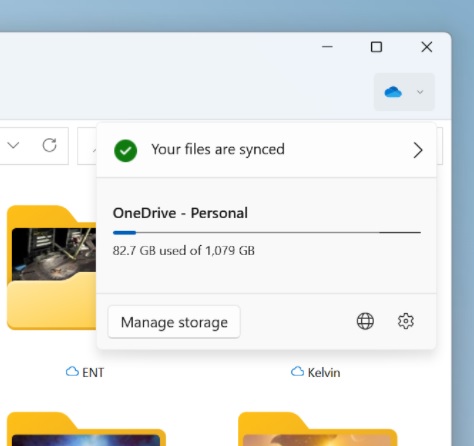 As you can see in the above screenshot, the OneDrive button appears when you use the cloud service and synced is enabled. The OneDrive pop-up displays information related to OneDrive uploads and a couple of options to customize the experience.
For example, you can monitor sync status and storage usage in real-time using this new menu. You can also monitor certain settings, manage storage or visit OneDrive in your web browser (default choice is respected) and manage the advanced features. If you make any major change to cloud storage service, it will also reflect in File Explorer.
These undocumented features may or may not ship in the final release of Windows 11 version 22H2.
Other improvements coming to Explorer
Tabs support
Contextual suggestions (recommendations of contacts when sharing files)
A new sidebar.
Folders preview support.