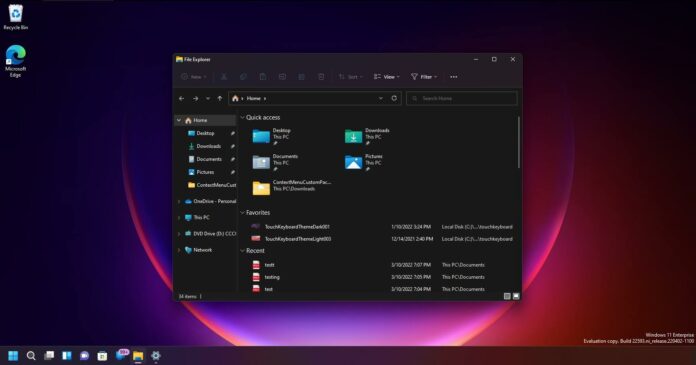 Windows 11 Build 22593 is now available for testers in the Dev and Beta Channel, and it includes all the changes scheduled to ship with version 22H2. This update is from the Nickel branch (ni_nickel) and it does not contain support for tabs in File Explorer, but there are tons of fixes included in this patch.
The update shows up as "Windows 11 Insider Preview 22593 (NI_RELEASE)" and it comes with a few changes for File Explorer. Unlike the previous builds, today's release does not contain major changes and all improvements or fixes are tied to version 22H2 (fall 2022 update).
As part of today's release, the Quick Access label on the left sidebar has been updated and it is now called 'Home'. This move comes after Microsoft confirmed that it plans to integrate Office 365 and OneDrive into File Explorer and populate it with content from your linked accounts.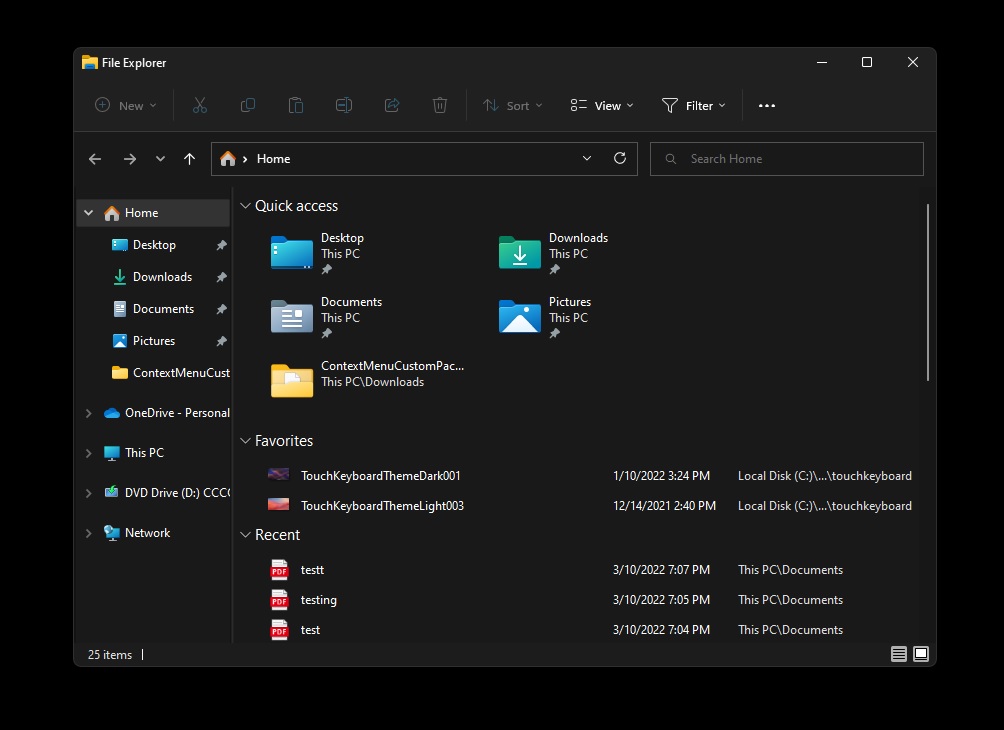 The name 'Quick access' now represents the pinned/frequent folders section. Likewise, Pinned files feature is now called Favorites. This has been done to align File Explorer with Office and OneDrive, according to Microsoft officials.
Additionally, it is now possible to search recent and pinned files directly from the search box and Microsoft will also fetch results from Office, so you will also find Office files recently shared with you.
What's improved in Windows 11 Build 22593
As mentioned at the outset, Windows 11 Build 22593 is not a big release and most of the changes are bug fixes only. However, there are a few improvements/fixes worth mentioning.
Microsoft says it will pin its Journal to the Pen menu by default. The app will install on your device if you don't have it installed already and you click on the option in the Windows 11 Pen menu. For those unaware, Journal started off as an experiment in Microsoft Garage Project and it's now part of the OS.
In Build 22593 or newer, you can press WIN + Z and view snap layouts with associated numbers, so you can easily use the number keys to pick a layout.
'Focus' or Focus Assist, which was the highlight of the event, has been updated with 5-minute increments for everything under a half-hour to focus session length options.
In terms of security, Microsoft will be notifying users to turn on the Memory integrity feature in the operating system. For those unaware, the Memory integrity feature prevents attacks from inserting malicious code into high-security processes. You can find the feature in Windows Security (Device Security > Core isolation).
If the feature is turned off, you will receive a new notification so you can turn it back on,
Last but not the least, Microsoft has updated the ADLaM keyboard layout to add access to brackets and ADLaM Hamza.
How to install Windows 11 Build 22593
To install Windows 11 Build 22593, use these steps:
Open Settings > Windows Insider Program page after signing up for the program.
Switch to Dev or Beta.
Click on "Check for updates".
Select "Download & Install".
Click on "Restart now".