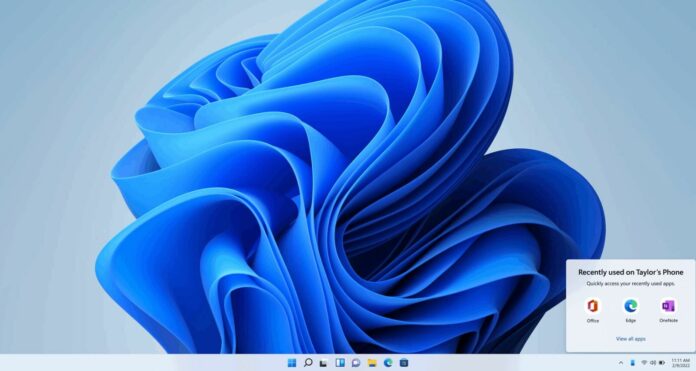 Windows 11 KB5011563 has finally started rolling out to users outside the company's beta channels. This release comes with a few new features and minor improvements. You can try the new optional patch via Windows Update or download the offline installers of KB5011563.
Windows 11 KB5011563 is an optional update and it won't install automatically unless you explicitly click on the "Get updates" button. As we know, the optional update can be skipped and we don't have to install it unless we really need those minor improvements and bug fixes. The same set of changes would go live with April 2022 Patch Tuesday.
Unlike the last month's update, March 2022 optional update doesn't come with tons of new features, but there are few quality improvements. For example, it is now possible for the Windows 11 notification center to display up to three high-priority toast notifications simultaneously.
Download Links for Windows 11 KB5011563
Windows 11 KB5011563 Direct Download Links: 64-bit.
As mentioned, you can download and install the optional updates directly from the Windows Update Settings page. At the same time, it is possible to download an offline installer (.msu package) from Microsoft Update Catalog and perform the update without relying on a built-in mechanism.
Update Catalog is particularly useful if you're unable to install updates using Windows Update. In this case, you can grab the offline package from Microsoft's website. To get started, open the above link, select the 'Download' button, copy the .msu link and open it in a new tab to begin the download.
Windows 11 KB5011563 (Build 22000.593) improvements
Display up to three high-priority toast notifications simultaneously.
Fixed an issue where the OneDrive file could lose focus if you rename it and press the Enter key.
Microsoft has fixed issues with SystemSettings.exe and Searchindexer.exe.
As mentioned at the outset, Microsoft is making changes to the default behaviour of the notification center. After the update, Windows 11 will display three high-priority toast notifications simultaneously. This applies to notifications like calls, reminders or alarms which are identical in nature (priority).
As a result, it is likely that you will notice up to four toast notifications where you will find three-high priority notifications and one normal priority notification.
In addition to this new feature, Microsoft has also fixed several bugs in the OS. For example, a bug has been fixed where Windows would incorrectly disable startup apps support for apps built using the Universal Windows Platform (UWP).
Another critical bug has been fixed where SystemSettings.exe could stop working and searchindexer.exe prevent Outlook's offline search from returning recent emails.
Microsoft says it also fixed a potential performance issue where the startup time would increase due to UI thread in a networking API where the network stops responding when a 5G WWAN device is slow to wake up.
Build 22000.593 improvements and fixes:
Fixed memory leak in the wmipicmp.dll.
Addressed Execution Policy settings issues.
Addressed an issue where web browsers like Edge would not correctly render HTML that is generated by gpresult/h.
Addressed an issue where PowerShell test for AppLocker won't work with "Access denied" error.
Addressed an issue where Kerberos.dll could stop working within the Local Security Authority Subsystem Service (LSASS).
Added support for Microsoft Account (MSA) Pass-through in Azure Active Directory(AAD) Web Account Manager (WAM).
Microsoft has fixed an issue where User Account Control (UAC) dialog won't correctly show the apps requesting elevated privileges.
Microsoft has fixed an issue where the Microsoft OneDrive file could lose focus when you rename it and press the Enter key.
Desktop watermark
With Windows 11 Build 22000.593, Microsoft has officially enabled a desktop watermark on desktops failing to meet the official system requirements for the OS.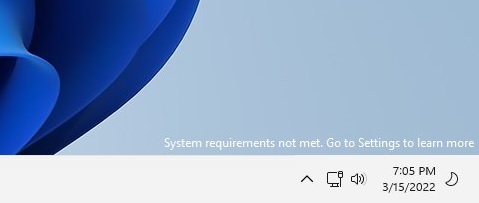 You may recall that Windows 11 officially supports newer processors only with TPM 2.0 and SecureBoot. To remind users that their hardware is unsupported, Microsoft is now placing a watermark that appears above the system tray (bottom-right on the desktop, below activation error).
This watermark was previously spotted in preview builds and it has now made its way to the production channel with today's optional update.
Anyone who has installed Windows 11 OS on a machine that isn't officially supported will see the watermark on the desktop, which states "System requirements not met" and then there's a link to learn more.