Microsoft is exploring support for a new version of Windows Update in the Dev Channel of the Windows Insider program. This new feature is included in Windows 11 Build 22567 and it aims to reduce carbon emissions by leveraging renewable energy.
Microsoft is currently testing power-efficient Windows Update with a small group of users and not everybody is getting this feature. When the feature is enabled, Windows 11 will try to download and install Windows Updates when the device is using a clear source of energy to reduce carbon emissions.
This feature is not as straightforward as it sounds. First and foremost, Windows Update's process is dependent on the information available on clean energy. It will work only when the PC is plugged-in and Microsoft is able to fetch carbon intensity data from partners like electricityMap or WattTime.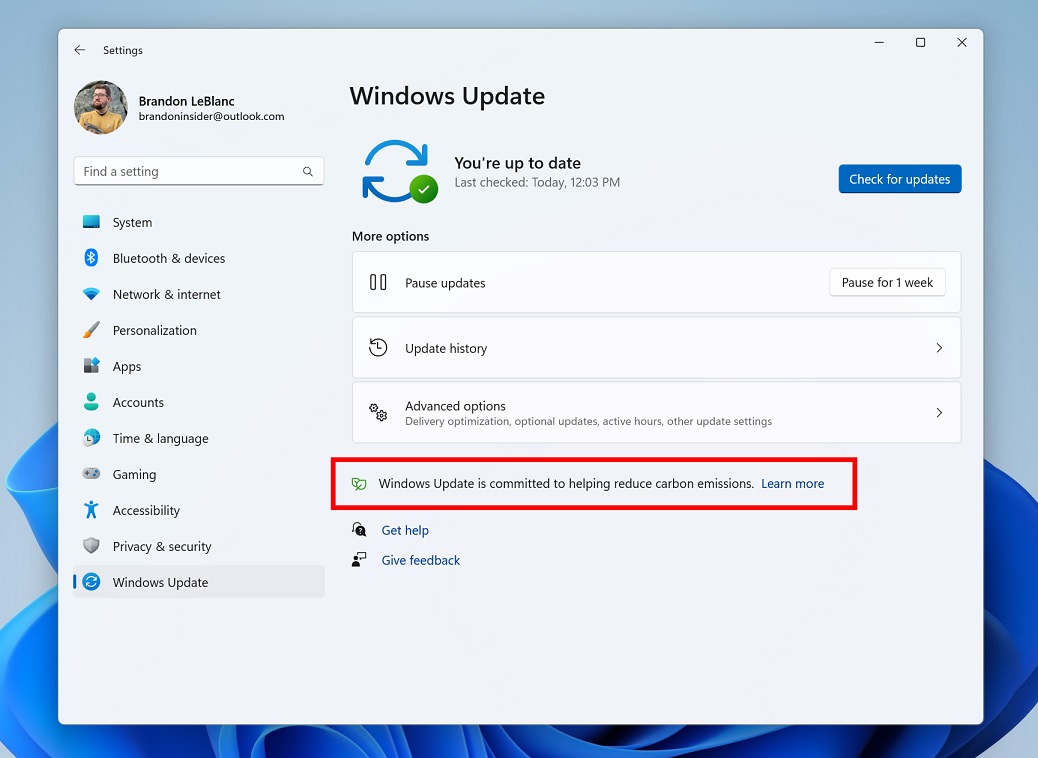 Windows Update's power efficiency feature works only if your region is supported by one of Microsoft's partners. If supported and enabled, you will see the text shown below on the Windows Update settings page.
The "learn more" will direct users to Microsoft's support documentation to help users better understand the process.
"Windows Update will try to schedule update installations at specific times of day when doing so results in lower carbon emissions. Most electrical grids are powered by multiple sources, including renewables and fossil fuels," Microsoft said.
In addition to this new feature for Windows Update, Microsoft has fixed an issue where it was not possible to click on the "Restart now" button in Settings > Windows Update.
Microsoft is also working on multiple improvements for Windows Update. As part of Build 22567, Microsoft has made fixes to pages across the Settings app with support for WinUI controls. WinUI integration would make the Windows Settings page look and feel consistent across the app.
Microsoft made additional improvements to the search engine in the settings app and it aims to provide users with an accurate set of search results.