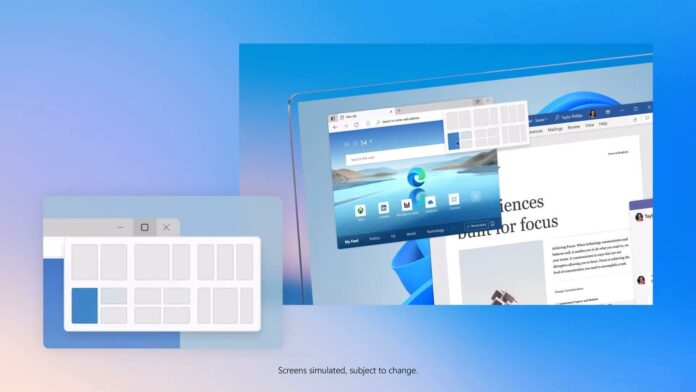 Windows 11 Build 22563 is now available for users in the Dev Channel and it includes changes that could ship with Sun Valley 2. This week's preview update comes with improvements for the taskbar and widgets feature. Additionally, it also includes notable changes and fixes for File Explorer, Microsoft Edge and more.
The update is called "Windows 11 Insider Preview 22563 (NI_RELEASE)" and it is supposed to be a buggy release than previous updates. That's because NI_RELEASE is an active development branch and anything new or fixed in this update may or may not ship in Windows 11's fall 2022 update, according to Microsoft.
One of the biggest changes in today's update is support for a new optional tablet-optimized taskbar. For those unaware, Windows 11 doesn't come with a tablet as the interface has been updated to support a wide range of configurations, including devices with touch screen.
The tablet-optimized taskbar, which is set to launch in the fall of 2022, is designed to help users who use their devices a tablet. After the update, Windows 11 will automatically adjust the context when you disconnect or fold back the keyboard on your device. This is similar to previous improvements, but the transition is going to be smooth.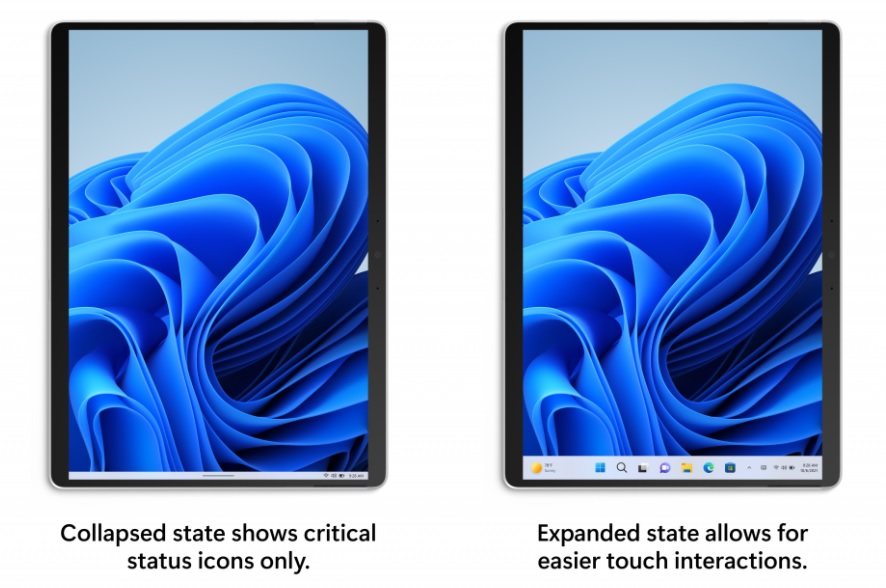 As you can see in the above screenshot, Microsoft is exploring support for two states of the taskbar – collapsed and expanded. When your device is in a collapsed state, the taskbar will automatically hide and give you more screen space, so you can easily hold the device without accidentally invoking the taskbar.
Windows 11 Build 22563 includes support for expanded state whereby the taskbar can be easily used with touch with easily expandable actions. To switch between the two states, simply swipe up and down on the taskbar of your device.
To see if this feature is available on your device, navigate to Settings > Personalization > Taskbar > Taskbar behaviours where a new setting called "Automatically hide the taskbar when using your device as a tablet" will be shown and set to on by default.
If you would like to turn on the feature manually, navigate to Settings > Personalization > Taskbar > Taskbar behaviours and toggle a new option "Automatically hide the taskbar when using your device as a tablet".
These improvements are in addition to taskbar drag and drop support added with the last Windows 11 update.
What's new in Windows 11 Build 22563
Microsoft is introducing better support for dynamic content in Windows 11's widget board feature. The company is experimenting with a new feature that would create a dynamic blended feed with widgets and news content.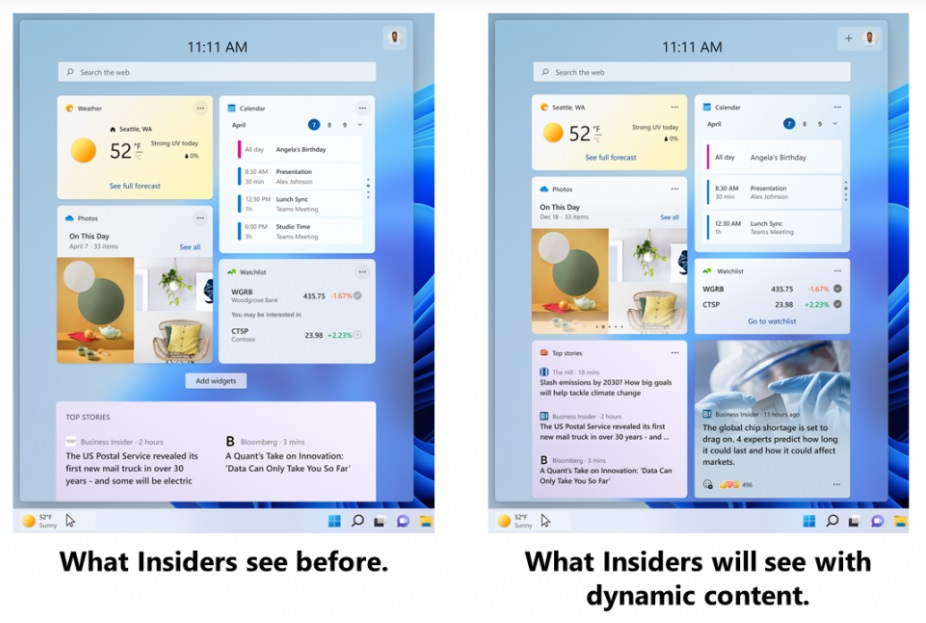 The above screenshot compares the existing widgets board with widgets dynamic feed which should make it easier for users to discover and engage with new widgets and news content.
Widgets will be reorganized automatically if you use the default layout of the board. If you've already customized the widgets board, your existing customizations won't be lost.
Other improvements in Windows 11 Build 22563:
Quick Access search in File Explorer now includes content from OneDrive, Downloads, and any indexed location.
Windows 11's snap assist and other multitasking features will now house 3 of your most recent Edge tabs shown as suggestions.
Emoji has been updated to version 14 and Microsoft is enabling skin tone variations for hands gestures.
The updated accessibility flyout is now available on the login screen.
How to install Windows 11 Build 22563
To install Windows 11 Build 22563, follow these steps:
Open Settings >  Windows Insider Program
Join the test program.
Switch to the Dev Channel if you're using the device in any other channels.
Tap on "Check for updates".
Select "Download & Install"
Click on "Restart now" to apply changes.