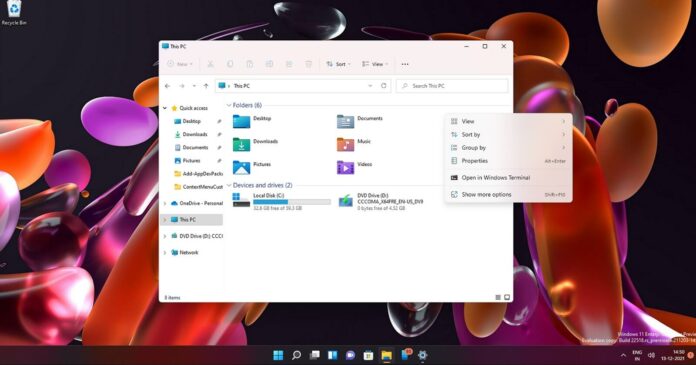 The context menu or right-click menu that appears when you click on a shortcut or icon has been redesigned with a modern look on Windows 11. The very idea of the modern context menu is to provide you with fewer options that are always useful and applicable to the shortcut or icon you've right-clicked on.
Microsoft officials previously said the company wants to address the performance issues, the exceptionally long and poorly organized context menu of Windows 10 with a redesigned menu in Windows 11 version 21H2.
The Windows context menu is an important part of File Explorer. Many commands or actions are included in the Explorer process itself, which can result in performance and other issues when the menu is bloated with unwanted options. To reduce bloatware, Microsoft designed a new command bar to house common features like copy and cut.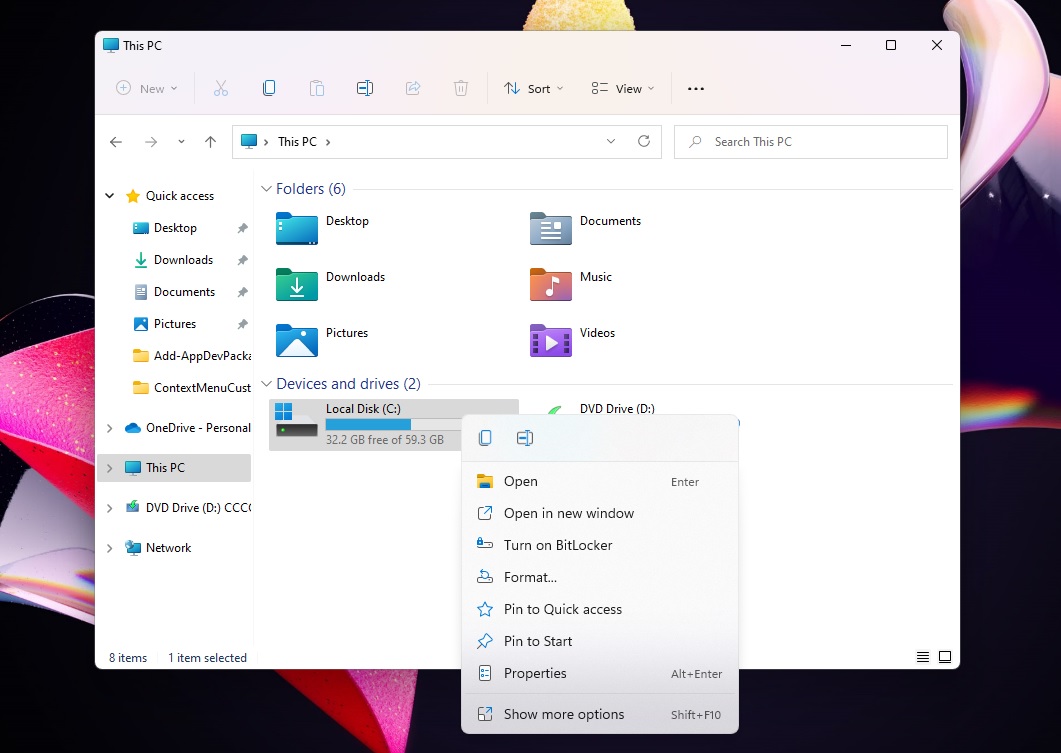 The context menu's important commands are now placed in a row and they make things better for users. Other options including "Open" and "Open with" are grouped together to reduce bloat. The context menu is now much more compact and modern, but there are two problems with the new approach: laggy/slow performance and missing commands.
Windows 11's new context menu is expected to become a better alternative to the classic menu, but its WinUI and Fluent Design makeover could be super slow at times. Luckily, Microsoft is aware of reliability issues and most of the bugs will be fixed in a future release of Windows 11.
For example, Microsoft is testing a new change that would improve File Explorer folder navigation performance. Likewise, right-click within the File Explorer window should no longer lead to an explorer.exe crash.
Windows 11 context menu's missing features
The second problem with the modern context menu is that you need to rely on the "show more options" or classic menu to access advanced commands. For example, if you want to refresh the contents of a folder in Explorer, you need to click on "show more options" to access the "Refresh" button.
While the refresh button remains missing, Windows 11 Build 22518 has updated the context menu with support for new top-level commands. Based on the feedback, Microsoft has made the following changes:
You can now right-click on font files and .inf files to install them.
You can now right-click on .cer files to install the certificate.
You can now access "Map network drive" and "Disconnect network drive" by right-clicking on "This PC" in Explorer.
The "Disconnect" option is back when you right-click on network drives.
It's worth noting that the classic context menu is here to stay and no commands will be removed for now. That's because most apps have yet to be updated to support Windows 11's new API for app extensions.
The updated context menu is currently available to testers in the Dev Channel and it will be rolled out to everyone as part of Windows 11's fall 2022 update.