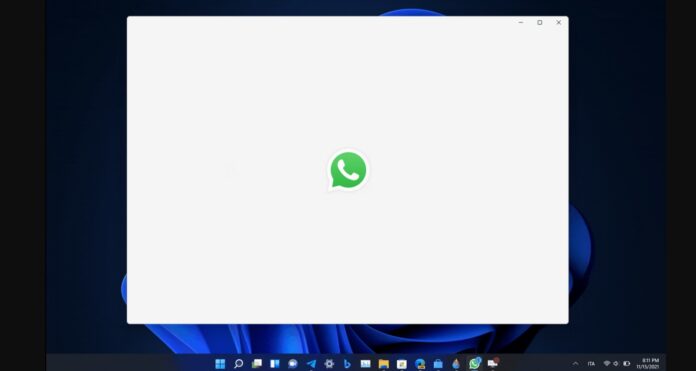 WhatsApp hasn't given up on Microsoft's app store and Meta (previously Facebook) is working on a new project for Windows 11 and Windows 10 behind its closed doors. The company is apparently working on a new UWP or modern native app for Windows 11 and Windows 10, and screenshots are doing rounds on social media.
For those unaware, WhatsApp was one of the few apps that was frequently updated on Windows 10 Mobile even when Microsoft announced the end of support for the operating system.
Unfortunately, old WhatsApp was based on Silverlight, which means it wasn't a Universal Windows Platform app (UWP,) and it couldn't run across all the different Windows 10 platforms. Three years later, WhatsApp is actually working on a UWP app for the desktop operating system.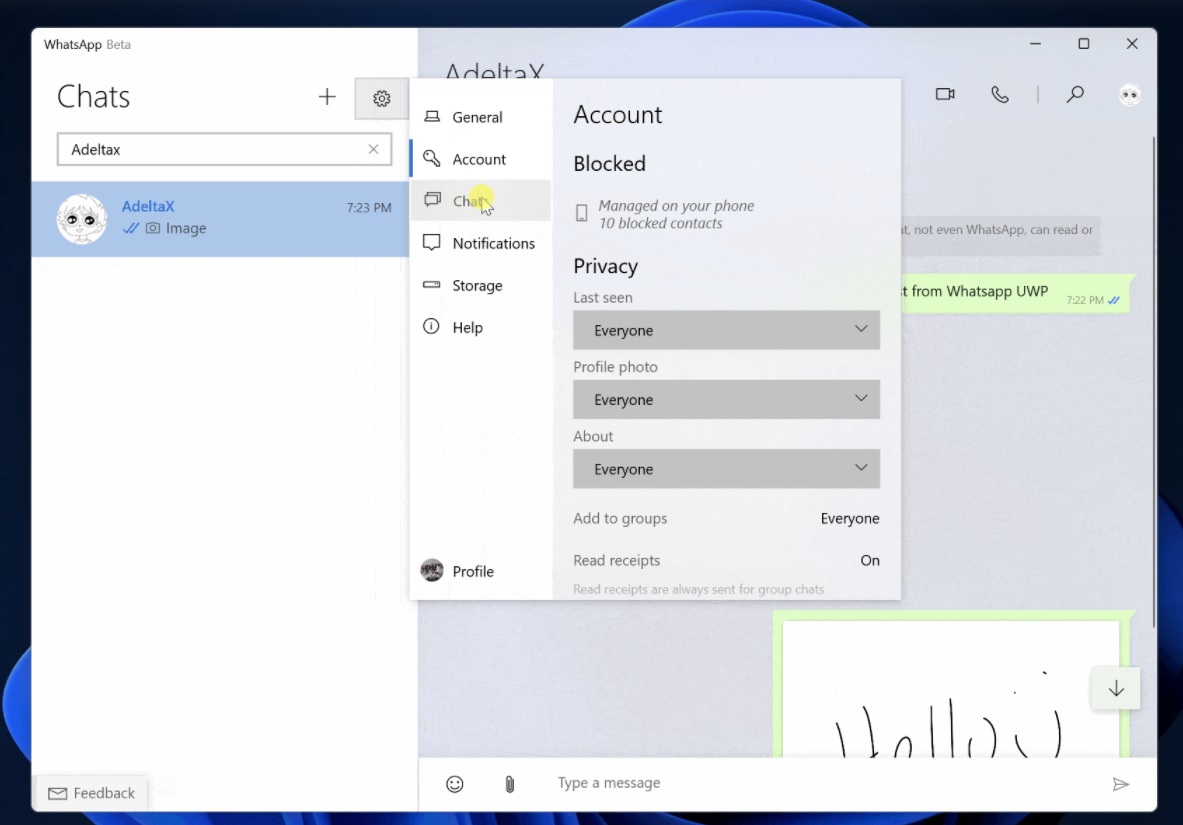 Currently, WhatsApp's desktop app in the Microsoft Store is largely based on the web (web.whatsapp.com) version of WhatsApp and it uses the Electron framework. The current app connects to WhatsApp and provides users access to the WhatsApp web interface, and users need to authenticate the connection by scanning a QR code.
UWP-based WhatsApp would technically mean that Windows desktop users will be provided with access to WhatsApp chats without connecting to the web version. Also, this is a full-fledged UWP client, written from scratch and it's not based on web components. In other words, this new WhatsApp desktop client won't be a web wrapper.
WhatsApp UWP app for Windows 11/10
As we mentioned at the outset, the WhatsApp desktop app offers a choppy experience and it is slower than the native app available on Android or IOS. This new WhatsApp client is based on UWP and Meta/Facebook is apparently using the XAML UI language to match the look and feel of Windows 11 or 10 apps.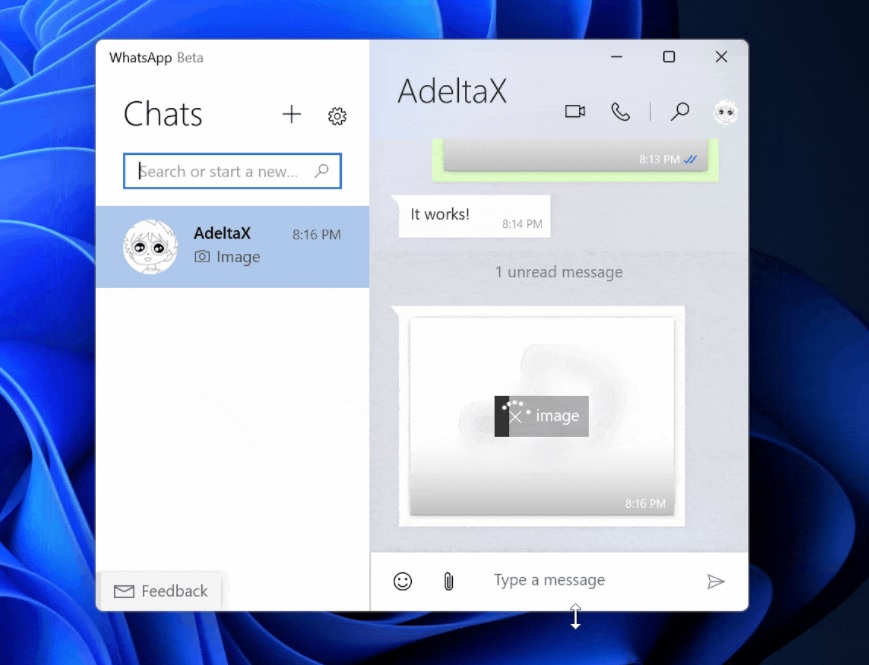 It is also going to be faster and it would show chats in the chat list, similar to the WhatsApp web.
Anyone using the WhatsApp desktop app has been limited to text-based messages and voice calls with some limitations. On the other hand, the UWP client is expected to introduce better support for both voice and video calls that can be placed using a microphone.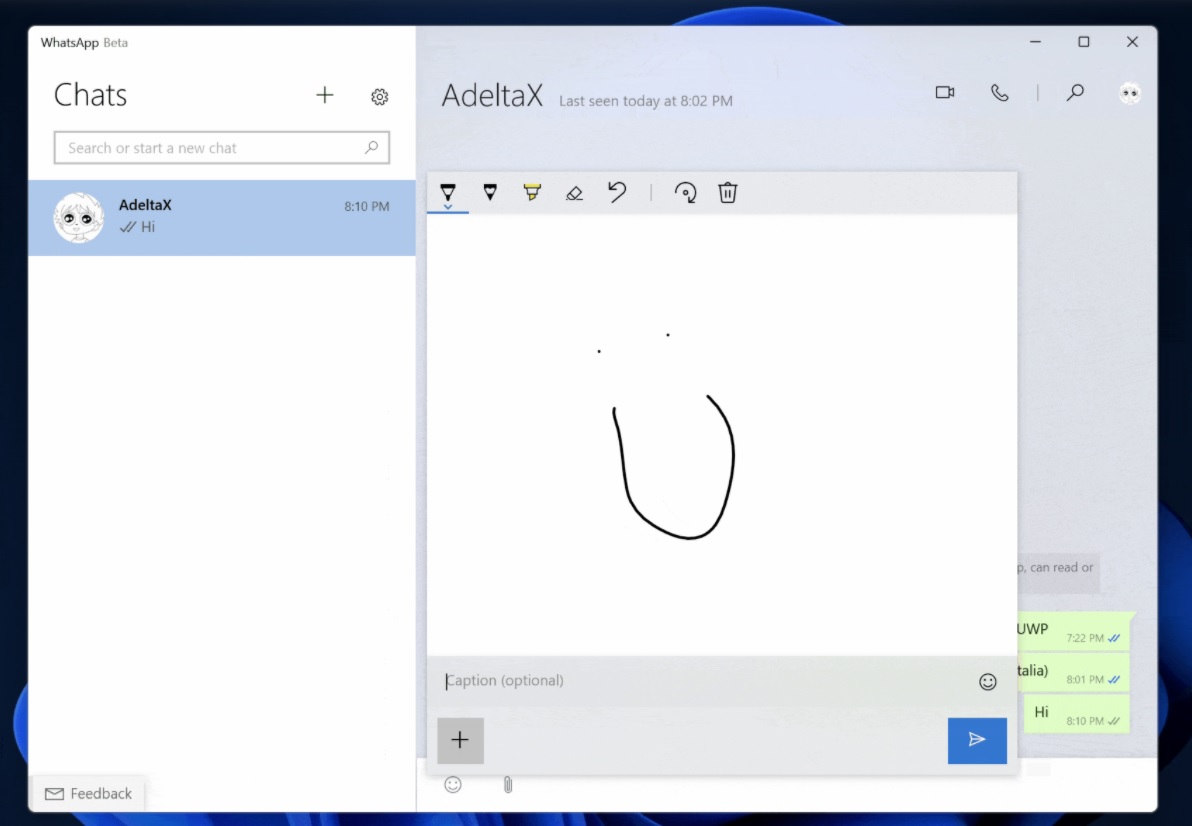 Interestingly, it looks like WhatsApp is working closely with Microsoft to enable Windows Ink integration. As you can see in the above screenshot, WhatsApp is going to include a new drawing feature, which is set to help users annotate images and then upload them directly to the chat.
WhatsApp UWP will support backup, native notifications, options to customize chat, and more.
WhatsApp UWP will be offered via the new Microsoft Store which is now also available on Windows 10.