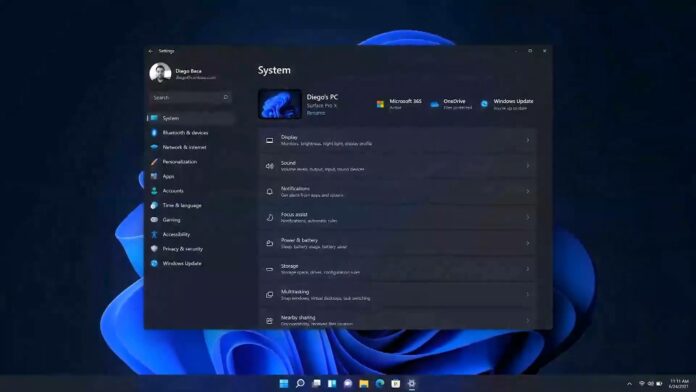 On Windows 10, when you want to manage apps on your system, you just need to open the Apps & Features page in the Settings app. The process remains the same on Windows 11, but Microsoft is working on design improvements for Apps & features where you can uninstall an app from your system or manage existing apps.
In Build 22494, Microsoft is testing a new design for the "Installed apps" subpage of the Apps & features page. Right now, if you open Apps & features tab, you'll see a list of installed UWP and desktop apps.
Windows Settings lets you scroll through a long list of applications, but the problem with the current design is the infinite scrolling. Although the app does have a search box, Microsoft doesn't let you change the view of the settings app, so you need to keep scrolling through the list to find certain apps.
Starting with Build 22494, Apps & feature page is divided into separate categories with each having its own dedicated page.
For example, you can now click on "Installed apps" to see all your installed programs.
To make things easier for us, Microsoft is introducing a new feature that would let you switch between three different layouts. The default layout is "list", but you can now switch to thumbnail layout, which looks similar to live tiles.
This new static tiles-like layout addresses the infinite scrolling problem and you can always go back to the original look if you don't like Microsoft's experiment.
In addition to a better design, Microsoft is also working on advanced features for Windows Settings. For example, you can now filter the list using alphabetical order, smallest to largest files, largest to smallest files, and more.
When you use updated filters, all other irrelevant apps/programs listed will disappear except for the ones requested by you. The advance sort by the filter can come in handy when you want to free up hard disk space or if you want to determine apps or updates using the least amount of storage.
Microsoft is currently A/B testing these improvements with Windows Insiders in the Dev Channel. These changes are expected to land with Windows 11 version 22H2, which should be released to consumers in October 2022. However, there's a possibility that Apps & features page will be updated via those experience packs.