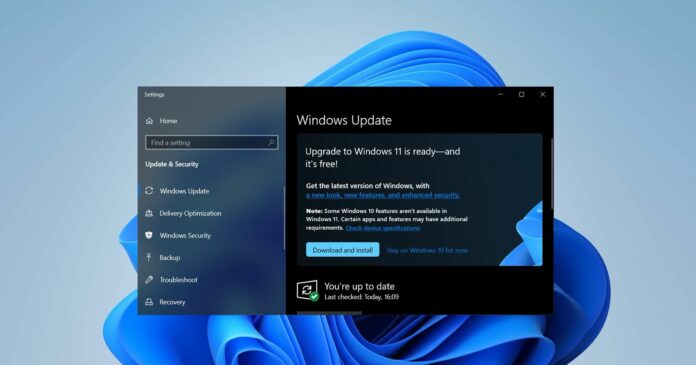 Windows 11 is rolling out in stages and Microsoft has now published a new Windows 10 KB5005463 update to help users prepare their devices for the new operating system.
While Windows 11 won't be released for everyone until early next year (Microsoft points to wider rollout in summer launch), you can download and install PC Health Check Tool to view update status. There are already a decent amount of people using PC Health Check, which allows users to check for compatibility against Windows 11's strict requirements.
So far, Microsoft has only offered the PC Health Check Tool via its website, but Microsoft is now pushing the KB5005463 update which will automatically install the app. It will also give beginners early information about any potential issues with Windows 11, so when Windows 11 rollout reaches the last stage, devices would be ready.
KB5005463 is not labelled as a mandatory or important update, but it can be downloaded and installed automatically from Windows Update. It's not yet clear how the update is being rolled out, but Microsoft says it would be installed in accordance with configured policies, so it's likely that it will be installed automatically on consumers machines.
How to install Windows 10 KB5005463
To install this Windows 11 eligibility update, use these steps:
Go to Settings and check for updates.
Select the update and click on the "Download" button
If you don't see the update, go to Settings > Update & Security > Windows Update and look under the optional updates area. The update is not available on Windows Update for Business and Microsoft Update Catalog.
Additionally, Windows 10 KB5005463 won't be offered on devices already running Windows 11.
What is KB5005463?
This update installs PC Health Check Tool and it comes with the following features:
Check Windows 11 eligibility: This app lets you perform hardware scans and view compatibility status based on the system requirements for Windows 11.
Backup and sync: You can also sign in to your Microsoft account and set up OneDrive using the app.
Windows Update: This app pushes users to install the latest available updates.
Battery capacity: You can use PC Health Check Tool to assert battery capacity.
Storage capacity: It also lets you view and manage the storage usage for the drive, so you can free up space ahead of Windows 11 installation.
Startup time: You can use it to improve startup time by making changes to existing startup programs.
Tips on PC health: Microsoft will be providing tips to help you deal with performance issues.
Up-to-date: The PC Check Tool will automatically important updates required for the app.
If you believe the update is causing issues, you can visit Settings > Apps > Apps & Features > App list, and click on uninstall button next to the PC Health Check app to remove the update.