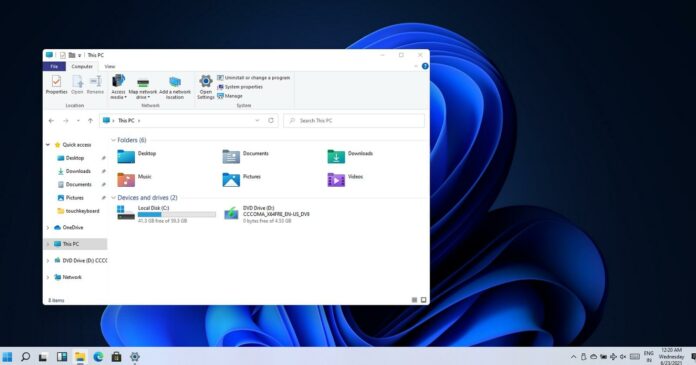 Windows 11 KB5006674 is the first cumulative update for the new operating system and it comes with minor bug fixes only.
Since Windows 10 launch in 2015, Microsoft has been focusing on "Windows as a service" and the model is also applicable for Windows 11. KB5006674 update includes non-security compatibility fixes, and if you leave Windows Update to get updates on its own schedule, this patch will download and install automatically.
Generally, Windows Updates released on Tuesday include security fixes, but the first patch for Windows 11 is all about compatibility fixes. Installing October 2021 cumulative update will advance systems to Windows 11 Build 22000.258 (version 21H2) and it addresses known compatibility issues.
In addition to a new cumulative update for Windows 11, Microsoft has also published a new patch for Windows 10.
If you check for updates today, the following patch will appear on Windows Update:
2021-10 Cumulative Update for Windows 11 for x64-based Systems (KB5006674)
To install the patch, use these steps:
Open Settings > Windows Update > Get updates and click on "Download now".
Download Links for Windows 11 KB5006674
Windows 10 KB5006674 Direct Download Links: 64-bit and 32-bit (x86).
Windows 11 KB5006674 (Build 22000.258) Full Changelog
Microsoft noted that it has fixed compatibility issues between Intel "Killer" and "SmartByte" networking software and the operating system. The bug affected networking software and it affected User Datagram Protocol (UDP) packets, which resulted in performance and other issues.
The bug affected the performance of websites and some browsers might load websites slower than Windows 10. VPNs might also be slower. Thankfully, this cumulative update has finally addressed the problem.
Unresolved issues in Windows 11 KB5006674
Windows 11 is still far from perfect and users are encountering issues and bugs with the new operating system. Many of the early issues being discovered in Windows 11 already have been acknowledged by Microsoft, and most of the problems shouldn't cause too much of trouble for users.
Here's a list of unresolved bugs:
Compatibility issues can affect certain apps using some non-ASCII characters in their registry keys. As a result, affected apps might be unable to launch on Windows 11.
Microsoft is aware of issues between Oracle VirtualBox and Windows 11.
A bug could affecting printing functionality of Windows 11 has been acknowledged and it will be getting a fix soon.