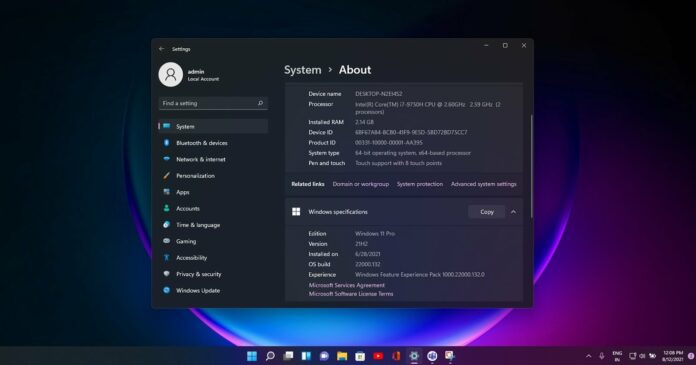 You can now download and install the Windows 11 upgrade, but there are a number of problems that some people are experiencing during the installation process. Microsoft has already acknowledged at least three known issues with Windows 11, but there are multiple installation issues affecting a small subset of users.
To download the Windows 11 version 21H2, you can check if it's available in Windows Update. If it is not available, you can use Microsoft's new "Windows 11 Installation Assistant" tool to force the installation of the new operating system. However, there is a catch – generic error message.
Windows 11 seemingly failing to install for some users via Installation Assistant, producing an error "0x8007007f" which is too generic to understand the root cause. The conflict seems to be related to Windows 10 UAC permission for the installer, storage space and drivers.
This is the case according to a number of reports reviewed by us.
"Error code 0x8007007f keeps occurring at around 71% through the installation," one user noted in a Reddit discussion. "The Installation Assistant failed with error code 0x8007007F and no insight. The Media Creation Tool just crashed," another user noted, describing the buggy upgrade process.
In addition to Reddit, we've also observed similar reports on our forum and Twitter.
How to fix 0x8007007f error
Windows 11 0x8007007f error appears when users download and run the Installation Assistant on supported hardware.
For most users, relaunching the Installation Assistant with administrator privilege should resolve the error and allow the tool to download and install the update.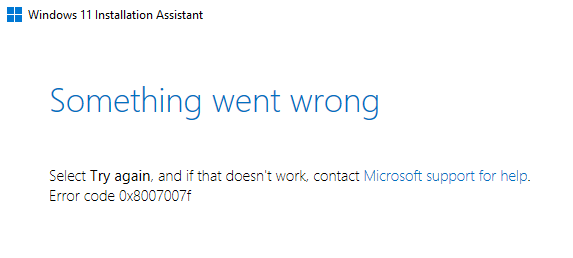 At the same time, it's possible that the vague error message is related to having certain drivers installed. To address error 0x8007007, you can reboot the device or restart the installation process. You can also manually install the fresh drivers from the manufacturer's website.
A quicker workaround may therefore be to simply download Windows 11 ISO and mount it in the File Explorer, and run the setup.exe.
Additionally, we've observed another error message "Ox8COF0830 – ox2W03".
"Ox8COF0830 – ox2W03 The installation failed in the SAFE_OS phase with an error during INSTALL_UPDATES operation," the error message reads. This issue also appears to be related to drivers, and a proper workaround is not available.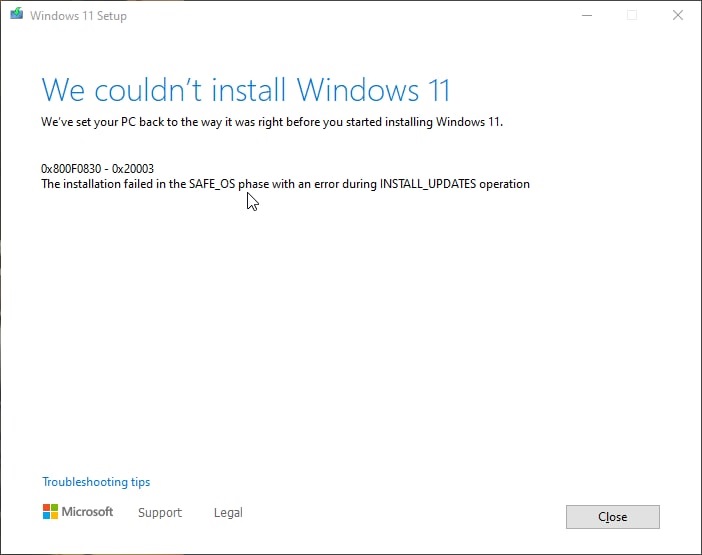 If you're suffering from a Windows 11 upgrade problem that we haven't covered, simply use ISO images and perform an in-place upgrade.
Obviously enough, those who find themselves unable to install the upgrade will remain on Windows 10 and continue to receive regular monthly updates from the company.
In case you're wondering, Microsoft is aware of at least three known issues in the operating system, including a bug that could make your internet connection slower if you use Intel's Killer program.